Crypto Exchange Kraken Offers $100,000 for Information Pertaining to QuadrigaCX Funds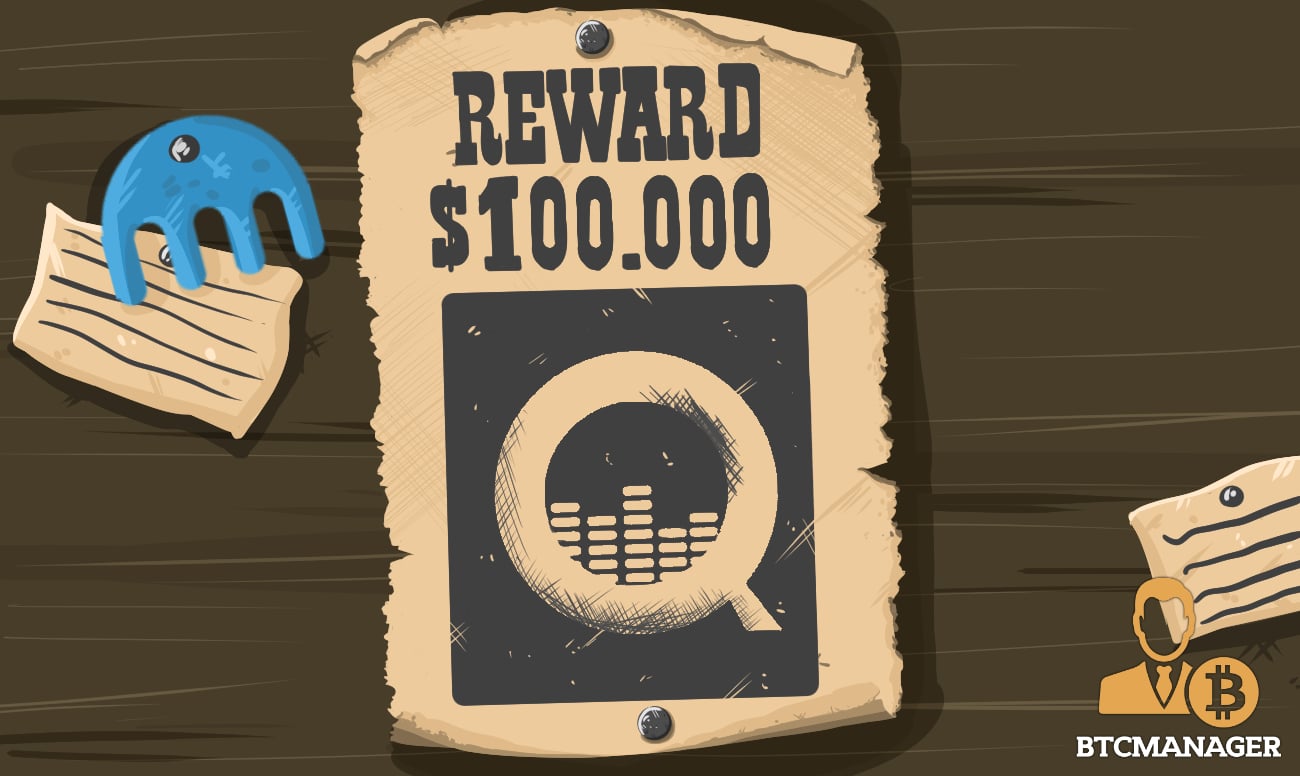 On February 28, 2019, cryptocurrency exchange platform Kraken announced through a blog post that it was offering up to $100,000 as a reward for legitimate tips passed by people regarding the QuadrigaCX exchange fiasco.
$100,000 up for Grabs
In another twist to the QuadrigaCX story, Kraken, one of the largest digital asset trading platforms in the world, is offering up to $100,000 to people who could help discover the missing $190 million worth of crypto assets left behind by the late CEO of the Canadian crypto exchange.
People with relevant information pertaining to the matter can submit their tips here.
In its blog post, Kraken said the exchange wants to bring awareness and attention to the QuadrigaCX case so that it becomes easier for the investigating authorities to discover some or all of the lost client funds.
Notably, all information collected by Kraken will be given to the Federal Bureau of Investigation (FBI) and other law enforcement agencies involved in the case's investigation.
QuadrigaCX Ethereum Storage Found?
In another development, a report published on February 28, 2019, by crypto research and consulting platform Zeron0ncense states that there is a "very strong possibility" that a significant amount of ether (an alleged 600,000) from QuadrigaCX might have been transferred to Kraken, Bitfinex, and Poloniex cryptocurrency exchanges.
At the time, the total value of ether sent to the aforementioned exchanges was $100,490,150.
This claim sits in line with Jennifer Robertson's statement that Gerry Cotten, the late CEO of QuadrigaCX exchange, might have stored sum crypto holdings on other exchanges. Robertson is the widow of the QuadrigaCX CEO.
The report also highlights a transaction from December 2018, where 1,099 ETH were sent to Bitfinex's hot wallet from a QuadrigaCX hot wallet.
For the uninitiated, hot wallets act like "collection pools" for exchanges. This means that while withdrawing digital assets from an exchange, it is likely that the customer will receive funds from a hot wallet.
QuadrigaCX Drama
The story surrounding the troubled Canadian exchange came to light on February 1, 2019, when it revealed that $250 million worth of customers' crypto assets were in a cold wallet which could only be accessed by the CEO, Gerald Cotten.
The exchange ran into more trouble on February 14, 2019, when over $400,000 in bitcoin was accidentally sent to Cotten's inaccessible wallet.