Crypto Exchange OKEx Suspends User Withdrawals, Market Tumbles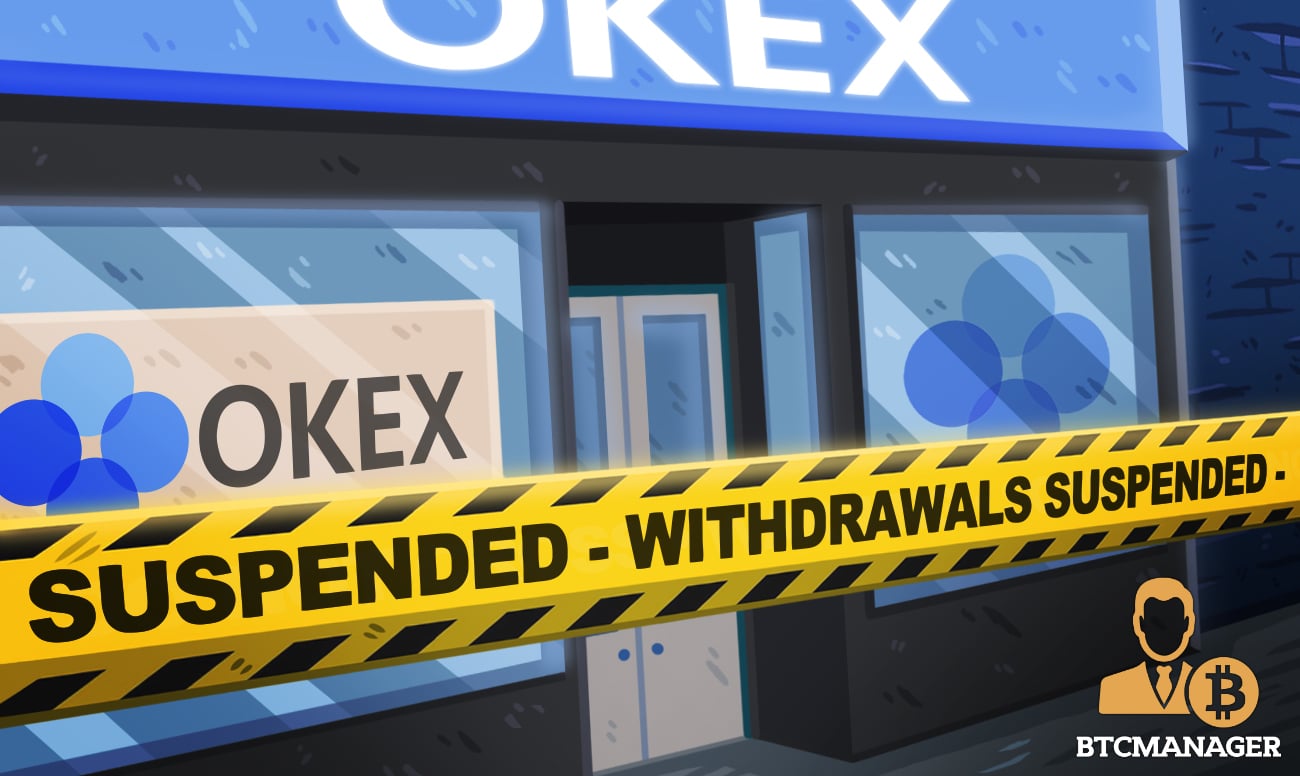 Cryptocurrency exchange behemoth OKEx has suspended crypto withdrawals for users.
Withdrawal Suspension Jolts Crypto Markets
In an announcement made earlier today, cryptocurrency exchange OKEx stated that it had suspended all user crypto withdrawals as one of the holders of its private keys is "currently cooperating with a public security bureau" pertaining to ongoing "investigations."
Notably, OKEx added that it has been "out of touch" with the concerned private key holder which hindered the "associated authorization" from being completed. According to the announcement, OKEx digital asset exchange will resume user crypto withdrawals as soon as the key-holder "is able to authorize the transaction."
The exchange cited its terms of service to suspend all user crypto withdrawals but added that the security of its customers' assets "will not be affected" by the events.
The announcement reads in part:
"In order to act in the best interests of customers and deliver exceptional longtime customer service, we have decided to suspend digital assets/cryptocurrencies withdrawals as of [October 16, 2020 at 11:00 (Hong Kong Time)]. We assure that OKEx's other functions remain normal and stable and the security of your assets at OKEx will not affected."
Crypto Markets Bleed
Unsurprisingly enough, in response to the unanticipated development, the wider crypto markets slumped with bitcoin (BTC) falling close to 3 percent. More importantly, the exchange's native digital currency, OKB tumbled a strong 15 percent in price.
Further, hours before the official announcement, on-chain transaction monitoring service Whale Alert reported numerous large transactions between OKEx and unknown wallets.
🚨 1,180 #BTC (13,588,646 USD) transferred from #OKEx to unknown wallet

— Whale Alert (@whale_alert) October 15, 2020
It's also worth highlighting that Beijing-based reporter, Colin Wu, wrote through his WeChat public account @wublockchain hinting that the OKEx investigation might be related to money laundering.
"The Chinese government is cracking down on money laundering using cryptocurrency for telecom fraud, and centralized exchanges are in a very dangerous state."
Of note, money laundering has been a burning hurdle that has, until now, hindered the development of a thorough regulatory framework for cryptocurrencies across the world.
As previously reported by BTCManager, the European Union (EU) had released a report detailing possible approaches toward crypto regulation for some of the industry's "gray areas."