Cryptocurrency Exchange Bithumb to Give Away Bitcoin, Ether, and XRP in Airdrop Event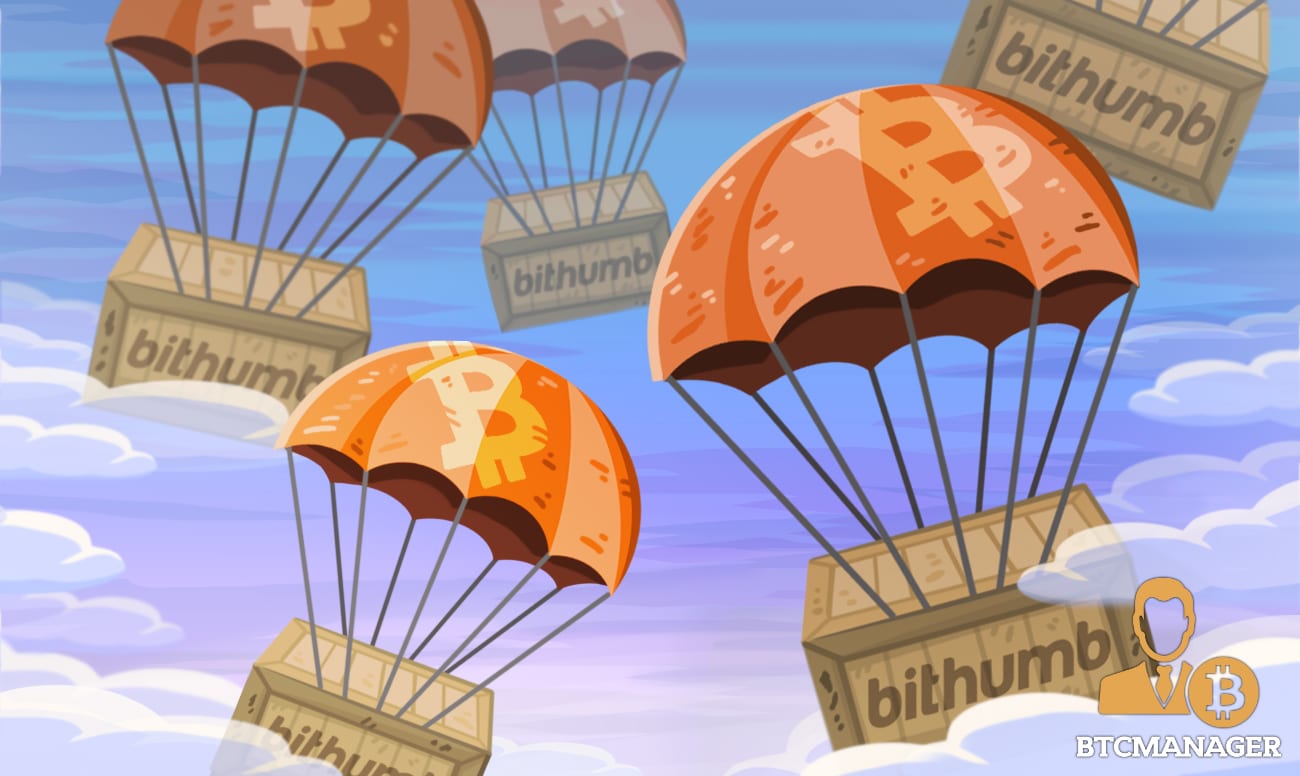 Bithumb, one of the biggest cryptocurrency exchanges in South East Asia and Korea in particular, has announced a 'Super Airdrop Festival' that any registered trader can participate in. In a Twitter post published November 12, 2018, the company said that the highlight of the event is a giveaway involving 15 BTC. This will be given to a random Bithumb member that logs in between November 12, 2018, and December 11, 2018. 
Bithumb's Super Airdrop Festival
The accompanying article explained that BTC worth 100 million Won would be given to a member by "drawing applied members if you click on the below EVENT button after logging in." However, a second weekly event was also detailed.
Bithumb says these airdrop events have been announced in celebration of the company's fifth anniversary. In the years since its release to the general public, the exchange has proliferated to become the top cryptocurrency exchange in South Korea by trading volume. According to data from Coinmarketcap, Bithumb consistently reports its daily trading volume to be above $1 billion from its 59 supported currency pairs.
The winner of the first airdrop will reportedly be revealed on December 24, 2018, who will receive the entire 15 BTC sum, regardless of any fluctuation in the cryptocurrency's price. A second airdrop was also listed with an obscure-sounding title, "Free Commission Coupon for five coins and get an Airdrop every week!"
However, from its description, the airdrop aims to reward those that trade the most of digital currency on the platform each week. More specifically, 10,000 Korean Won will be distributed amongst 500 winners every Monday starting November 12, 2018. 
Several Altcoins to be Distributed
At current market prices, Bithumb will end up giving away cryptocurrency worth well over $100,000 to winners in the coming weeks. However, participation in the second airdrop is not free. Users will have to purchase a 'free commission' coupon for 10,000 Won, around $9, to be considered eligible for the event. The coupon will allow the user to participate in the event for one entire month and also provide the benefit of temporary commission-free trading.
The member with the most trading volume in a given week will be rewarded with 7 BTC, while the subsequent four members will be considered to be in second place and awarded with 100 ETH each. For the ten individuals in third place, Bithumb has announced a prize of 8,000 XRP. Post that, for rank 4 and 5, the tokens awarded will be randomly selected at the exchange's discretion, from the available pool of Zcash (ZEC), Monero (XMR), Dash (DASH), Bitcoin Gold (BTG) and OmiseGO (OMG).
The fourth rank will include 35 unique members, who will each receive "coins equivalent to KRW 1.2 Million KRW." The terms carry on for rank five, which will hand out 0.8 Million Won to 50 members. However, for the final two places, the winners will only receive 'free commission' coupons that can be redeemed on Bithumb for transaction amounts worth 300 and 100 Million Won respectively.