DEXTools – What Is It, and How Does It Work?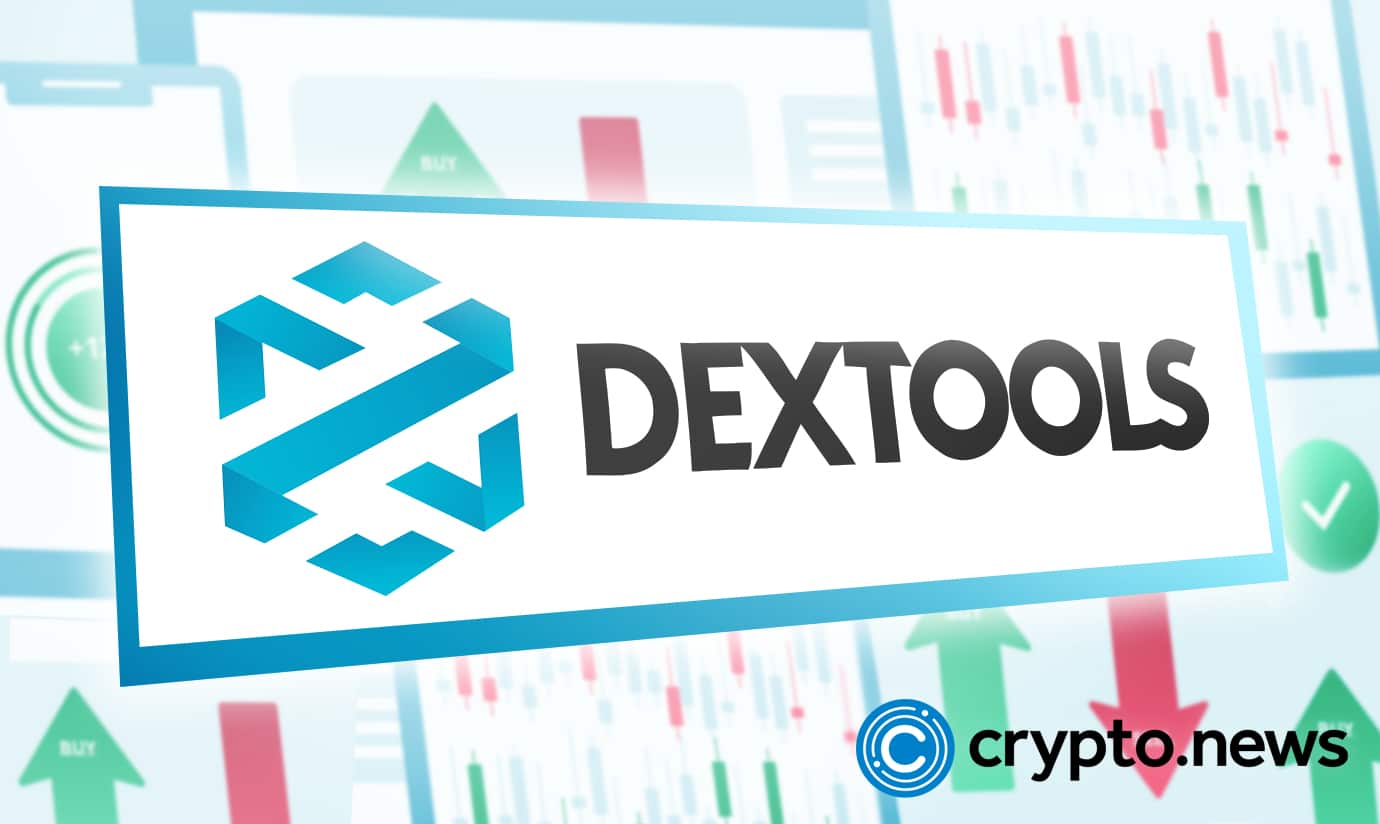 DEXTools provides live analysis for crypto assets that trade on decentralized exchanges. It is a must-have tool for all crypto traders who like trading on DEXs like Uniswap and SushiSwap. The protocol offers analysis to help create unique trading strategies, search for big spreads, anticipate market trends, and track and copy the most profitable wallets (Whales) and other services.
Decentralized exchanges (DEXs) offer some of the best services in the crypto sector. However, they are largely affected by liquidity matters at some times since they trade even the least known tokens. Therefore crypto developers have come up with different solutions to make the liquidities and the costs of different coins affordable.
They have come up with solutions like DEX aggregators, liquidity pools, and now DEXTools. DEX aggregators track the best prices for tokens across different exchanges in subdivided forms and then aggregate them into one transaction. Liquidity pools are available in almost all exchanges, including CEXs, and they allow users to lock their assets and provide liquidity to earn rewards.
The purpose of these solutions is to make sure that an exchange has enough liquidity of a given token so that traders can swap them at prices similar to the market range. It avoids slippage where the price at which a given token swap is higher than what it is selling in the market. To avoid slippage on DEXs, users should turn to DEXTools to get a complete analysis of the markets. Below is more information on how DEXTools work.
Company Overview
DEXTools launched its application in June 2020 as a public Beta version and had 200 million DEXT tokens available. It was founded by Frederic and Javier, both experienced traders and developers using their own funds. The duo met at a traders group in 2017 and began a professional friendship, which bore the foundation of DEXTools in 2020.
A month later, the team brought in Pablo as their first CTO to lay the foundations for the professional services provision of the platform. Since then, the tool has been gaining the attention and adoption of the DeFi community, largely making DEXT a central hub of DeFi trading.
The platform maintains its uniqueness by focussing on the quality of the data provided to its users by being real-time and reliable. The platform also strives to remain community-based by basing part of its development on community feedback and initiatives like DEXT Force and DEXT Force Ventures.
What is DEXTools/DEXT?
DEXTools is a platform and an ecosystem that allows traders to track information about all decentralized markets. It assimilates blockchain data into a single comprehensive user interface allowing the user to have a clear vision of their trading, investments, and the current state of the market.
It has a native token called DEXT that is used to:
Unlock different features on the platform according to tiers through paying for subscriptions.
Access premium trading groups and the community initiatives like the DEXT Force Ventures.
Some of the uses of DEXTools include:
Has pool explore that allows users to follow liquidity trends and the formation of new liquidity pools on decentralized exchanges.
Has a pair explorer that allows users to check trading charts, the transaction of tokens, and the metrics and trust ratings of a token.
Has wallet information which gives users the power to track and follow their favorite trader's wallets (favorite whales).
Has Bigswap Explorer that allows for tracking whales and other big transactions.
Has a multi-swap feature that opens up multiple DEX portals to increase the trading speeds.
DEXTools Key Features
These are the top perks of the DEXTools platform
Pool Explorer
The pool explorer DEXTool allows users to find trending pools with ease. It also allows finding new gems and the total value of the gems in a pairs pool with the least effort as all analysis is ready. Additionally, a user can monitor the liquidity trends in a much simpler way to know how the tokens in question would be affected (Bearishly or Bullishly).
This feature also offers all the important links like the tokens' explorers or DEX pages in a single interface to make it easier to verify the data. It also offers a quick link to check the pools' liquidity through Unicrypt.
Pair Explorer
The pair explorer feature allows for tracking the history and price action charts of assets in real-time and following a user's favorite tokens. DEXTools also generates a score for token pairs, which can help in evading the obvious scam traps. The platform allows standard and premium users to set up decentralized limit orders or algorithmic trading bots.
P&L Tracking Feature
It's a demanding process to keep track of users' positions across all available altcoins, especially if they are trading the coins around farming pools. DEXTools has an inbuilt P&L Tracking feature that can do all that work for its userbase. It builds a trading journal that allows the users to document trading decisions and improve their trading strategy over time.
Big Swaps
The platform has the Big Swaps tool that allows for the tracking of big traders, commonly known as crypto whales. These traders are known to easily manipulate the markets, especially when a token has limited liquidity. For instance, the reports by a platform when a whale sale occurs can help users catch a dip.
Notifications
The platform has a price alerts feature for the users' favorite tokens through desktop, email, and telegram. This tool allows users to improve their crypto trading strategies. It is also very easy to set up and beneficial to traders who engage in advanced trading options like derivatives.
MultiSwap
The platform allows users to interact with multiple pairs on a single screen. This feature increases the accessibility of the platform's tools, thus improving the users' interaction with the market.
DEXT
DEXT, the native token of DEXTools, is trading at $0.280455 with a 24-hour trading volume of $126,564. The coin ranks at number 681 on CoinMarketCap according to its current market capitalization of $27,499,632. It also has a total circulating supply of 98,053,798 coins.
DEXT Tokenomics
DEXT launched with a total supply of 200 million tokens. Below is a recap of how the supply has and is being managed
200 million initial supply
100 million coins set aside as team funds
50% of the team funds burnt, leaving 150M coins in circulation
10% of subscription fees (paid in DEXT) burnt each month, making the coin deflationary.
The DEXT Share
DEXT share is a significant part of the coin's tokenomics as the remaining 90% of the subscription fees go to it. These funds are directed to DEXT holders of at least 100,000 tokens at a value proportionate to their holdings. This feature is great for these holders as there is no need to lock up or stake the funds since they will earn passive rewards through sitting idly in their wallets.
Each month, the protocol takes a snapshot and gives the premium holders DEXT tokens through airdrops. This process is pretty good as you earn passively without paying the gas fees. Additionally, team wallets are not included in sharing the subscription fees, meaning that it all goes to the holders.
DEXT Price Prediction
Since it is the utility token of a well-known ecosystem (HAD 5 MILLION VISITORS IN MARCH 2022), DEXT has the chance to continue growing in value in the coming years parallel to the adoption of the DEXTools protocol. The token has an active burning mechanism that has wiped off almost 50% of its initial supply.Additionally, the burning mechanism makes the coin deflationary.
Its utility in the DEXTools protocol gives it a real-life supply and demand dynamic that creates real-life application of the coin. Therefore, the coin might witness significant long-term growth as cryptos go mainstream. However, it is best to keep researching the coin and the developments surrounding DeFi, DEXs, and DEXTools platform since they may greatly affect the coin's future.
How Does DEXTools Work?
DEXTools allows users to perform atomic swaps of tokens directly, requiring them to click on the 'Multiswap' button and select a pair and the DEX they want to use. Once the user has done that, they should connect their wallets to the selected DEX, and the setup will be ready for use.
The platform has features that are easy to track on its user interface. All that is needed of a user is to click the buttons on the services they would need to access, including TradingView charts. They can also access several charting tools to track the market and save the analysis for sharing on social media.
To start using this platform, users only need to connect their wallets to it. The connected wallets should only be the supported types:
Metamask
WalletLink
Torus
Fortmatic
Ethereum
MEW
After a successful connection of the wallet to the platform, the user should then authenticate the ownership of the wallet to start using DEXTools.
Additionally, it is best to note that even though most of the features of DEXTools are free, it needs a subscription for premium services. A user can access the standard plan by holding 1,000 DEXT in their wallets or paying a monthly subscription of 277 DEXT. The Standard plan offers more transaction and wallet information; price alerts through Telegram and email, access to the DEXT Force Discord channel, and a dozen new hot pairs, all of which the free version does not offer.
The premium version is highest tier and is exclusively accessible to those who hold over 100K DEXT in their wallets. The premium holders have many advantages, including the airdrops from the DEXTShare protocol. They also get 15 hot pairs with faster notifications, privileged access to DEXTForce Ventures, and all of the platform's upcoming features.
What Is in the Future For DEXTools?
DEXTools is gaining popularity at a big rate parallel to the DeFi sector. Although it has not provided the roadmap for the coming years, it continues to operate with a mission to "do for DeFi what cryptographic blockchains did for value and information transmission."
The platform is an innovative solution for DeFi, and other crypto tokens traders as market trends analysis make their work easier and more profitable. If it maintains the accuracy and decentralization of its services, it will be one of the most popular and essential tools ever in the crypto space. Therefore it may be a great idea to invest the extra funds in its native token. Still, take caution since the token's value could crash significantly if the platform offers poorer services.
Final Word
DEXTools is one of the best tools in the DeFi sector. It allows for tracking the crypto market trends through live trading charts from Tradingview, one of the best blockchain analysis platforms. The platform (DEXTools) offers different services according to the tier levels of its users. It has a free version, a standard tier, and the premium tier.
Since it is community-based, it offers most of its features in the free version. It is also decentralized and does not issue any subscription fees to the team behind it. It rather gives 90% of it to the holders and burns the remaining 10% to keep it deflationary. It also allows its users to participate in the most crucial processes, like considering their suggestions during updating or the protocol.
It is also a good investment project for users who like mitigating market movements through passive earning. The platform's feature of passive earning is only available to premium users as airdrops and with no need to lock their holdings.
Regarding passive earning, all crypto enthusiasts should look for ways to earn more profits from their crypto holdings apart from just holding them. Passive earning includes staking, yield farming, liquidity mining, and other projects like airdrops for holding certain coins. It helps mitigate the losses from coins losing value and increases the profit margin of holding cryptos.
Also, it is advisable to research different crypto projects as they come with risks and different profit margins.