Dharma Criticized for Trying to Takeover Uniswap Governance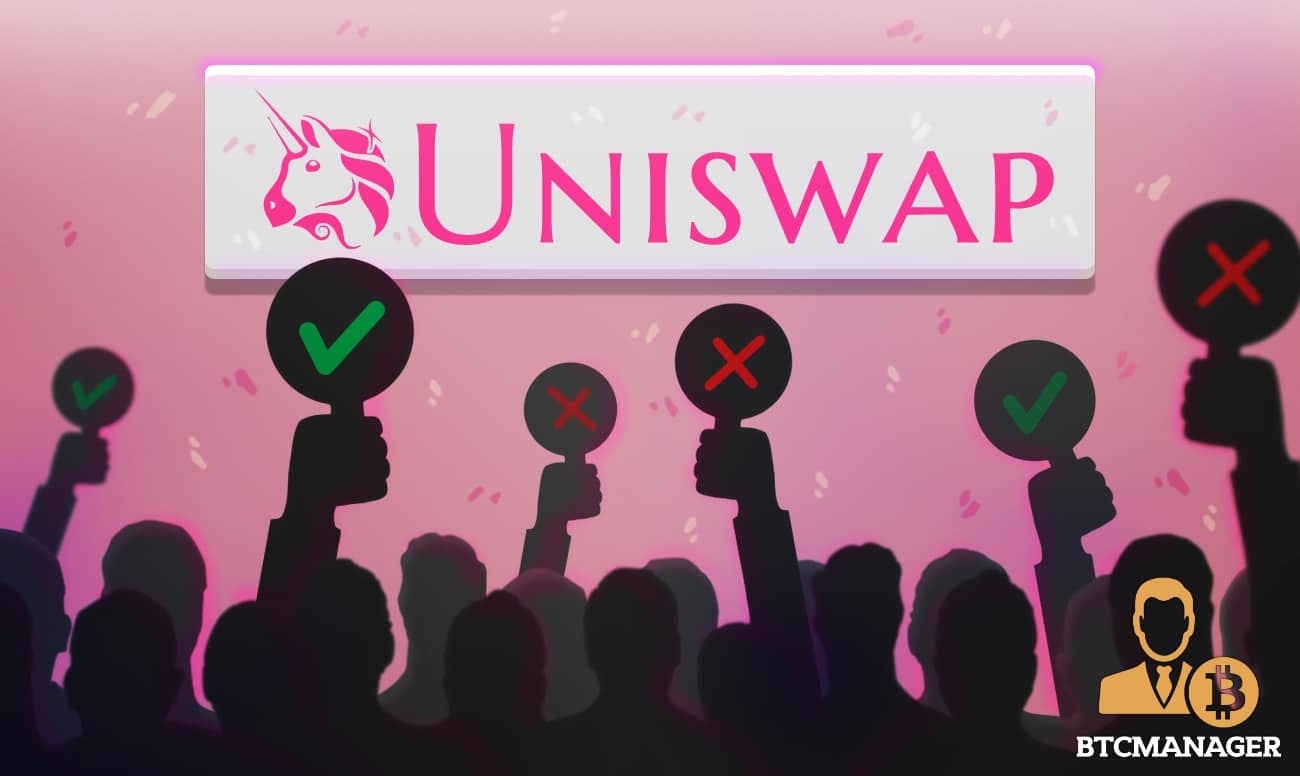 Dharma's October 12, 2020, Uniswap governance proposal has been strongly kicked against by some members of the Uniswap community who claim the proposal is designed to give the former too much power over the latter and ultimately take over Uniswap's sovereignty, according to a blog post on October 13, 2020. 
Dharma's Uniswap Governance Proposal Hits a Brickwall
On September 17, 2020, Uniswap, a decentralized crypto exchange brought massive excitement to the entire cryptospace by launching and airdropping its native altcoin, UNI, to its users – a move that effectively handed power over to its community members and made Uniswap the number one DeFi protocol in the world by total value locked (TVL) which currently stands at $2.61 billion. 
Fast forward to October 12, 2020, Dharma, an open-source lending platform, which is also one of the top governors of Uniswap (UNI), as its one of the biggest holders of UNI token (Dharma reportedly holds over 15m UNI in one address alone), floated a proposal it claims is designed to foster inclusivity in the Uniswap ecosystem.
Specifically, the controversial proposal aims to "reduce UNI governance proposals and quorum thresholds." for those who are unaware, at present, to submit a proposal in Uniswap, one must hold at least 10 million UNI (one percent of the delegated UNI supply), with a quorum of 4 percent (40 million UNI).
However, Dharma is seeking to drastically slash these thresholds to 0.3 percent (3m UNI) and three percent (30m UNI) for quorum respectively, to make it easier for everyone to participate.
Dharma wrote:
"Uniswap's governance system currently has high thresholds for proposal submission and quorum relative to total delegated UNI. Having followed these discussions from the beginning, Dharma has prepared a proposal that we think achieves the goal of making governance more accessible, while still ensuring that Uniswap governance is not subject to unilateral deleterious actors."
Ulterior Motive?
Interestingly, David Felton, an active Uniswap community member has strongly kicked against Dharma's proposal via his Medium blog post, arguing that the proposal is a threat to Uniswap sovereignty, as its success will ultimately increase the power of Dharma and Gauntlet over Uniswap and make it easier for them to meet the quorum threshold with their combined 30m UNI holding.
Felton has urged all members of the Uniswap community to vote against the proposal, "to keep the quorum as the developers created it."
Elsewhere, Chris Blec, a DeFi enthusiast and founder of DeFi Global (DFG), took to Twitter to condemn Dharma's proposal, while also accusing it of bribing its way to the top of the Uniswap ecosystem.
 He tweeted:
https://twitter.com/ChrisBlec/status/1315854606421954560
With just five days remaining before voting ends on October 19, 2020, it remains to be seen whether Dharma will finally win the race.