Uniswap Announces UNI Tokens, Airdrops Over $1,200 to Users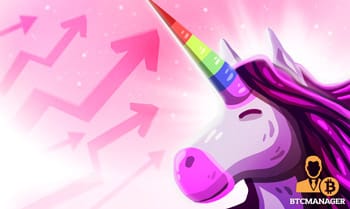 Decentralized exchange Uniswap launched its native UNI tokens earlier today in a surprise move, with several crypto exchanges rushing to list the token and Ethereum network becoming congested to use.
Uniswap's $1,200 Airdrop
As detailed in a blog post, a total of one billion UNI tokens will be distributed in the next four years,  following which the token will settle at an annual inflation rate of 2%.
For now, over 15% of the tokens have been distributed to all users who transacted on Uniswap before September 1, including those whose transactions were rejected due to high gas fees. These are immediately claimable on Uniswap.
Of the remaining, 60% will go to community members and the other 40% to Uniswap team members, investors, and advisors with a vesting period of up to 4 years. 
The announcement said such a token mechanism would ensure Uniswap is community-led and self-sustainable:
"The introduction of UNI (ERC-20) serves this purpose, enabling shared community ownership and a vibrant, diverse, and dedicated governance system, which will actively guide the protocol towards the future."
UNI holders can either sell their tokens — for about $1,200 worth of 400 UNI tokens at press time — or join one of the many liquidity mining programs that go live from September 18 until November 17 – featuring trade trades like ETH/USDT, ETH/USDC, ETH/DAI, and ETH/WBTC on Uniswap. Five million UNI will be allocated per pool proportional liquidity, equating to roughly 83,333.33 new UNI entering each pool day, the announcement said.
UNI Governance
At press time, Uniswap's community governance is already live, but Uniswap's treasury cannot be mobilized until October 17. Governance will allow token holders to vote on the allocation of UNI reserves toward "strategic partnerships, governance initiatives, [and] additional liquidity mining pools."
Meanwhile, the Uniswap team said it will "continue to have no involvement in V2 protocol development, [and] auditing," and "will not participate directly in governance for the foreseeable future."
Exchanges like Binance, FTX, and OKEx were quick to list the UNI tokens – both spot and futures. However, they cautioned over users FOMOing into purchasing the asset. Binance said:
"UNI is a new token that poses higher than normal risk, and as such will likely be subject to high price volatility. Please ensure that you exercise sufficient risk management, that you have done your own research in regards to UNI's fundamentals and fully understand the project before opting to trade."