Elrond (ERD) Mainnet Launch Date Revealed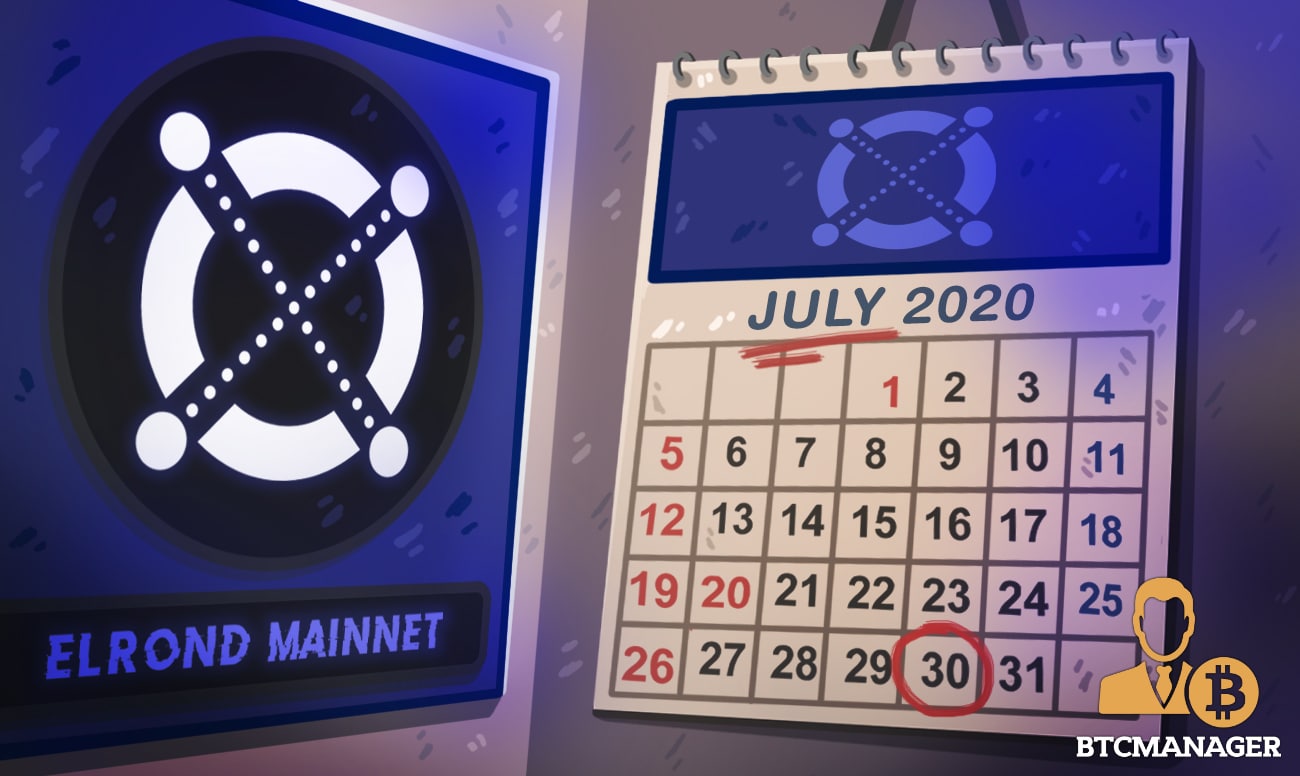 Elrond CEO, Beniamin Mincu recently announced that the Elrond (ERD) mainnet would go live on July 30, marking a new phase for the scalable, Secure-Proof-of-Stake (SPoS) blockchain protocol.
Elrond Mainnet Launch Date Revealed
Elrond, a highly scalable enterprise-grade distributed ledger technology (DLT) project is poised to roll out its mainnet on July 30, 2020. The project's CEO, Beniamin Mincu confirmed yesterday.
Elrond mainnet launch, 30 July, 2020.

Genesis Staking 2.0 begins in 5 min.

1.67 Billion $ERD slot available.

First come, first served.

Be part of the Elrond Genesis.https://t.co/HhZutK1T9b

— Beniamin Mincu 🔥🌓 (@beniaminmincu) July 4, 2020
Dubbed "Zero to One," the mainnet promises to usher in a new era for the Elrond ecosystem. The announcement stated that over the next four weeks, the Elrond team will announce "new exciting partnerships, increasing Elrond's exposure and momentum in preparation for the mainnet launch."
In addition to disclosing the date for the mainnet launch, the project announced that its Genesis Staking program was open again to users seeking to delegate their ERD holdings for rewards. Before the mainnet goes live, Genesis Staking on-boarders are being rewarded by the protocol for securing the network with 25% APR – 29% and 36% for delegators and validators, respectively.
The project witnessed all its Genesis Staking 2.0 slots get filled within approximately 4 hours after the start of the service, signifying the strong demand among investors willing to stake ERD for rewards.
We are excited to announce that in ~4h after the start of Genesis Staking 2.0, all the available 1.12bn $ERD delegation cap – $7mn USD atm – has been filled. Thank you for your support in successfully bootstrapping the Elrond mainnet on July 30.https://t.co/XCrpTvf2gq

— Elrond ⚡️ (@ElrondNetwork) July 4, 2020
Hustle Season for Crypto Projects
The July 30th launch of the Elrond mainnet is not the only highly-anticipated major project upgrade due in the near term.
Cardano's eagerly-awaited Shelley upgrade is inching closer and is expected to go-live in August this year. Of note, the Cardano ecosystem has been extremely busy lately, forging new partnerships and unveiling tech upgrades to make the platform ready for the Shelley phase.
The recent steep surge in the price of the ADA altcoin can be attributed to major developments such as the partnership with Coinbase exchange for secure staking, and the alliance with blockchain travel platform Travala.com, enabling ADA holders to spend the digital currency at more than 90,000 destinations across the world.
Similarly, the Ethereum developer community is burning the midnight oil to ensure a smooth transition to ETH 2.0.
In the latest update, BTCManager reported on June 30, that Ethereum's first-ever multi-client testnet, Altona, is now live.