Enjin (ENJ) Unveils $100 Million Metaverse Fund Ahead of Efinity's Polkadot Parachain Slot Bid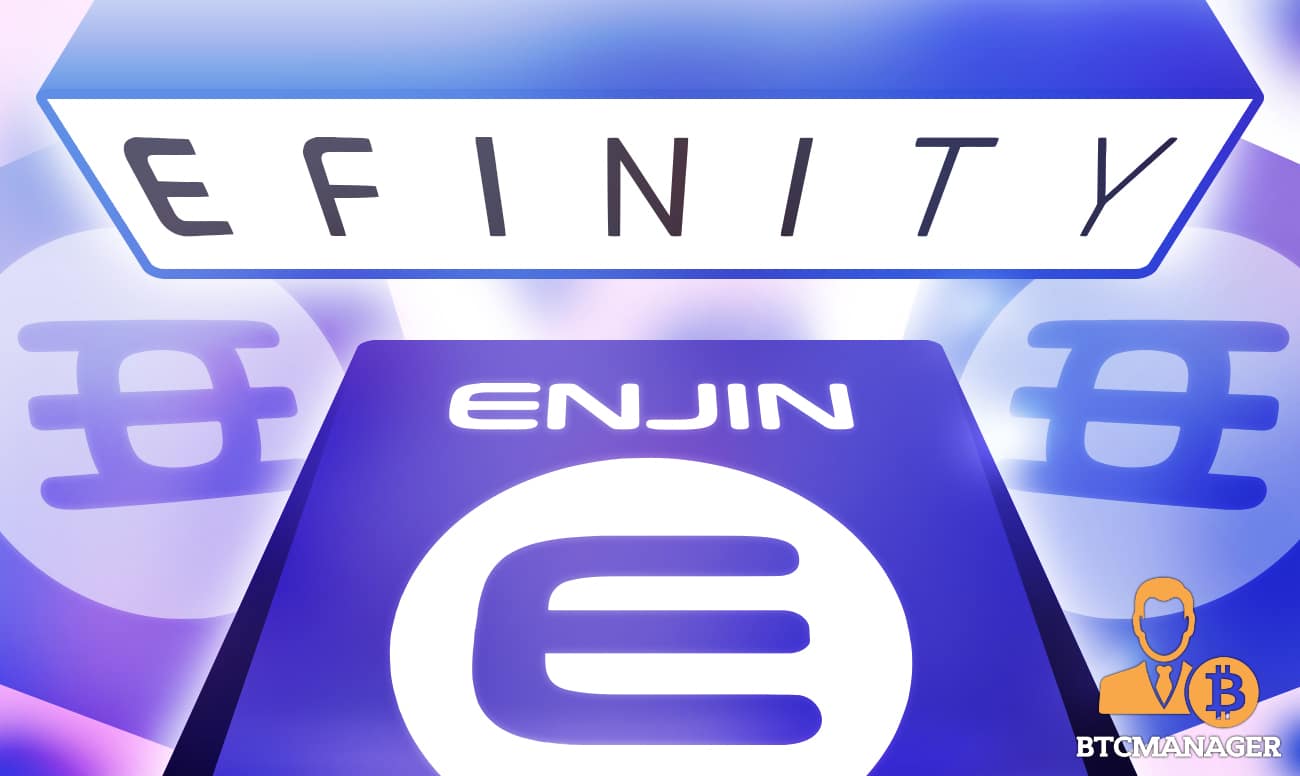 The leading ecosystem for non-fungible tokens (NFT) Enjin today unveiled a $100 million Metaverse Fund for Efinity.
$100 Million Metaverse Fund Launched for Efinity
Enjin, the world's leading ecosystem for NFTs and all things metaverse today announced the launch of a $100 million fund for its Polkadot-based cross-chain NFT network, Efinity. 
In addition, Enjin is also bidding for Auction Slot 4 in Batch 1 of Polkadot's Parachain Auctions. The auction for the Slot 4 is poised to commence on December 2, 2021, the announcement reads.
If Enjin's bid is successful, Efinity can be expected to launch its mainnet on Polkadot by the end of 2021.
Notably, the $100 million Metaverse fund is aimed toward formalizing support for Efinity's ecosystem partners via equity investments in seed or Series A funding rounds. The fund would also be used toward buying project native tokens for use in the Enjin/Efinity ecosystem. 
Further to the aforementioned, the fund will be tapped to aid adopters and other organizations committed to build and integrate with the ecosystem. In essence, the fund is another step toward bring Enjin and Efinity closer to realize the vision of decentralized, cross-chain Metaverse.
Commenting on the development, Oscar Franklin Tan, Chief Legal & Financial Officer, Enjin, said:
"Personally hearing our adopters' stories is one of the most fulfilling aspects of my role at Enjin. These are early pioneers of NFT gaming, who built with us through the trenches as one-man studios and are now spreading their wings. We're eager to harness the knowledge of our team and longstanding communities to support the decentralized metaverse in a more systematic way."
Notably, individuals interested in supporting Efinity's bid for the parachain can do so by participating in the crowdloan campaign via Binance. 
Enjin is slated to enable individuals to stake their DOT, ETH, ENJ, USDC, or USDT for EFI rewards. To that effect, the team has set aside 10% of the total EFI supply for crowdloan rewards. In addition, early campaign contributors are also eligible to receive an exclusive NFT bonus.
Witek Radomski, Co-founder and CTO, Enjin, added:
"Efinity will attract a mainstream audience of creators, gamers, and NFT collectors to the Polkadot ecosystem. We've addressed current barriers to entry in blockchain (usability, cost, throughput) with an incredibly powerful parachain and our seamless open-source development framework. Our intention is for Enjin to be an interoperable, decentralized gateway to the worldwide Metaverse. With the backing of our global community and EFI supporters, we invite anyone who shares this vision to get involved in the parachain auctions."
Efinity Committed to Scaling NFTs
For the uninitiated, Efinity is purpose-built for NFTs and offers class-leading scalability, boasting of internal Alpha testing at 120 million NFT mints per block with six-second block times. 
Notably, Enjin is also developing the new Paratoken Standard in its bid to support the cross-chain metaverse. The Paratoken Standard will be interoperable with all chains and token standards.
As previously reported by BTCManager, Efinity and private and CoinList sales raised $38.9 million in March this year. The funding round was backed by noted investors such as Arrington XRP Capital, BlockTower, Crypto.com Capital, DFG Group, Fenbushi Capital, Hashed, Hashkey Capital, Hypersphere, Kenetic, and LD Capital.
At present, the Enjin/Efinity ecosystem features more than 70 game and app developers, in addition to hundreds of NFT projects including Microsoft Azure Heroes, Lost Relics, Kingdom Karnage, Age of Rust, and 9Lives Arena.
Over time, many of the aforementioned projects will be ported over to Efinity.