Enjin's New PoA Blockchain JumpNet Counts 50 NFT Projects Weeks After Launch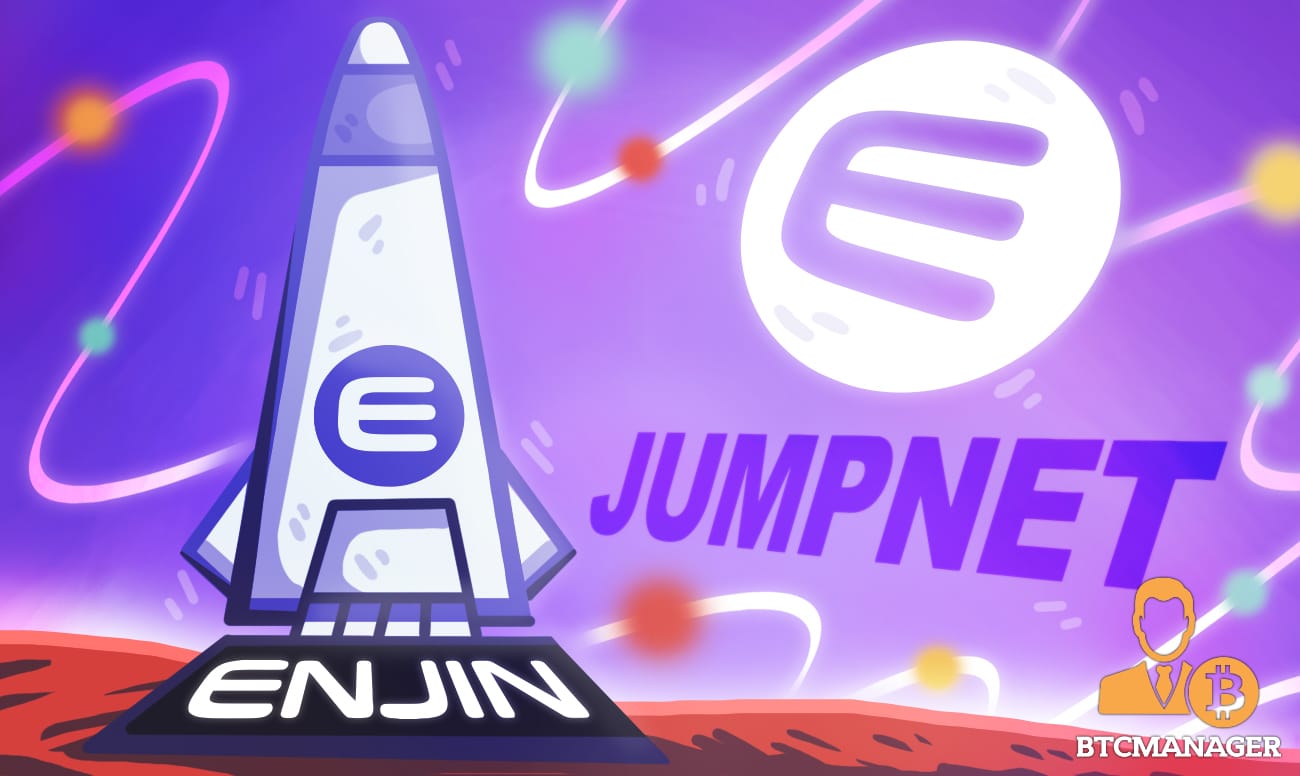 JumpNet, an innovative gas-free blockchain created by Enjin, has recorded more than 50 NFT projects launched in its ecosystem just two weeks after it launched. Enjin launched the early access version of the blockchain on April 6. According to developers Enjin, JumpNet is a fast Proof-of-Authority (PoA) blockchain leveraging the distribution and minting of Non-Fungible Tokens (NFT) with zero gas fees charges. 
JumpNet Spells Blockchain Technology Prowess
Alongside Enjin's partners, more than 50 NFT projects have signed up for the JumpNet blockchain project. Major players in the financial industry such as Binance, OKEx, and Microsoft have all acquired the services of the blockchain. Enjin's VP of Developer Success Simon Kertonegoro gave his remarks on the newly released blockchain, stating that JumpNet has amped up the development pace of the company's ecosystem. He said,
"Being able to mint and transact freely has unblocked nearly every project, and they're moving over to JumpNet as fast as possible."
Mr. Kertonegoro also said that since the company's NFT interest is growing, the full integration of JumpNet into the NFT space will continue and users will cherish experiencing the blockchain's prowess.
Offering Eco-friendly NFT Services
According to Enjin's blog, the startup plans to launch carbon-neutral NFTs via the JumpNet network by 2030, enabling anyone interested to take advantage of eco-friendly NFT minting. Enjin is also developing Efinity, an NFT blockchain built on Polkadot, as another core piece of the transition to environmentally friendly tokens.
Built as a Proof of Authority (PoA) blockchain, JumpNet is an alternative to the Ethereum network's Proof-of-Work validation method, which consumes high electricity levels that miners currently benefit from enormously. In contrast, JumpNet will consume about ~0.000002 of the electricity of the Ethereum blockchain. 
As a first, earlier step toward alleviating environmental impact, Enjin also created the ERC-1155 token standard, which cut NFT minting gas fees by almost 90%.
Joining JumpNet
During the recent Global Azure 2021 event, Microsoft utilized JumpNet to transfer about 7,000 NFTs through Enjin Beam QR codes, to reward event attendees and participants as part of the Microsoft Azure Heroes program. 
Ludena Protocol, Korea's top gaming-based social media company, also launched and issued its first-ever token on the JumpNet network. Ludena plans to fully utilize the blockchain to issue NFTs to its millions of users across the globe, including its popular app GameTalkTalk. The CEO of the company Joshua Kim applauded the capabilities of JumpNet, confirming his company tested the eco-friendly NFT life cycle on the blockchain, whose results he termed fastest in Korea.
Cryptocurrency exchange Kriptomat is also partnering with Enjin to reward its users with NFTs via JumpNet. After purchasing Enjin Coin through the Kriptomat widget, users will gain an upgradable NFT on JumpNet whose level grows as they make more purchases. These NFT rewards are then usable in video games such as Minecraft.