Ethereum Altair Upgrade Goes Live Bringing Beacon Chain Merge Closer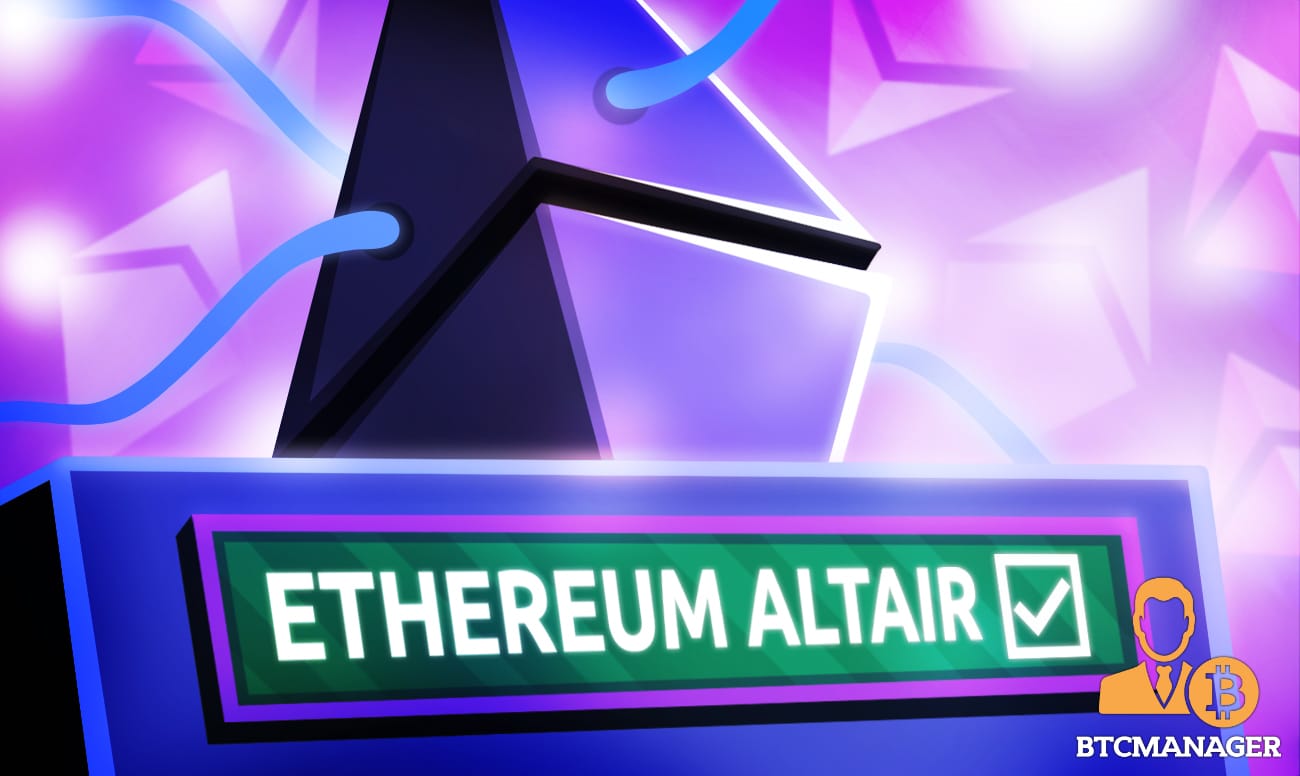 On 27th October, Ethereum released its Altair upgrade, stepping an inch closer to Ethereum 2 migration. Altair introduces solutions to the Beacon chain and is a 'warm-up upgrade' to Ethereum 2.0 merging. Several Ethereum investors showed increased confidence in the network's planned merging. However, the news did not steer a bullish price statement as many would expect. 
Altair Upgrade Now Live
Yesterday, one of Ethereum's core developers, Raul Jordan, announced that Ethereum 2.0 Altair upgrade is now live on the beacon chain. It went live at Epoch 74240. The Altair upgrade is the first upgrade on the Ethereum 2.0 Proof of stake chain. The tweet said:
"The first network upgrade on the Ethereum proof-of-stake chain, Altair, was successful! Really proud of the rockstar devs I get to learn from at @prylabs and everyone involved in Ethereum that made this happen."
It's been almost one year since the Ethereum Beacon chain went live. These new developments increase investors' confidence that the Beacon chain will merge soon. It's merely a 'warm-up upgrade' setting the network to the merge, which may happen sometime in December. 
Introducing Altair as a warm-up will help ensure the ETH 2.0 merge goes as planned. 
Understanding the Altair Upgrade
The Ethereum Altair upgrade is one of the most trending things in the crypto space this week. Its launch comes with many updates, which could bring an end to 'Ethereum Killers' dynamics. The Altair upgrade implements the proposals passed in EIP-2982. 
One of the proposals involved introducing support for light clients, adjusting penalties, and solving validator reward issues. Altair brought sync committees which will allow the light clients to sync data and header chains easily. The sync committee's application reduces the computational requirements and data costs for light clients. 
The second update, incentive accounting changes, also brings about several system changes. It solves the rewarding issues per validator and also reduces complexity. 
Another update in Altair is the adjustment of penalties. Essentially, this update emphasizes penalizing inactivity leaks and slashing. The slashing penalty went higher from 0.25ETH in the original to 0.5ETH in the Altair era. 
Currently, Ethereum Killers bank on network problems like high fees, lacking scalability, and speed. But, as Altair sets up the Beacon chain merger, more solutions will come in the future. 
Price Actions
Although the upgrade does not directly affect the current Ethereum chain, many would expect a bullish statement. Yet, the news did not have a positive impact on prices. Instead of causing a bullish statement, Ethereum dropped in value from $4293 to $3920. Coinmarketcap shows that Ethereum prices have been recovering since then, and the coin is trading at $4187.
Experts expected that Ethereum could go to at least $5000 by the end of the year. If the beacon chain merge completes before year-end, then investors can expect even higher increases.