Ethereum ends February failing to reclaim $2,000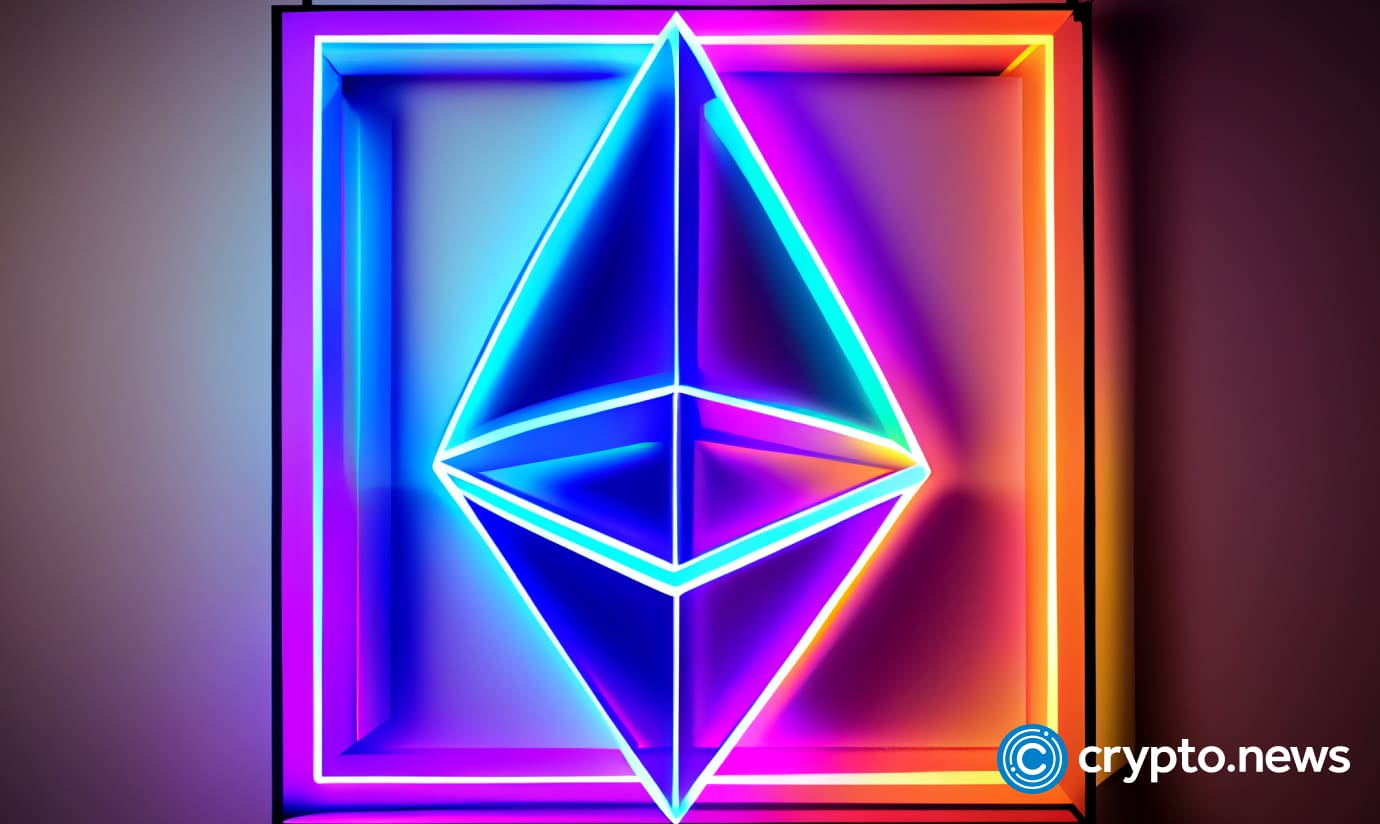 Ethereum (ETH) failed to reclaim the much-coveted $2,000 price territory in February despite closing the month with a 1.26% increase. The asset's performance in February was mainly tied to bitcoin's (BTC) movement as it sought to weather the bearish storm that prevailed throughout the month.
Ethereum started February on a solid note, closing the first day of the month with a 3.55% increase from its opening price of $1,566. Highs and lows characterized the next few days amid massive volatility. The bears finally took control of the scene on Feb. 9, triggering a huge 6.37% intraday loss for ETH.
Following subsequent declines, ethereum slumped to $1,461 on Feb. 13, its lowest point of the month. Two days later, the asset staged a comeback with a 7.66% intraday gain, the highest this year. This rally resulted in a 6-month high of $1,742, but the bullish trend was later snuffed out.
The battle for supremacy between the bulls and the bears ensued and prevailed until the end of February, with ethereum closing the month at $1,605 – a 1.26% increase from its opening value.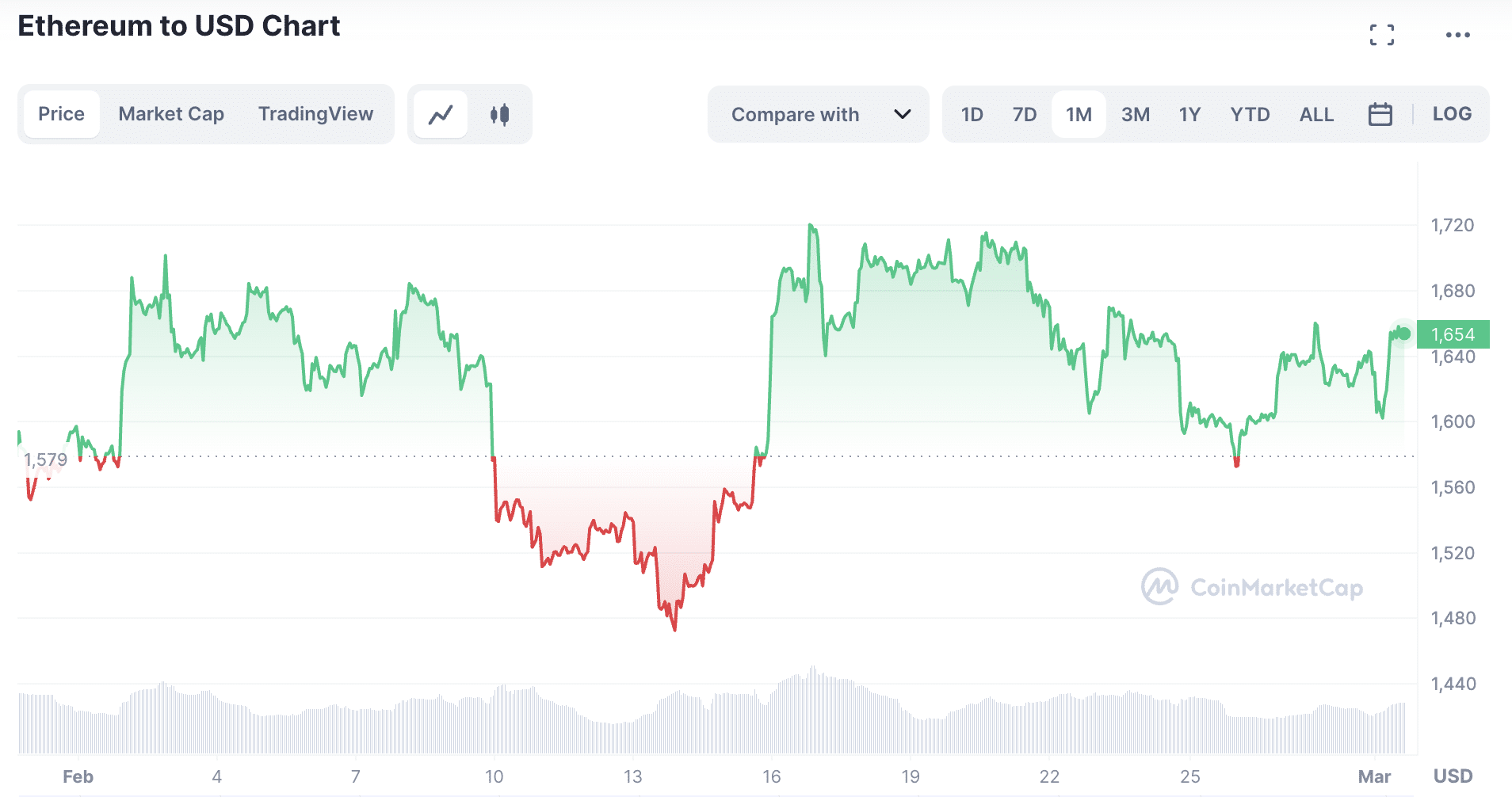 Amid the prevalent price fluctuations throughout February, investors' confidence remained strong, as evidenced by a cluster of massive deposits into the ETH 2.0 contract. Data from Glassnode reveals that the total value of the ETH 2.0 deposit contract hit a 9-month high of $27.3 billion worth of ETH as the Shanghai upgrade inches closer.
Moreover, Santiment disclosed today that the cumulative holding of the top 10 non-exchange ethereum whale addresses surpassed 25 million ETH. This metric was last witnessed in 2016 and indicates a massive increase in whale accumulation.
Buterin: transaction time and gas fees need improvement 
Meanwhile, following the asset's February run, Buterin noted an observation in the network's performance. Transaction speed and gas fees have seen substantial upgrades since the network's launch seven years ago, but Vitalik Buterin believes there is still more work to be done. He further stressed the need to improve the UX of ethereum-based wallets.
Buterin made these observations in a recent blog article released on Feb. 28, in which he chronicled some personal experiences he encountered while attempting to pay for goods using ETH. He revealed that he had experienced numerous delays in transaction time.
He also highlighted substantial and unpredictable delays between when he makes a transaction and when it gets accepted on the chain. Buterin said the time could range from a few seconds to hours. 
Buterin noted that while the EIP-1559 protocol has significantly improved this transaction time, some cases still require more work. For instance, sending a transaction simultaneously with others seriously increases base fees. Users would often not expect it because the UI of ETH wallets does not indicate the development.
Taking this into consideration, he mentioned that wallet developers should put some work into fixing the UX of their platforms regarding transaction inclusion. He applauded the team behind Brave wallet for making some notable improvements in this regard. This comes as the network prepares to welcome the Shanghai upgrade.