Experts Reveal Bitcoin and Blockchain Predictions for 2017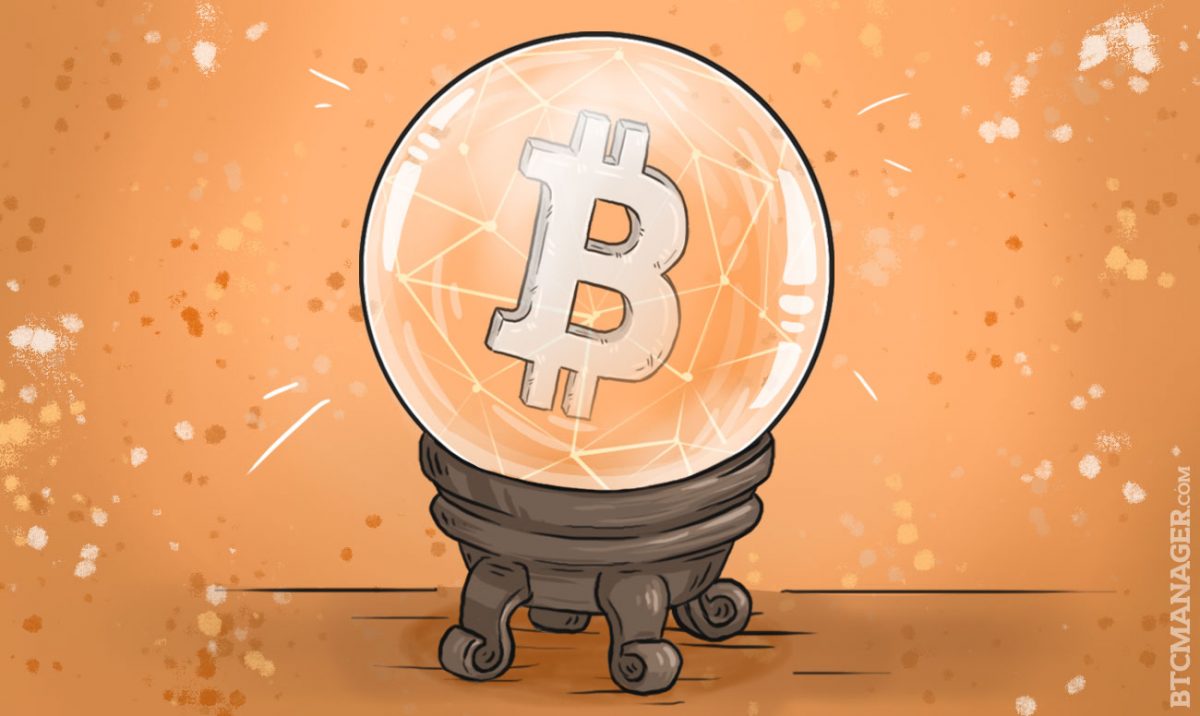 With 2016 coming to a close, the new year will be an exciting time for cryptocurrencies and blockchain technology. In this article, we look at some notable predictions for bitcoin, cryptocurrencies and blockchain technology for 2017.
Saxo Bank's 'Outrageous Prediction' for Bitcoin
While this does not constitute Saxo's official market outlook, a collection of 'outrageous predictions' includes a tripling of the value of Bitcoin by 2017, up to $2,100 as a potential deviation from consensus in the markets.
The catalyst behind the prediction, aggressive fiscal spending under President Trump in the US and an increase in the US budget deficit to over $1 trillion. While this would see higher growth and inflation in the US, the Federal Reserve will be forced to hike interest rates and push the US Dollar to new highs.
By enabling a domino effect in emerging markets, and in particular China, these countries will look for alternatives, possibly utilizing Bitcoin to escape US hegemony in the global financial system. Cryptocurrencies as a whole will benefit but Bitcoin will benefit the most from its first-mover advantage.
As adoption increases in the Chinese and Russian banking systems, replacing the US Dollar with bitcoin, the cryptocurrency is predicted to rouhgly triple in value from the current $770 level to $2,100.
Well-known Bitcoin Experts also Chime In
At a recent Coinscrum meetup, Bitcoin expert Andreas Antonopolous gave a speech focusing on currency wars and the neutrality of Bitcoin. Countries around the world have been embroiled in currency wars since the Global Financial Crisis started in 2007, devaluing their currency strategically to increase the competitiveness of their exports.
While fiat currencies are held hostage in this situation, Antonopolous emphasized the neutrality of Bitcoin in this situation, which will boost adoption and the price as this geopolitical and economic war intensifies.
We have already seen signs that this currency war is heating up, with hyperinflation in countries such as Venezuela and Zimbabwe. And in 2017, there will no doubt be more aggression and since Bitcoin is not participating in this economic war, it will not fall victim to national attacks through the use of their currency.
Also, notable cryptocurrency investor and founder of Digital Currency Group, Barry Silbert, has also provided some predictions for Bitcoin in 2017, some of which are detailed below:
Bitcoin will become more accessible to traditional investors via ETF's. 2017 could finally see the anticipated launch of COIN, the ETF from the Winklevoss twins.
Exponential Bitcoin transaction growth in India, Japan and the Middle East.
Silbert also reckons 2017 will see an explosion in proof of concepts relating to blockchain technology for the supply chain sector.
With regards to regulation, Silbert thinks that the SEC may come down hard on ICO's and deem the assets on offer as securities, thereby making them subject to regulation and more scrutiny.
While Silbert expects Bitcoin's price to perform strongly in 2017, he has not given a specific target or range.
Blockchain Start-up Credits Highlights Trends for Blockchain
On December 1, Oliver Bussman and Nick Williamson of Credits, shared their views on blockchain technology for guests at Canary Wharf's Level39, where they made some key predictions for blockchain technology in 2017 including:
2017 will be the "Year of the Pilot" for blockchain technology in financial services, especially in the cross-border payment and trade finance areas.
Broad-based adoption of blockchain will progress more quickly outside of finance, in areas such as e-government, healthcare and supply chain management.
Heightened opportunities for fintech startups to partner with banks thanks to the revised EU payment directive PSD2, due in 2018.
Best Cryptocurrencies to Invest in for 2017?
With regards to cryptocurrency investment, Dean Walsh, a seasoned Bitcoin commentator, has chosen several altcoins as his picks for 2017.
Once a floor is established for Zcash (ZEC), Walsh sees this altcoin doing very well given it is based on sound anonymity technology. All it needs is some confidence from the market. The chart below shows the Zcash has exhibited stability around the $50.00 psychological level and this could be the floor from which the cryptocurrency can start establishing gains.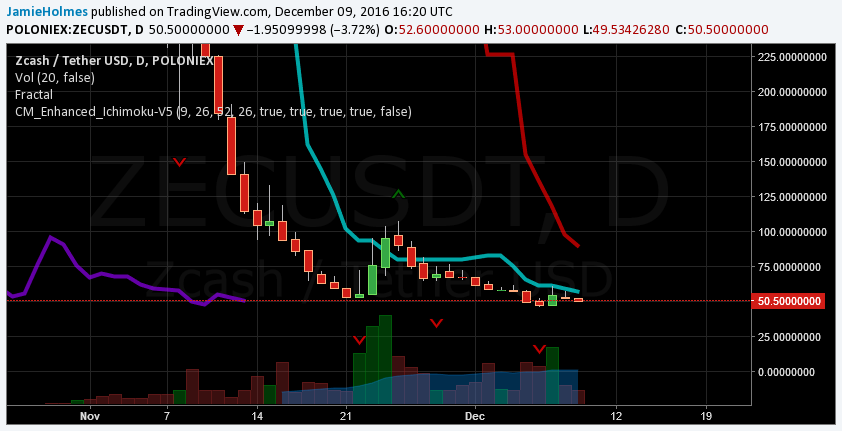 Secondly, following on with the theme of privacy, he also picks DASH for 2017 as the upgrade 'evolution' will be something for bulls to shout about. While DASH has regain the critical $10 handle, Monero (XMR) probably has a better chance of delivering higher returns in 2017 with DASH playing catch up after Monero's explosion in value in August 2016; there is a risk that interest in DASH could dwindle.
Monero has solidified its place as the leading privacy-centric digital asset and increasingly as a hedge against bitcoin. A flawless hard fork took place upgrading the network to enable confidential transactions and achieving greater fungibility, something that Bitcoin is lacking. While primarily traded on Poloniex, Kraken announced on January 2 the introduction of XMR trading, bringing more exposure for the cryptocurrency to the European audience. Riccardo Spagni of monero spoke at Coinbase on January 8, prompting speculation that XMR will be introduced on their platform, one of the most popular US exchanges.
As the chart below illustrates, 2017 is likely to see more gains for Monero. A variant of the bullish Marubozu candlestick is shown below and after the panic following an exit scam from the Dark Net involving a marketplace supporting Monero, the 50 percent support level provided by this candlestick held firm. The market has since trended higher, back into the market equilibrium around $8.00.
The market will now look to tend toward fractal resistance at $15.249 over the long term after bouncing from the critical support at $5.13; this level will remain a key support level through 2017 and provide as a good entry point to buy Monero, given that this level is tested again.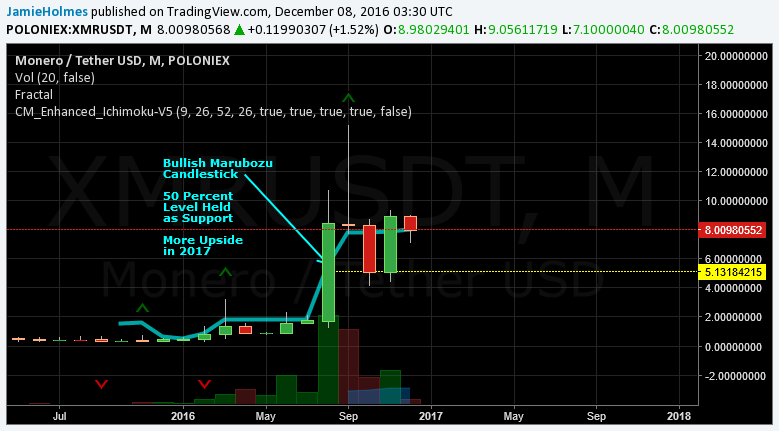 Also, the chart below shows the price action of XMR-USD after it broke out of equilibrium at $8.00 and has pushed higher to around $12.00 at the time of writing. The conversion line is trending higher, suggesting the bull market is still in play and the recent rally to a fresh high of $18.46 points to a possible extension as high as $27.28 during 2017. The optimal buying price for XMR in January 2017 will be found at the support provided by the converison line, at $9.62.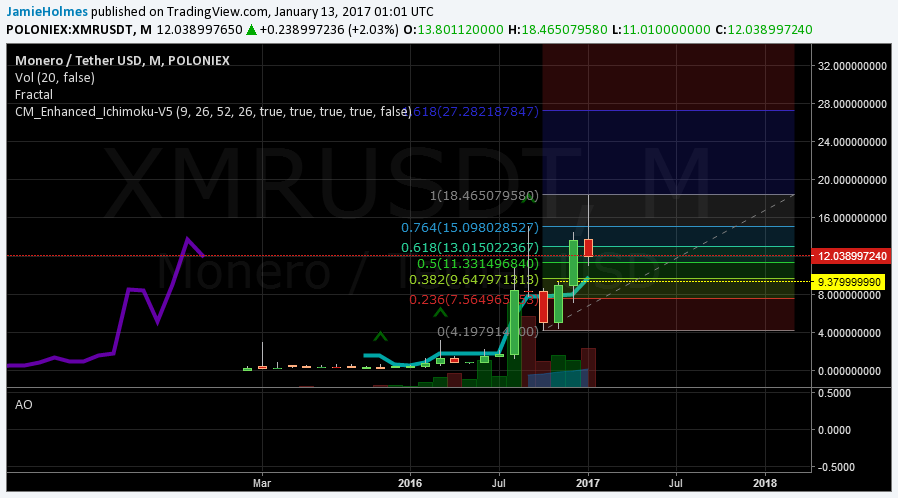 The strongest investment pick on Walsh's list is Maidsafecoin (MAID), one we cannot disagree with, which is an ambitious project to decentralize the internet. While there has been a long wait for the release of the project, this is down to the team taking on such a colossal task and making sure they perfect their offering.
In our view, altcoins that will do well in 2017 will be privacy-focused coins such as Monero (XMR) and Shadowcash (SDC), especially given recent legislation encroaching on individual privacy and liberty in the UK. Also, many in the US are concerned about the watchful eye of the NSA. The EU also wants to pass regulation that aims to identify every bitcoin user. As the Republicans control both houses of Congress, they will be able to shift policy as they see fit.
While NSA whistleblower Edward Snowden warned that we should not put too much "faith or fear in elected officials," he reiterated that individuals should work together to build pro-privacy technology.
Therefore, privacy will remain a key theme in 2017 and this is becoming an extremely scarce commodity for individuals, hence potentially increasing the perceived value of cryptocurrencies that provide anonymity.
This article was updated January 12, 2017.