Feature Interview with PopChest: Bitcoin Micropayments Go Viral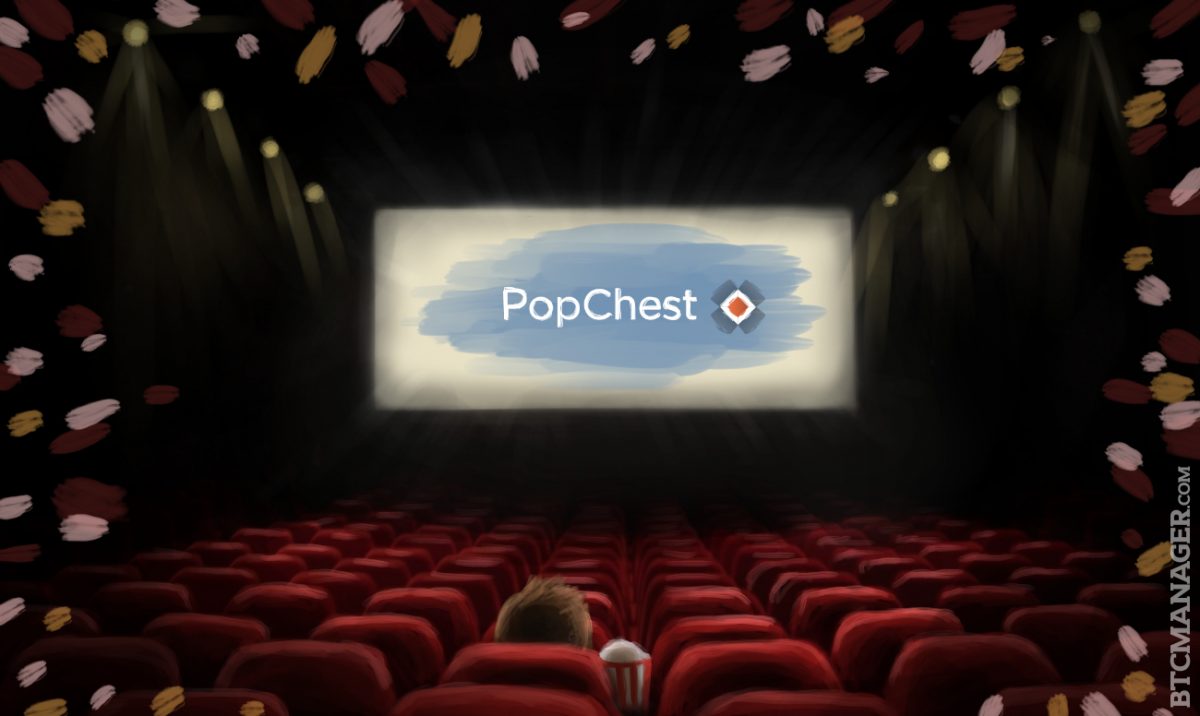 Talk with Valerian Bennett and you'll quickly discover his deep passion for the video world.  Since his days at the University of Southern California film school, he has been on a high-stakes quest to unearth the next frontier of online content innovation.
Bennett's entertainment industry background is vast. It includes stints editing music videos for the likes of Little Wayne, Wu Tang-Chan, and 50Cent. He also spent time in the reality TV realm.
In 2014, he founded Protocol.TV, an online video network dedicated to bitcoin and blockchain content. It was here where he had a major "Ah-ha moment."
"I started developing video content and then got frustrated with the whole process of trying to monetize it. Then one day it occurred to me that with the emergence of bitcoin, someone should create a micropayment platform where people could pay ten cents or even a quarter to watch something online they want to see," says Bennett. At that point, he began to reflect on the number one question facing all startup businesses, namely, solving a problem. "It is interesting how the work I do now all ensued from this attempt to resolve my own problem."
Today Bennett and co-founder James Poole are taking a quantum leap into the world of video curation by creating a bitcoin-centric micropayment model for online content. This new development is called PopChest,  a blockchain-based media distribution platform that supports content creator payments in real-time for video viewership. With the BTC payment network serving as the revenue generation engine, video producers can receive bitcoin micropayments to support their video distribution efforts.
PopChest is currently in beta with the prominent YouTube personality Nurd Rage serving as their primary test balloon. With a niche over 600,000 subscribers, Nurd Rage agreed to utilize the platform to create a bitcoin monetization effect around the launch of one of their latest videos. And according to Bennett the results so far have been very promising.
What's been so great about this beta is that he came to us with a sizable, built-in audience – one that is aware of and interested in bitcoin. We built out our platform so that it was easy for him to use. And in looking at the numbers so far, I think it's working out well for him. 
Bennett goes on to note that the YouTube's monetization model used by most content creators can be a bit complex and confusing. "Contrary to what most people think, it's not about how many views occur on a video. Rather, monetization is all predicated on how many advertisement commercials are viewed on top of your video." He says that with ad blocking and other elements being a part of the equation, YouTube takes nearly one-half of the revenue right off the top. "When you start adding all of these factors up, you actually need to have quite a few visitors just to make even $5.00."
How PopChest works
As part of the sign-on process, video content producers are prompted to connect their Coinbase wallet to PopChest. They can then proceed to upload their videos, charging as little as $0.10 per view. Once uploaded, they can share content with their audience, either through the PopChest.com video player or by copying and pasting a simple code to embed on  their website. Viewers can then use any bitcoin wallet to pay by scanning the video QR code to receive a unique, on-demand experience that doesn't require annoying signups, subscriptions or commitments.
Emblazoned on the PopChest website is a compelling proposition that should bring this all home for video content creators: "For every 1 micropayment Nurd Rage receives, they will generate the equivalent of 50 advertising-supported views."
Says Bennett – "This beta test is actually doing a bit better than we actually expected. Sure, we'll wait to gather some more data before we draw any conclusions. But we're definitely on pace to exceed our initial expectation which we're real happy about."
The Booming Online Video Space
PopChest's entry into the video micropayments space couldn't be more perfectly timed. According to the online statistics site Statista, there were over 200 million digital video viewers in the U.S. in 2015. The most popular categories? Humorous videos, movie trailers and music videos.
The bitcoin payment solution is what's being viewed as the game changer for video content monetization. Receiving micropayments have long been a challenge as legacy payment platforms predicated off of the use of debit and credit cards are not equipped to effectively accept them. Just the fees alone associated with these card swipes make bitcoin far superior in facilitating cost-effective transactions.
One of the great features of PopChest is that content producers will be able to maintain control over their money and earnings without the annoying hassle of middlemen who often take a healthy bite out of their profits. With bitcoin, there's no waiting for a check to be cut or lengthy  wait times for the postal service to deliver it.  Payments are received instantly and recorded on the blockchain.
Bennett says that during their beta trial, there will be no cost to the content producer for using the service. PopChest's own long-term plan for monetization is still in the works. "We haven't determined that yet.  We're basically just trying to gather as much data as we can from users and from the experience. I am confident  though that we'll be able to turn the prevailing model of how content is monetized completely upside down."
When asked about calls among some for a flat fee versus an on-demand payments for the viewer, Bennett quickly cuts to the chase in his response: "Yes, ultimately that's something we'd like to add to the platform. But right now we are trying to stay focussed on one thing as a part of this launch and do that exceptionally well before moving on to other features."
An Accelerated Demand Curve?
Coined by Chris Anderson, editor-in-chief of Wired Magazine, the term "Long Tail" refers to how online channels like video portals can reshape the consumer demand curve because viewers place a higher value on niche products geared toward their particular interests than those created for mass appeal. As Internet platforms such as PopChest enable the former, purchasing habits will change accordingly. In other words,  the statistical tail will grow both longer and fatter as consumers discover more videos targeted toward their interests and tastes.
What the "Long Tail" suggests is that micropayments such as bitcoin can accumulate into something big. It's here where PopChest allows content creators to fully capitalize on the mass distribution power the Internet affords and, in a sense, provide them with the same advertising advantages afforded to big, well-funded media outlets.
One of the things that truly excited me when I began to understand what bitcoin was all about was the concept of becoming one's own bank. So in the same way, that a television or cable network has their own revenue generation system, video content creators can do the same when given a platform for controlling their own monetization ability.

Valerian Bennett
Bennett says that as the technology behind micropayments continues to move ahead, the user experience element becomes more and more vital.  "The difficult part and the part that we're really focused on is really the user. Our thesis is that until you can help people  figure out how to use this stuff,  everything else is academic. That's why we're actively listening to our users and customers to determine what will help make this sustainable in terms of rewarding people for their creativity. I'm excited to see what bitcoin micropayments can enable along this front."