FriesDAO Leverages On-Chain Governance to Disrupt the Fast Food Industry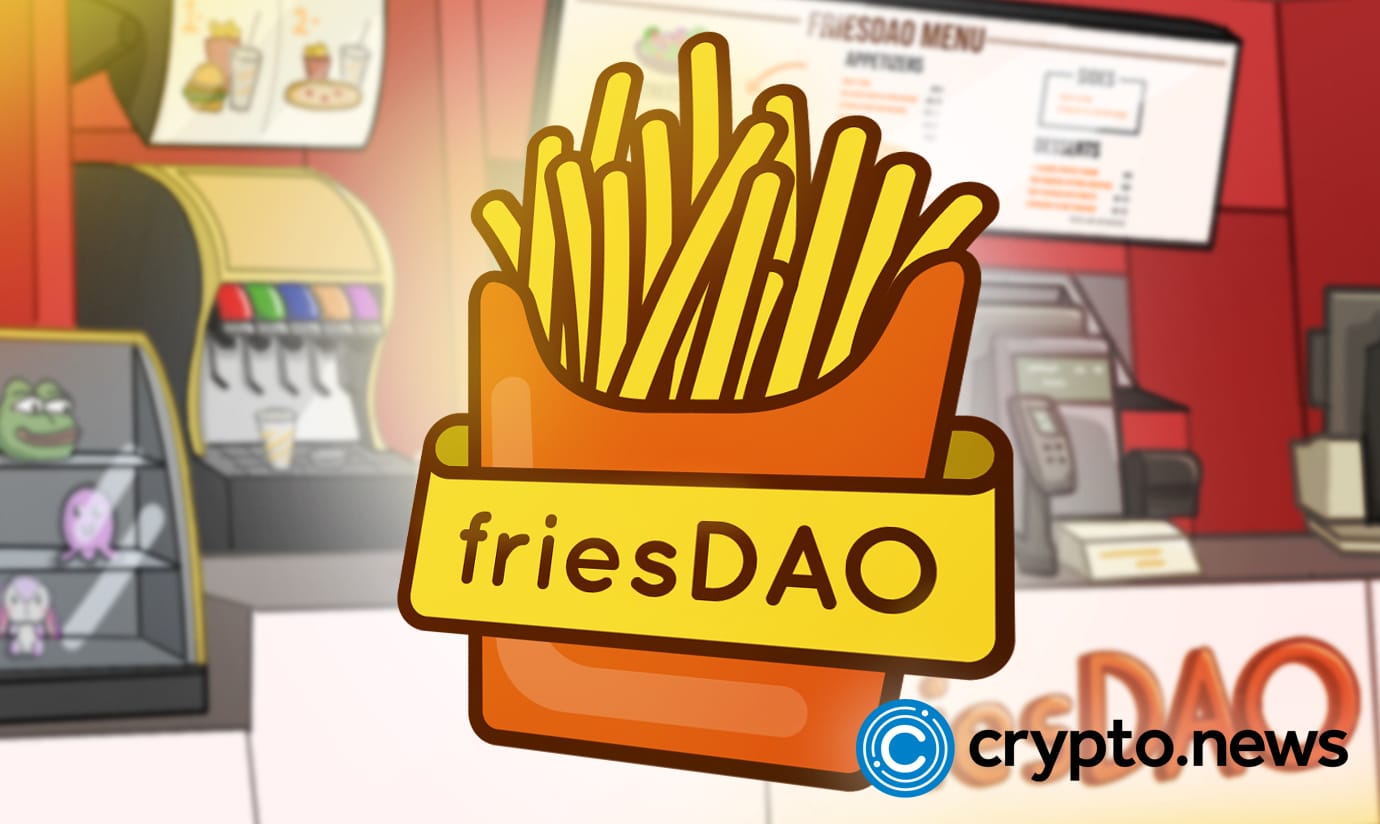 Decentralized autonomous organization (DAO) FriesDAO is democratizing access to the multi-billion dollar fast food industry to enable the crypto community to participate in community-governed restaurant franchises around the world.
Enabling the Masses to Govern Restaurant Franchises
Leveraging the benefits of blockchain technology and DAO, friesDAO seeks to transform the fast food business via on-chain governance.
FriesDAO is bridging the gap between real-world and on-chain assets and, as such, is using the DAO mechanism to achieve the same. Essentially, friesDAO is an attempt at disrupting a traditional industry via blockchain-based governance.
Individuals interested in participating in the friesDAO can donate to its treasury and receive membership tokens which also function as governance votes for friesDAO's future growth and prospects.
Notably, community donations to friesDAO's treasury commenced from January 29 and the raise is expected to run until mid-February. FriesDAO is eyeing a target raise of $9.69 million.
How Will the Funds Be Used?
The funds raised by the friesDAO treasury will be used toward getting into contracts with traditional companies to acquire and operate franchises of the most reputed, and well-known fast food brand.
All operating profits, regardless of the fact that they're owned by the contract organization, can easily be changed by DAO governance towards store improvements or acquiring additional stores to scale the DAO's operations.
In addition, ready access to store operation data from sales to logistics will enable friesDAO to create additional blockchain utility, make decentralized governance more efficient, and integrate into other DeFi protocols.
Some of the notable members playing an instrumental role in organizing the community are Drizly co-founder Brett Beller, and Launch Code Capital partner and seasoned crypto personality Bill "Swo" Lee.
Other names that have joined the DAO to further its cause are Horizen Labs advisor Rowan Stone who also works for leading crypto exchange and DeFi developer vfat, the creator of industry-acclaimed vfat.tools.
Further, friesDAO has been joined by franchising veterans Olivier Meyer and Jean-Claude Meyer, who co-founded and run a 170+ quick-service restaurant business that advises and oversees operations of the stores.
In the long-term, friesDAO aims to establish a benchmark for an operational framework through the governance of its first several stores so as to enable any future members to easily replicate it and inch closer to complete decentralization.
Why Is a DAO Suitable for Fast Food Franchise Business?
The fast food industry has emerged as one of the ripest to be disrupted by the DAO governance model as it has proven to be extremely successful with a franchise success rate of over 90 percent.
The on-chain governance structure ensures that friesDAO is uniquely positioned as a partner for big restaurant chains that desire to tap into the potential of the rapidly booming crypto space.
FriesDAO functions as a gateway for fast food franchises the world over to quickly gain access to a global crypto audience. In addition, they benefit from friesDAO's first-mover advantage.
Commenting on the development, Lee said:
"The future of businesses could very well be run by DAOs powered by a strong and intelligent community, but only if they have clear and measurable goals and a nimble governance system."
Adding:
"FriesDAO is essentially a decentralized research group to experiment as the first crypto community to run real retail businesses in a successful, scalable manner and set an example for future DAOs."
It's also worth highlighting that as part of its research mission, the friesDAO community is committed to releasing annual reports on its performance, insights, and its franchising endeavors.