GameStop Hiring a Security Analyst with "Crypto and NFT" Experience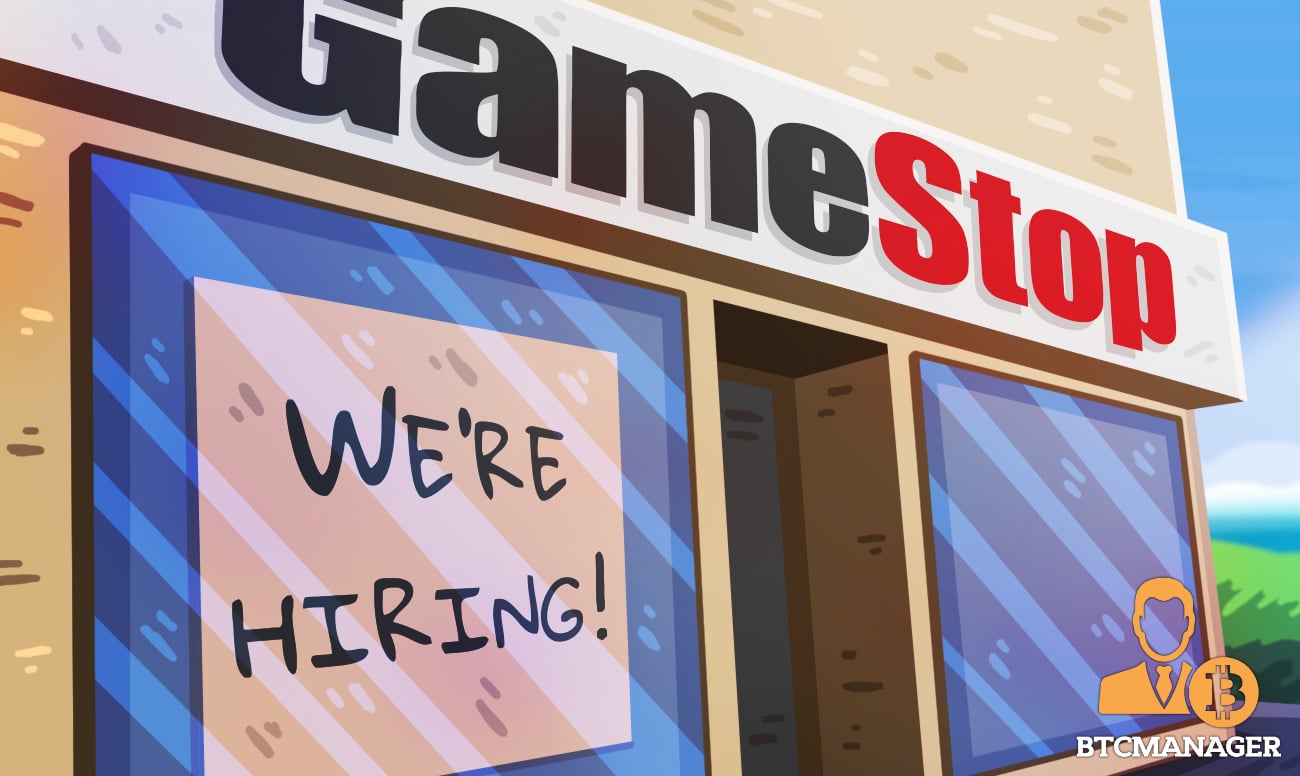 The NYSE-Listed GameStop, known more for its activity in gaming, is making moves on its human capital that may suggest their newfound interest in non-fungible tokens (NFTs), cryptocurrency, and blockchain.
A Security Analyst with NFTs Experience
In a job posting on Apr 8, GameStop is looking to hire a Texas-based security analyst.
Outside of his/her core capabilities and proficiencies of, among other things monitoring and responding to security incidents and events, the gaming merchandizing giant prefers a candidate with additional skills and knowledge in cryptocurrencies, blockchain, and non-fungible tokens (NFTs).
What's piquing interest from the hawk-eyed crypto community is GameStop's mention of "NFTs."
A hot topic in recent weeks, this new sub-set of crypto is closely related to DeFi. However, unlike governance or other utility tokens used by open finance protocols, NFTs are unique.
Within Ethereum, they run on the ERC-721 standard, while in IOST, the same is defined by the IRC-721 standard.
Other standards guide how digital artists or even companies looking to employ the technology in their processes can mint these special tokens.
$209.5 Million of NFTs sold in March
Overly, all NFT tokens are unique and cannot be interchanged.
Often, these tokens are in limited supply. Once sold by the minter—usually, a digital artist or a startup, interested bidders can acquire the same from the already vibrant NFTs secondary marketplace.
According to data from Non-Fungible, 149,562 pieces were sold in March, generating over $209.5 million for creators.
Out of this, 89,924 were from direct sales, while 59,638 were from the secondary market.
From these sales, digital artists earned $61.1 million from interested bidders.
NFTs and Crypto in Gaming a Game-changer
There has been no official communication from GameStop on whether they are considering integrating NFTs or interest in striking partnerships with gaming companies and more.
However, this doesn't mean NFTs aren't disruptive and being considered by gaming developers.
Already, blockchain and the incorporation of crypto as a means of facilitating in-game purchases is a game-changer.
If gaming items are converted to NFTs, and a secondary market created, it could permanently change the landscape of gaming, subsequently thrusting NFTs into the mainstream.
As BTCManager reports, WWE has joined the NFT gravy train and would be auctioning unique NFTs centered around its legendary and recently retired superstar, the Undertaker.