Genesis intentionally delayed bankruptcy declaration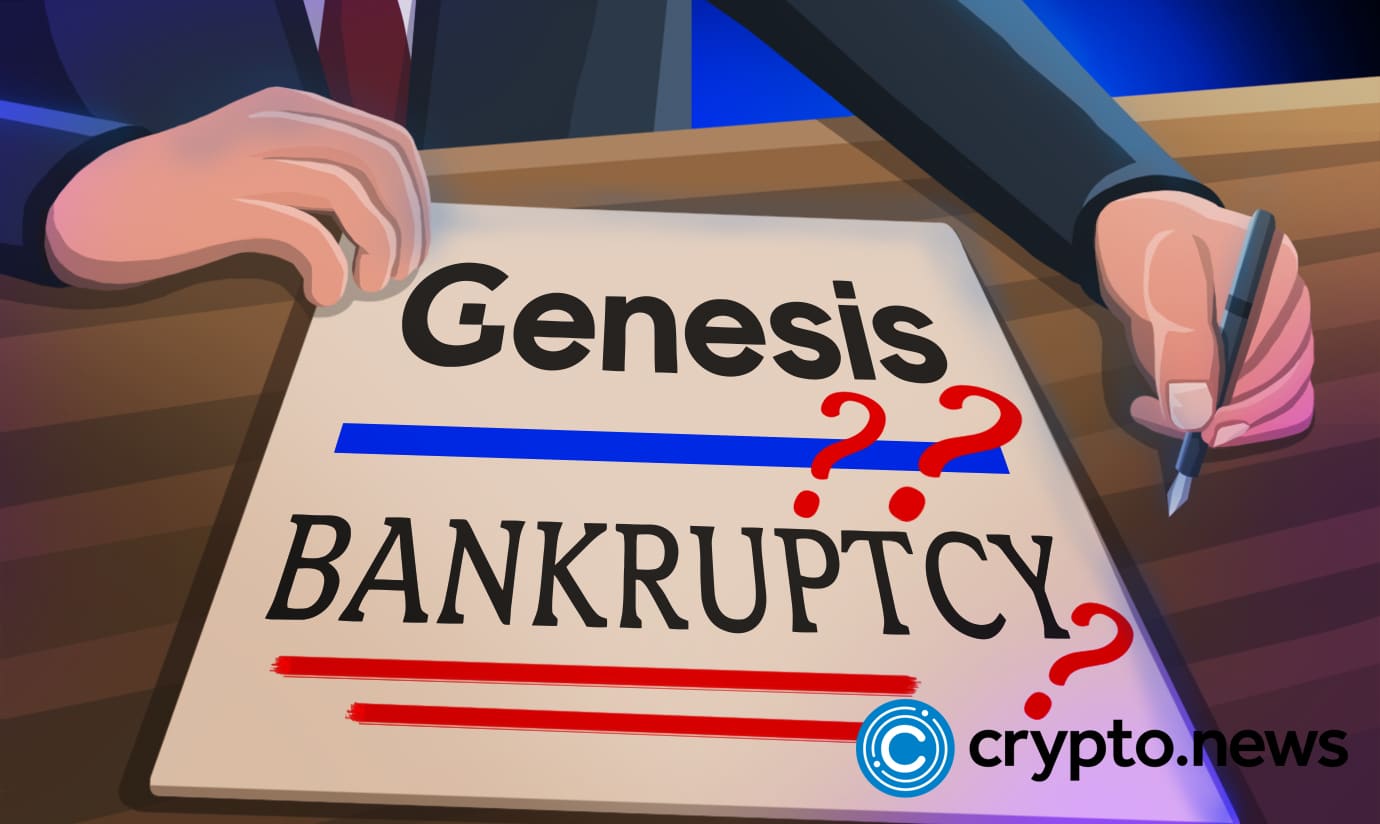 Recent speculations indicate that Genesis, a troubled crypto lender, could be intentionally delaying bankruptcy declaration. Analysts indicate that Genesis was dead in July. However, there are speculations from analysts that Genesis could get a new lifeline by asking some top creditors to convert their loans into equity.
Genesis 'died' months ago, analysts indicate
Analysts speculate that Genesis' numbers indicate that the platform is intentionally delaying bankruptcy filing. Since July, Genesis has seemingly been living by a thread. An analyst noted that after the 3AC blow-up, with $2.3 billion Genesis debt, the latter was effectively insolvent. Genesis needed $1 billion in July to remain solvent due to the problems caused by 3AC.
The $1 billion in July would bring liquidity to the platform, hence the business's continuation. However, the analyst argues that a $1 billion loan would make Genesis insolvent. Essentially, they are just adding more loans to the already existing loans. The analyst noted;
"That makes sense. A loan would give Genesis the temporary liquidity to fund withdrawals during a bank run. Genesis can live to fight another day. But, a loan leaves Genesis insolvent. A loan is a liability of Genesis, not fresh equity."
Therefore, the analyst speculated that the $1 billion loan demand does not make sense because it effectively renders Genesis insolvent.
Genesis 'constructive conversations with creditors'
After failing to secure funding from Binance, Genesis lending network highlighted that they "have no plans to file bankruptcy imminently." The network also mentioned that their goal is to 'resolve the current situation consensually' through 'constructive conversations with creditors.'
Due to the statement, analysts have speculated that Genesis could plan to look for solutions by encouraging creditors to convert part of the debt into equity. By doing that, Genesis could have a lifeline because it would remain solvent. However, based on numbers, creditors could be forced to convert large sums of their loans into equity to keep Genesis afloat.
The analyst went on to Gemini Earn, Circle, and DCG among Genesis' top creditors. Genesis would need to contact Gemini or DCG to convert their debt to equity. The analyst suggested that Genesis could simply issue Gemini's retail base a path to owning Genesis equity.
If Genesis successfully convinced its creditors to convert their debt to equity, and become part shareholders, then the network would have a new lifeline and some liquidity. Therefore, according to the analysis, Genesis could be intentionally delaying the declaration of bankruptcy to carry the 'constructive conversations with creditors.'
Genesis's web of intercompany loans in Silbert's empire
According to analysts, Genesis has $2.8 billion in outstanding loans, with 30% made to related parties which are part of Barry Silbert's empire, including its parent company, Digital Currency Group (DCG). Since the same DCG owns Grayscale, analysts and whistleblowers claimed that if Genesis dies, Grayscale and DCG will follow.
However, the constant speculation from the crypto community has caused Barry Silbert to talk about intercompany lending. A letter by Barry indicated that DCG owes Genesis about $575 billion, not $1.1 billion. On the $1.1 billion promissory note, Barry noted that it arose as DCG came to take liability from Genesis concerning the death of 3AC.