Germany Cracks Down on Bitcoin ATMs Operated by "Shitcoins Club"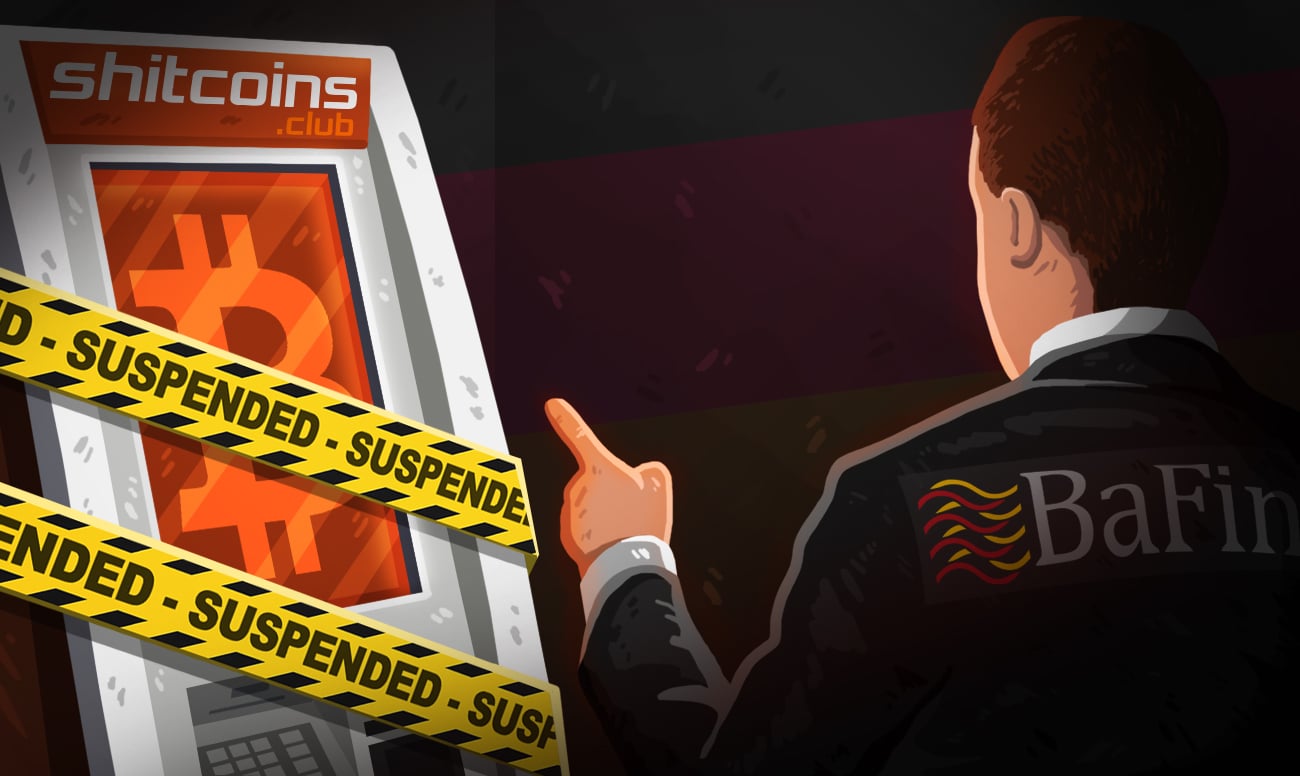 German financial regulator BaFin seized Bitcoin ATMs run by an agency with a dubious name in the country, reported CoinDesk on August 7.
Bitcoin ATMs Seized
Called "Shitcoins Club," the Poland-based ATM operator was asked by BaFin to shutter all units in Germany, an official confirmed Thursday. The firm was allegedly operating without banking or proprietary trading licenses.
BaFin ordered Shitcoins' parent company KKT UG to cease all German crypto trading operations in February, said the report. However, But CEO Adam Gramowski continued to carry out his activity despite the regulators' demand. He did not respond to comments on the matter to local media.
The action means a significant portion of crypto ATMs in Germany will be affected. Shitcoin Clubs operators over 17 Bitcoin, Ethereum, and Litecoin ATMs of the country's 67 total crypto ATMs. All of the others are operated by companies with proper licenses in place.
Shitcoins Club's money machines were spread across kiosks, shopping malls, and other retail locations across Germany and Europe. They were touted as featuring "bald and exciting design," one that represented the "true spirit of cryptocurrency."
Cryptocurrency ATM tracking website Coinatmradar describes Shitcoin Club as ATMs which "cannot be missed," adding that the company operates two types of crypto ATMs.
All of the Shitcoin Club's ATMs are designed and built by the company. They offer transactions in the following cryptocurrencies: bitcoin ethereum, litecoin, and dash. Users can purchase cryptos for EUR, USD, GBP, CHF in most of the firm's ATMs. Additionally, one can also visit You shitcoins.club to sell cryptos and payout money at any ATM using a one-time redeemable code.
New German Crypto-Finance Regulation
The move came weeks after Germany made an amendment to the Fourth EU Money Laundering Directive earlier this year on January 1. The new law effectively regulated all services in the crypto industry.
BaFin, at the time, said all financial services companies must submit their intent to apply for a license by March 31 and complete a license application by November 30. The length of approvals depends on a case-by-case basis; with established firms getting their licenses faster than startups.
Over forty financial institutions in Germany claim to be interested in or already offering cryptocurrency custody services under the new German law.
Meanwhile, German banks are also struggling to cope with the negative interest rate policy maintained by the European Central Bank (ECB). Forty banks in the country have now levied negative interest rates – and the number is rising.