Google Finance Now Tracks the Price of Select Cryptocurrencies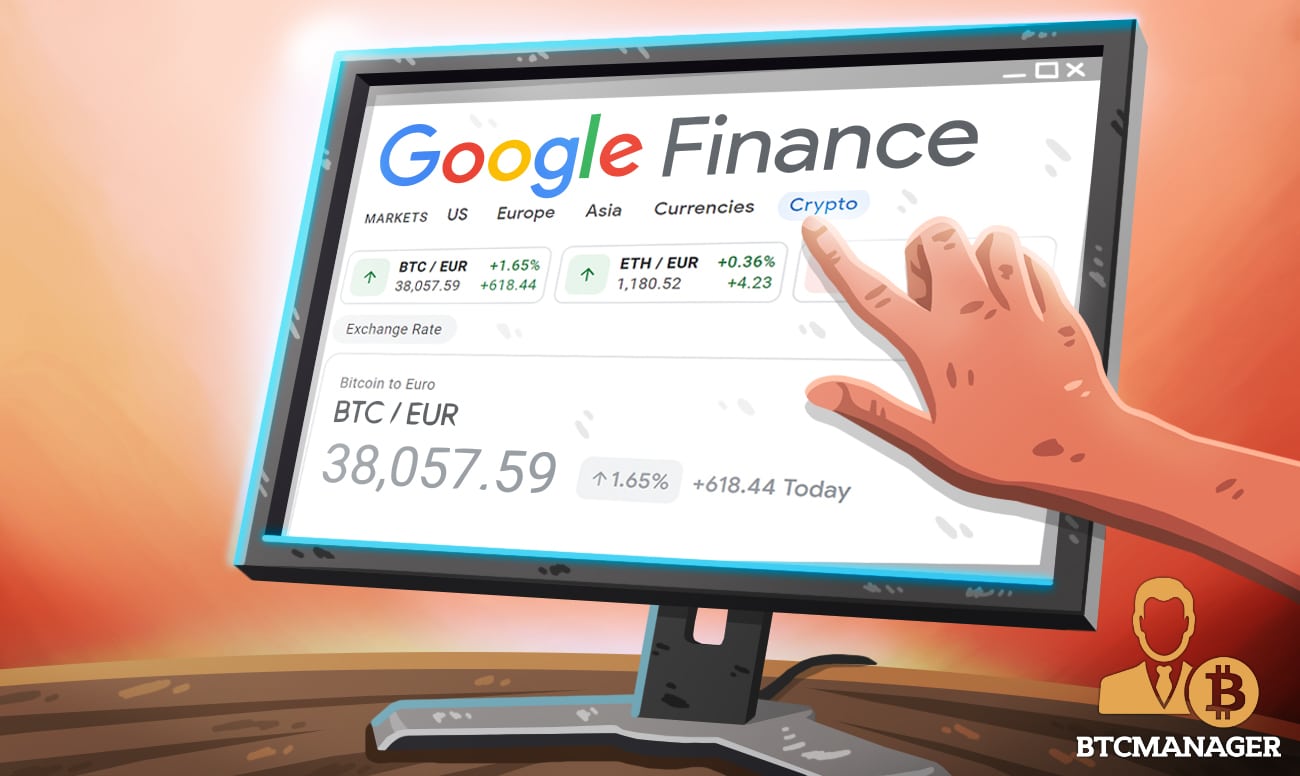 Google Finance has added a cryptocurrency tab to its platform. The new "Crypto" tab allows users to view the historical and real-time price of bitcoin (BTC) and a few other cryptoassets, according to a Coindesk report on March 1, 2021.
Google Finance Integrates Crypto
In another positive development for the burgeoning cryptocurrency ecosystem, Google Finance, a platform from the stables of the tech giant that focuses on providing real-time financial data and analytics to users, now displays the price of bitcoin (BTC) and a few established altcoins.
As seen on Google Finance, a crypto tab is now available at the "Compare Markets" section of its homepage and once clicked on, the real-time price of bitcoin (BTC), ether (ETH), litecoin (LTC) and bitcoin cash (BCH) are displayed.
What's more, on clicking on any of the displayed digital currencies, one can get historical data of that particular coin and also compare its price movement against that of other financial instruments.   
Crypto's Mainstream March Continues 
Though the newly-added Google Finance crypto data tab is agonizingly limited, as it supports only a meagre four established cryptoassets out of the thousands currently in existence, the move has however attracted positive reactions from observers, with some suggesting that Google (NASDAQ: GOOGL) may be looking to add crypto to its balance sheet.
While one Twitter user with the handle @nocapscapital has argued that Google Finance's crypto tab is not a new addition, as it has always been on the platform, whichever way, it still goes a long way to show that the highly controversial tech giant is quietly beginning to embrace crypto, despite once banning cryptocurrency-related ads.
Despite having its own shortcomings, bitcoin (BTC) has grown to become the fastest horse in the world of finance, leaving forward-thinking corporations including MicroStrategy, MassMutual, Tesla, and Square, among others, with no choice but to add it to their balance sheets.
Interestingly, Google is not the only one abandoning its once harsh stance towards bitcoin, as Bill Gates, a longstanding critic of the world's flagship crypto, who described it as a "greater fool theory type of investment" in 2018, recently hinted that he's now taking a "neutral" approach towards BTC.
Notably, the price of bitcoin climbed to an all-time high of $58,330 in February, before crashing to the $32,270 price region. However, at press time, BTC is hovering around $47,762, with a market cap of $889,670, as seen on CoinMarketCap.