Google Search for Uniswap Surges Amid Upcoming V3 Launch Speculations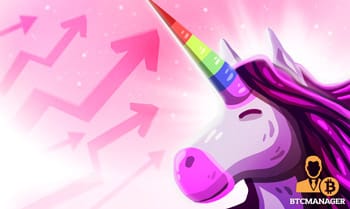 Data from Google search trends show a high level of interest for decentralized exchange (DEX) Uniswap in recent times, reaching its highest point since its all-time high (ATH) back in September 2020. 
Search for Uniswap Indicate Increased Interest 
The search for the word "Uniswap" on Google has surged since the beginning of 2021, going from 32 in January to 91 in March. The data shows a renewed interest in the DEX, after it peaked to 100 in September 2020. 
The high interest in Uniswap back in September happened amid the launch of the UNI token and four ETH-based liquidity pools for farming in the same month. The further airdropped 400 UNI tokens to each of its users who used the exchange within a period of time. 
Since the launch of its governance tokens, UNI price has seen an increase especially in 2021. Earlier in March, UNI reached an ATH at almost $36 per token, with the price currently trading at $33. 
Uniswap is the largest decentralized exchange by trading volume and the most used DEX, controlling more than 55 percent of the total market for. In February 2021, Uniswap raked in close to $40 billion in trading volume. 
Crypto Community Eagerly Await Uniswap V3
Meanwhile, there have been rising speculations surrounding the much awaited Uniswap V3. Back in August, the team raised $11 million for the third version of the decentralized trading platform in a series A funding round led by Andreesson Horowitz. 
Uniswap had earlier launched the V2 in May 2020 on the Ethereum mainnet. Compared to the first version, the V2 came with new and improved features. According to its August announcement, the V3 would "dramatically increase the flexibility and capital efficiency of the protocol."
The crypto community, however, have been eagerly waiting for Uniswap V3, with even the protocol's inventor, Hayden Adams almost becoming impatient with withholding the details. In a tweet, Adams said:
"If I have to go another week without publicly announcing details of Uniswap v3 I might go insane."
With Adams' tweet, most believe that the launch could happen any time soon. Uniswap recently released a teaser video with V3 stylishly written at the end.
Meanwhike, there are hopes that V3 unveiling would come with reduced gas fees. Also, some believe that the launch could come with another airdrop.