HTC's First Blockchain Phone Can Only Be Purchased With Cryptocurrencies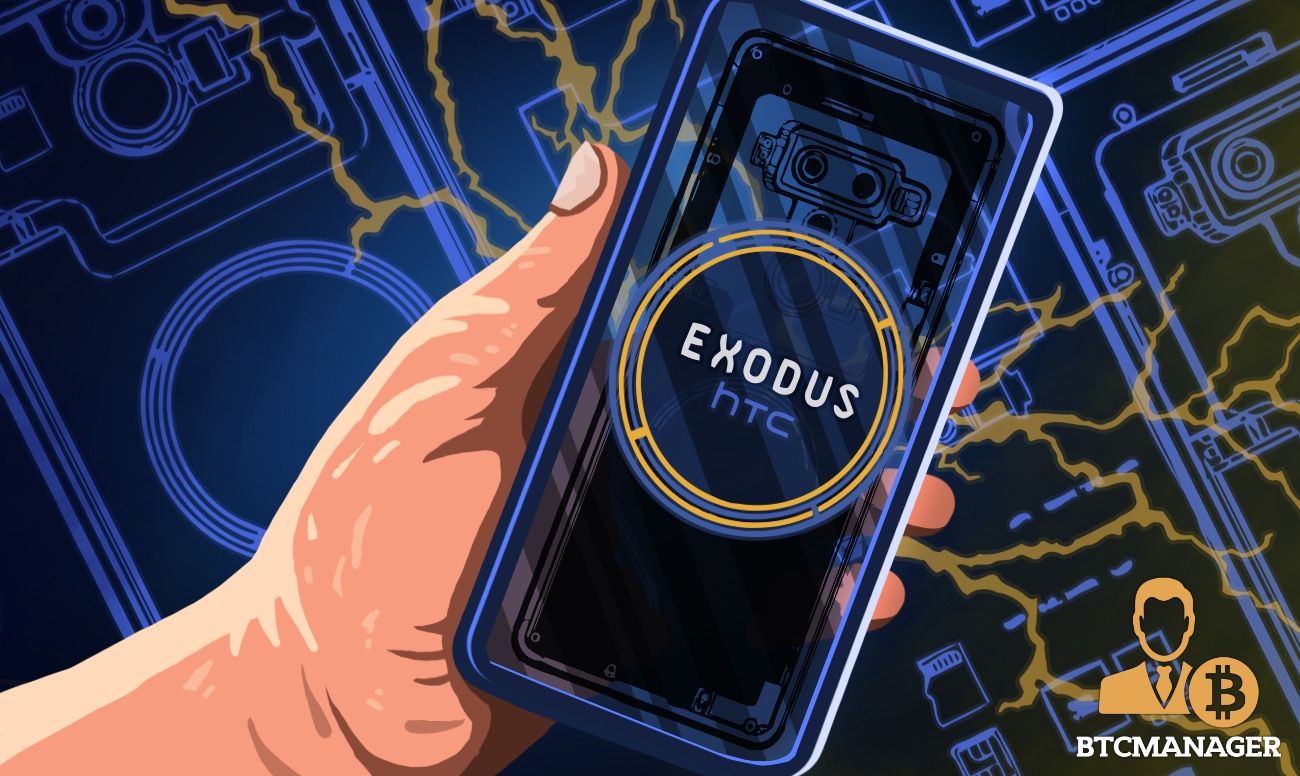 Over the past few years, HTC has been failing to gain traction among smartphone customers due to the rise in competition from the likes of Apple, Google, Samsung, and OnePlus. To win back its market position, the company has turned towards blockchain technology and is about to launch the first of its kind blockchain-focused smartphone dubbed as the "Exodus 1", as reported by CNBC on October 23, 2018.
Smartphone Power-Packed With Features
HTC, a Taiwanese-based consumer electronics company is not just launching a blockchain based smartphone, but its design and hardware teams have left no stone unturned to position it best in class against the competition. The phone maker from Taiwan has developed its crypto wallet, inbuilt into the phone, called Zion which makes the phone an hardware wallet.
The team has also considered securing customers crypto assets by providing a secure and secluded area, away from the phone's Android-based operating system, on the phone's chip that uses the security technology developed by Softbank backed Arm Holdings.
The other non-blockchain based features of the phone include a dual main camera and a front camera with 4K video. The main camera is 16 megapixel while the front selfie camera is 8 megapixel. The phone has a six-inch display which is powered with quad-HD+ resolution, and a Qualcomm Snapdragon 845 processor. Exodus also features 6 GB RAM and 128 GB of storage.
When asked about the secluded area on the chip, Phil Chen, HTC's chief officer told CNBC:
"Think of it as a micro OS that runs in parallel with Android. It is a wallet, but the wallet, what it does is hold your private keys."
The reason to provide a separate area from Google Android OS was to ensure that user's funds as centralized software like Android would put the funds in a vulnerable position.  In the future, HTC expects this phone to help in protecting customers data and identity as it is integrated with blockchain.
"The dominant companies in our world today are Google and Facebook, and in China, Baidu, Alibaba, and Tencent, because they own all our data," Chen added in his statement to CNBC.
Purchasable Only in Crypto
While Exodus 1 is touted as the one that will make HTC a competitive smartphone maker in the industry, the company, surprisingly, has planned to only sell the phone just in cryptocurrencies. According to the details available on HTC's website, the phone is available for 0.15 bitcoins or 4.78 ether which according to current prices comes out to $963.06 after converting bitcoin and $959.15 for ether.   
Employing this pricing strategy, the company has trimmed down its audience only to crypto holders. As of now, it is unclear if the price for the phone will change considering the volatility of bitcoin and ether. Even though Exodus 1 is a crypto-focused phone, allowing purchases in fiat currency can soar sales.
It is unclear why HTC has employed 'pay with crypto' only policy,  especially for a phone that is expected to be the ammunition for the company to battle competition. The Taiwanese phone maker seems to gain only the attention of crypto enthusiasts.
However, the phone is loaded with features that can stand even the competition coming from recent launches of Apple and Google. Hopefully, this strategy of pricing the phone in cryptocurrency doesn't hurt HTC further.
What do you think is HTC 's thought process in pricing the new phone in cryptocurrencies? Let us know your thoughts in the comments section.