IBM and Maersk are Developing Supply Chain Solution on the Blockchain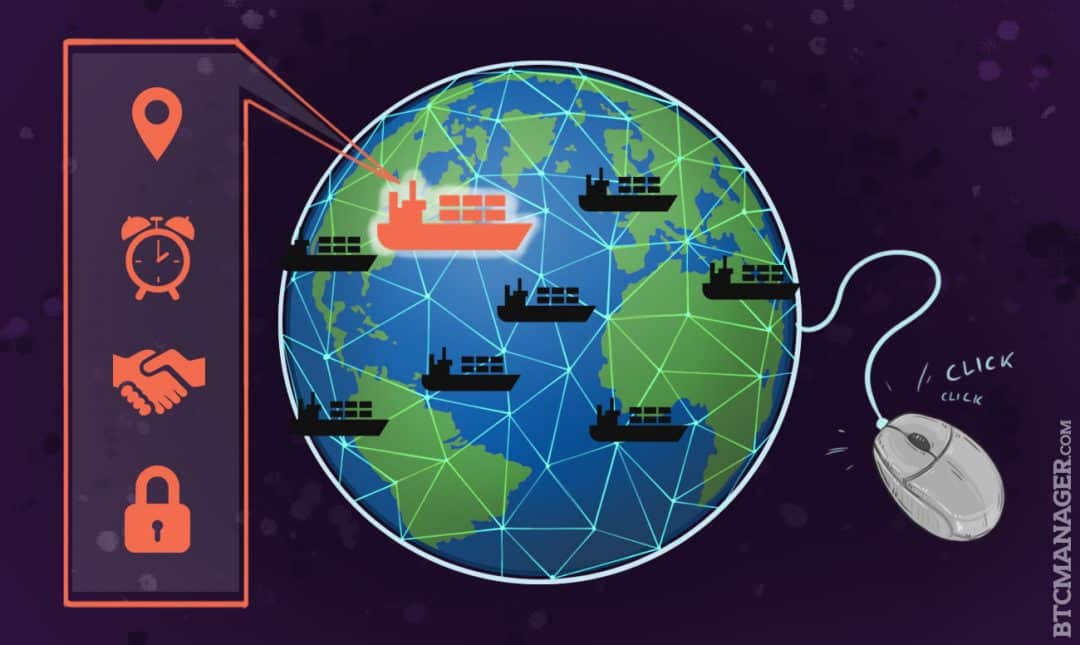 On March 5, transport and logistics conglomerate Maersk and technology company IBM announced that they are collaborating to use blockchain technology to develop a new supply chain solution.
The new supply chain management system will be able to track and manage the paper trail of millions of shipping containers around the world by fully digitizing the supply chain with enhanced transparency and security. Maersk and IBM believe that if the new solution is adopted industry-wide, it could save the shipping and logistics industry billions. The new solution is expected to go into production in late 2017 and will be made accessible to shippers, oceans carriers, ports, freight forwarders and customs authorities.
Currently, the supply chain management process is very paper heavy, which can lead to delays, errors and the falsification of documents. However, by implemented a fully digitized blockchain-based supply chain management system the entire process can be faster, more efficient and more secure for all parties involved.
In 2014, Maersk discovered that a shipment of refrigerated goods from East Africa to Europe could pass through 30 different stakeholders creating over 200 interactions and communications. By reducing the need for paper documents and having one single supply chain management system for the entire industry, all stakeholders could conduct their part of each transaction in real-time using the digital platform, which would improve efficiency, reduce fraud and errors, and drastically lessen the duration of each transaction.
To ensure that a digital supply chain solution is commercially viable, Maersk and IBM have collaborated with logistics companies, governments, and trading partners during the pilot. For example, goods from Schneider Electric were shipped on a Maersk container ship from the Port of Rotterdam to the Port of Newark during a test run conducted in collaboration with the Customs Administration of the Netherlands. Flower shipments from Kenya, oranges shipments from California and pineapple shipments from Columbia arriving in the Port of Rotterdam were also included in the pilot to validate the digital solution.
Ibrahim Gokcen, Chief Digital Officer at Maersk, stated, "As a global integrator of container logistics with the ambition to digitize global trade, we are excited about this cooperation and its potential to bring substantial efficiency and productivity gains to global supply chains while decreasing fraud and increasing security."
Gokcen also added:
"The projects we are doing with IBM aim at exploring a disruptive technology such as blockchain to solve real customer problems and create new innovative business models for the entire industry. We expect the solutions we are working on will not only reduce the cost of goods for consumers but also make global trade more accessible to a much larger number of players from both emerging and developed countries."
The Digitization of Supply Chain Management Would Improve Industry's Efficiency
According to Maersk and IBM, international trading partners require better workflow management, more transparency, and, above all, a more efficient and secure way to process the documentation needed to move cargo across international seas and borders.
The current process, which still relies on paper document usage, creates high costs and can lead to lost or erroneous documents that can delay shipments. Since the industry would become more cost-efficient, digital disruption is very much welcomed.
How the New Blockchain Supply Chain Solution Works
The new system is an immutable and transparent shared ledger network where each user has the permission to view and input information related to a transaction in real-time. Therefore, each stakeholder can track each transaction including where the cargo is currently at and at what stage all the required documentation is. No single party can modify or delete any transaction data without the consensus from others partaking in the transaction, which drastically reduces the possibility of fraud.
All stakeholders in the supply chain will be able to view and exchange documents in real-time, which establishes trust, reduces errors and speeds up each transaction. While highly beneficial for commercial participants in the supply chain who will be able to cut costs but it is also advantageous for regulatory bodies as the auditing of all transactions becomes easier since they are securely recorded in digital format. The new system also allows customs agencies to have real-time visibility of shipments, which can be used to improve the efficiency of border inspection clearance procedures.
Speaking on the development, Bridget van Kralingen, Senior VP of Industry Platforms at IBM said:
"We believe that this new supply chain solution will be a transformative technology with the potential to completely disrupt and change the way global trade is done. Working closely with Maersk for years, we've long understood the challenges facing the supply chain and logistics industry and quickly recognized the opportunity for blockchain to potentially provide massive savings when used broadly across the ocean shipping industry ecosystem."
The new blockchain supply chain solution is based on Hyperledger Fabric and is expected to to be made available to multiple participants in shipping and logistics industry later this year.
Maersk and IBM Are Not Alone in the Digitization of the Supply Chain
Maersk and IBM, however, are not the only ones developing blockchain solutions for international trade. The two European banks ING and Societe Generale, for example, have also been developing a digital supply chain management solution using blockchain technology in cooperation with trading house Mercuria targeted at the international commodity trade. On February 22, the three business partners announced that they had conducted their first live oil trade using their new system called Easy Trading Connect, which similarly to Maersk and IBM's solution aims to digitize the documentation process involved in international trade.
Blockchain technology provides an ideal solution to transform the paper document intensive international trade process through fully digitizing it in a secure and transparent manner that gives all stakeholders access to the information they require. It is, therefore, not a question of whether the blockchain will disrupt this industry but a question of when.