IndiaChain to Trial Blockchain Technology for Diploma Issuance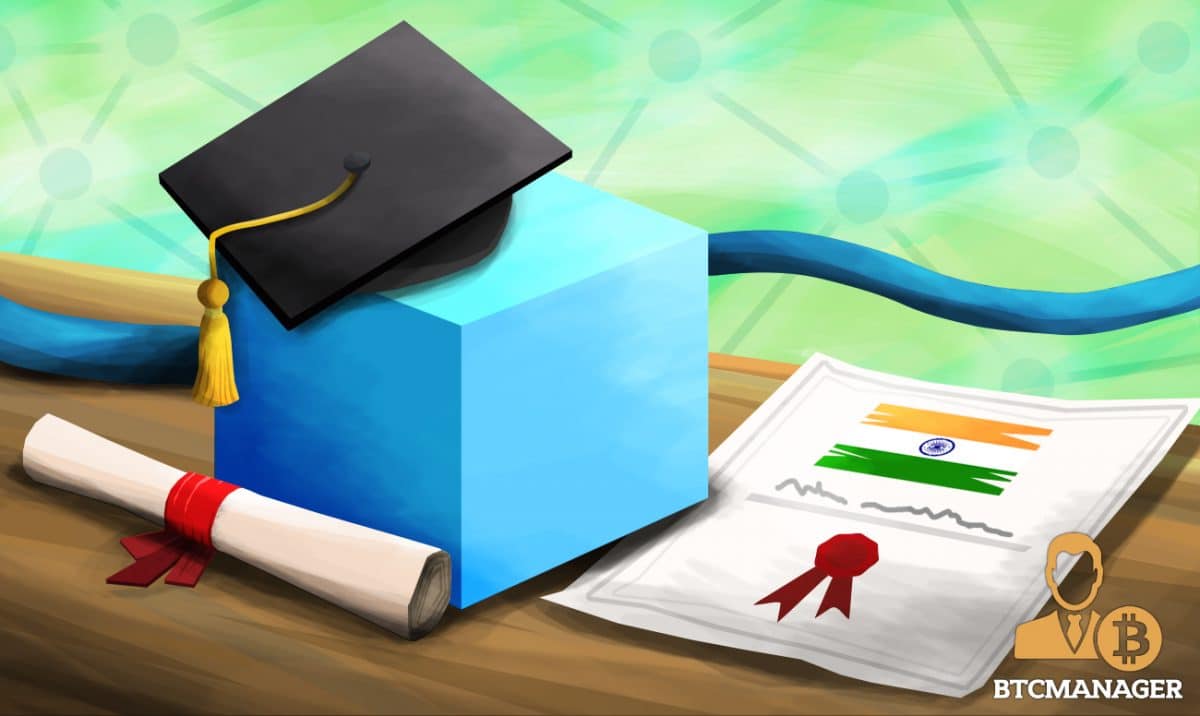 India, the world's second most populated country in the world has announced plans for adopting blockchain technology by using it for digital certification of education degrees. The trials for the system will begin in 2019 when the graduating batch is scheduled to start receiving digitized diplomas.
Correcting a Country-Wide Epidemic
Digital certificates for students will be recorded on the blockchain, essentially a decentralized ledger. As it stands today, fake diplomas constitute a significant problem in the country, which makes it very tough to scrutinize probable candidates interviewing for a job. The National Institute of Transforming India, commonly known as the NITI Aayog, has lanced the initiative.
More than five million students graduate from colleges every year all over the country. IndiaChain will be linked to IndiaStack, the Indian government's attempt to promote a paperless and cashless future.
For companies that hire young individuals straight out of college, verification of their degrees is also a resource-intensive procedure. Firms end up outsourcing this task to another business altogether, an expensive and time-consuming process. The blockchain-based system, once working, will give anyone access to the public ledger and will ultimately streamline this entire cycle.
IndiaChain will work in collaboration with the Indian Institute of Technology, Bombay and a few other colleges affiliated to the Delhi University. In 2017, IndiaChain was revealed as an ambitious plan by the Indian government to implement a full-fledged blockchain infrastructure.
Further, it will be used for better and more efficient distribution of government subsidies and KYC in banking among other things. Once fully operational, the project's blockchain will be the largest of its kind across the world and will be used in several different fields.
The Indian Finance Minister had in his budget speech said:
"The Government does not consider cryptocurrencies legal tender or coin and will take all measures to eliminate use of these crypto-assets in financing illegitimate activities or as part of the payment system."
The Indian authorities may not have a clear stand yet on the legality of cryptocurrencies, but clearly, they have a vision for blockchain technology and its population of over one billion citizens.
Finance minister Arun Jaitley added, "Distributed ledger system or the blockchain technology allows organization of any chain of records or transactions without the need of intermediaries," while presenting the Union Budget 2018-19 in the Indian Parliament.
Earlier, the National Securities Depository Limited began providing storage of electronic copies of certificates for citizens. However, blockchain technology entering the education and certification sectors could prove to be a complete game changer. Blockchain verifies transactions on the network in real time and is immutable, which means that tampering with data requires increasingly expensive computational resources.
According to an article from the Hindustan Times, the founder of Koinex, one of the country's cryptocurrency exchanges has said:
"The government has said that they want to eliminate use of crypto assets in illegitimate financial activities and we align with the government on their point of view. The statement essentially leans more towards the need for having robust regulations and framework to curb malpractices in the market and we are happy to support the government to help them in this endeavor."