Inside Augur's Assassination Prediction Market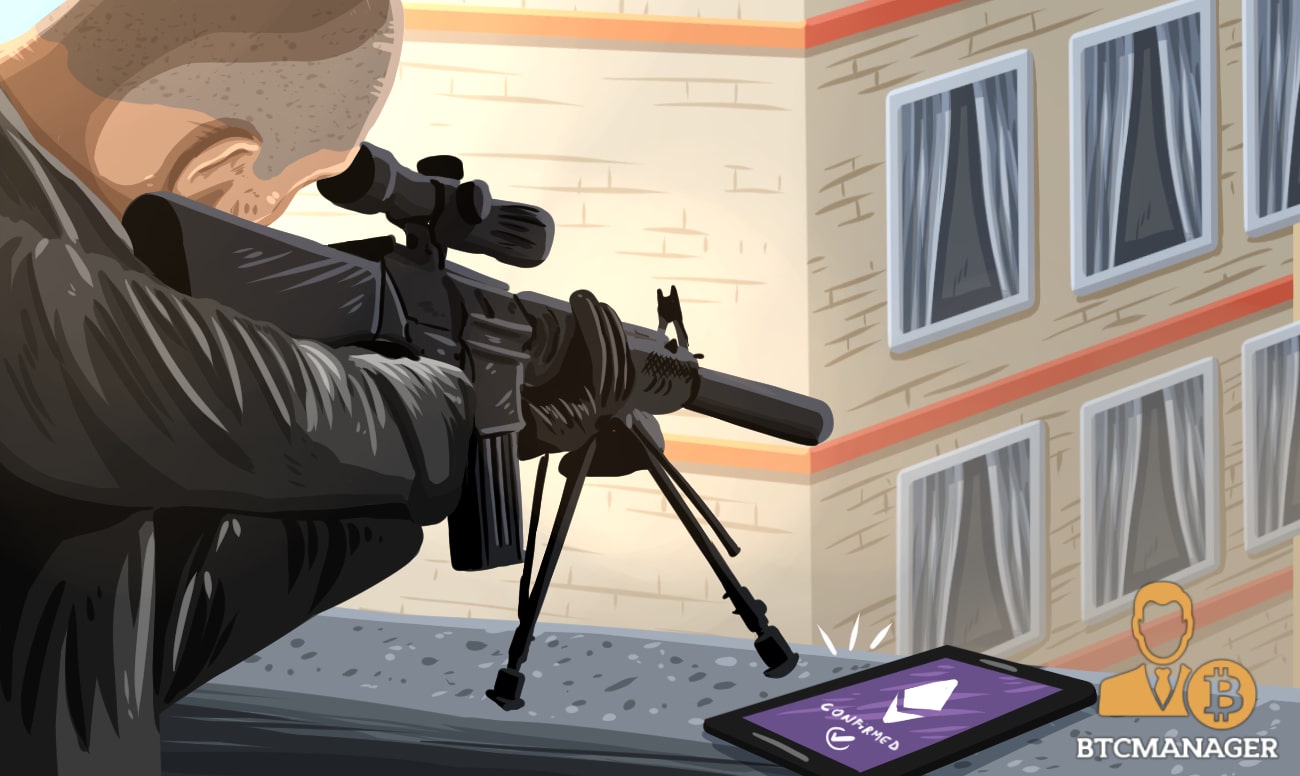 Following months of background work and speculation, a decentralized prediction protocol built on the Ethereum blockchain has gone live. True to stereotypical internet culture, it is already hosting some extremely controversial content. Augur, the Ethereum-based prediction protocol which launched recently, permits users to create and bet on prediction markets for any real-world events with no censorship or centralized oversight whatsoever.
The Back Story
One of the significant hopes and wishes of the decentralization "movement," which uses the Ethereum blockchain as its holy grail, has long been the ability to set up and respond to bets on any real-world activity whatsoever without the possibility of interference from a central authority. For a long time, this was merely theoretical until the non-profit, Forecast Foundation, decided to build such a decentralized protocol.
The result was Augur, which launched on July 9 with a promise to completely and fundamentally change the nature of prediction markets. Now for the first time, the internet finally has what has been the subject of many a thread on Reddit and BitcoinTalk: a genuinely libertarian prediction market which has no restrictions whatsoever.
Supporters claim that this is the next logical step in the ongoing decentralization of human communication and interaction. The logic goes: "If I can place a bet on the outcome of a sports game or an election, why shouldn't I be able to place a bet on say, the identity of the next celebrity to check into drug rehab?" Mostly, if it is important enough to someone, they should be able to create a prediction market for it and stake actual money on it without any risk of interference from a central authority like a government.
Augur does what it says on the tin; it genuinely has no restriction on what markets users can put up. Fancy betting on where the next major terrorist attack will take place? Where a natural disaster will occur? Whether the President of the United States will be assassinated this year? It's all on Augur. The site says in its own words:
"Decentralized technology means decentralized control. No one person can single-handedly change Augur or shut it down."
To adopt a favorable position on a bet, users buy shares with ETH.  To adopt a contrary opinion, users effectively short the bet by selling shares which will be redeemed for ETH if the user's prediction turns out right.
Assassination Markets
The internet has a long and colorful history with this particular fantasy, stretching back notably to 2013 and the bizarre online marketplace set up to solicit donations in Bitcoin toward the assassination of then-US President Barack Obama and Treasury Secretary Ben Bernanke.
While Augur does not actively play a role in such an endeavor, it must be noted that the platform effectively provides a way to incentivize such an act by rewarding winning bets with ETH, regardless of how subjectively tasteless or illegal the market may be. In other words, someone with the right mix of greed and sociopathy may decide to win a speculative bet on Donald Trump's assassination by carrying out or facilitating the action in question. In such a case, the user gets their ETH profits, no questions asked.
If that seems unlikely because the US President has a small army of security agents surrounding him, in addition to many other resources that the internet libertarian with a gun does not have, then consider the possibility that someone bets on say, a mass shooting prediction market on Augur. A shooter or facilitator would profit from such an event, and it would be next to impossible to trace them.
This raises the very distinct possibility that Augur could well be the latest in a long line of crypto-linked crime facilitators, following in the lead of Silk Road. Indeed, the afore-mentioned Donald Trump assassination scenario is currently live and accepting bets on Augur. There exists, as of July 23, a created market on the topic, "Will Donald Trump (President of The USA) be killed at any point during 2018." Worse still, the bet has a few people staking money for or against it.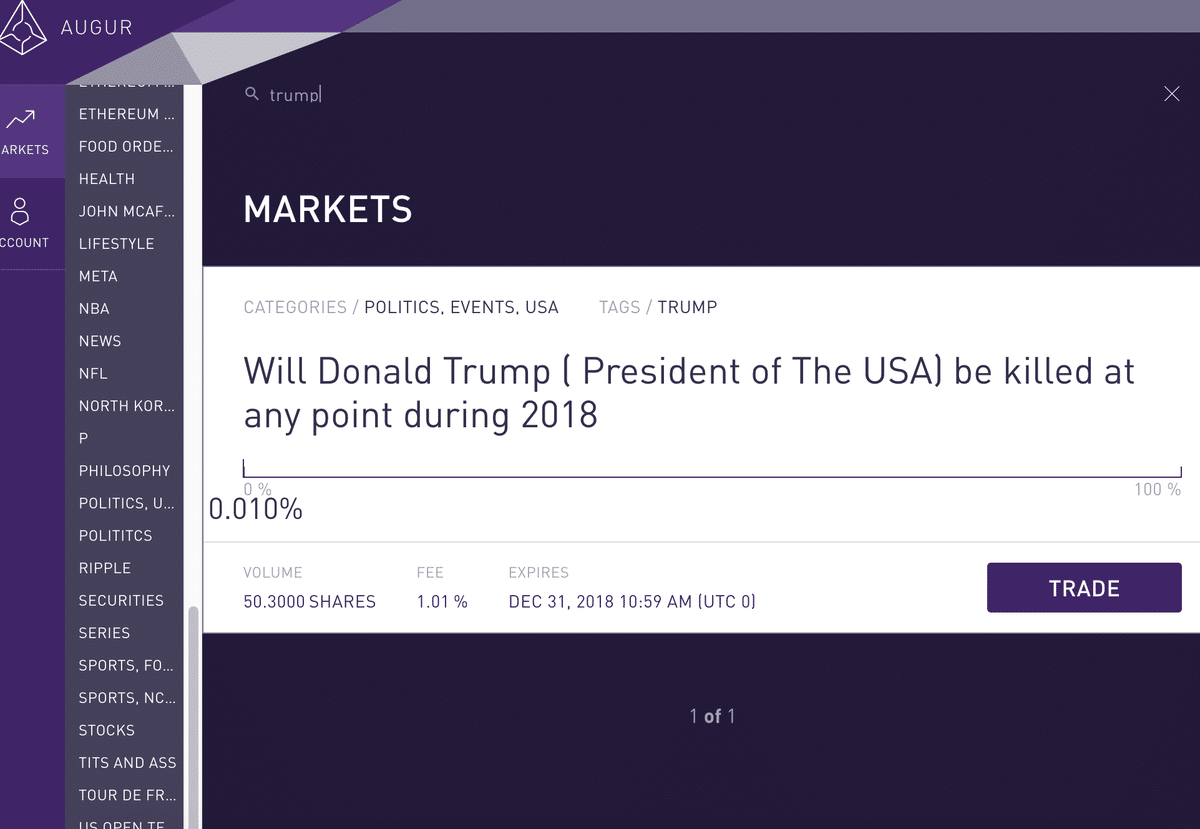 (Source: Mashable)
Augur insists that it can not only do nothing about it but hints that it would not even want to. An email statement from Augur provided to Mashable reads, "That market is still live," along with a working link to the prediction market. Even worse, copycats are coming up with titles such as "Will DJT survive 2018," also with ETH staked on an outcome.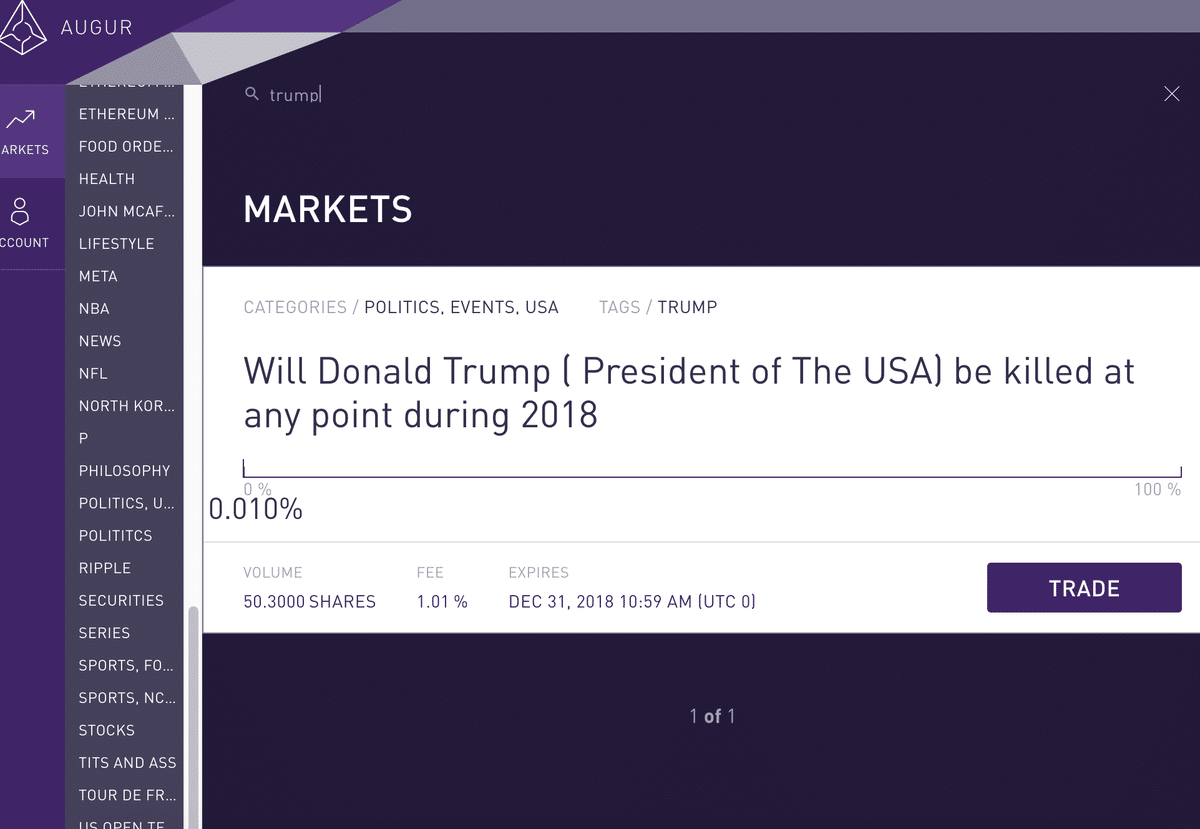 (Source: Mashable)
As if in anticipation of a scenario like this, the Forecast Foundation's FAQ page reads:
"The Forecast Foundation has no power to censor, restrict, or curate markets, orders, trades, positions or resolutions on the Augur protocol contracts. The Forecast Foundation has no more control over the Augur protocol than anyone else using Ethereum."
There is currently no comment from Augur regarding what, if any, action can or will be taken to deal with markets like this that can have potentially disastrous effects.
There is one bright spot in all of this, however. A "reporters" mechanism is built into Augur's protocol which ensures that a certain class of users is given an incentive to truthfully report the outcome of an event, using the platform's REP token. In theory, the presence of "reporters" should make it difficult or impossible to cash out a bet on Donald Trump's assassination.
Hopefully, with a bit of luck and REP tokens, we may avoid seeing the world's first crypto-assassination.