IOST Is "All in DeFi," Launches $6 Million DeFi Incentive Fund 2.0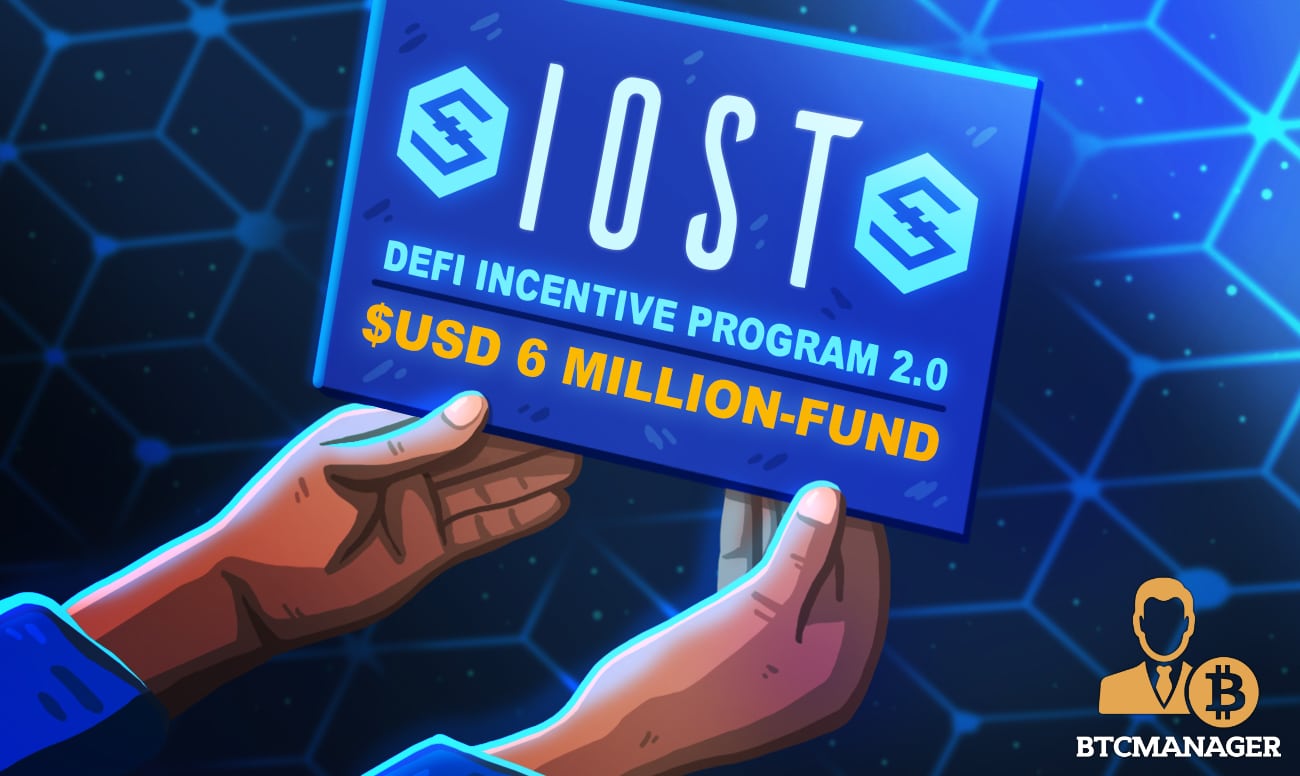 High-performance, decentralized blockchain protocol IOST (IOST) is going "All in DeFi" with its $6 million DeFi Incentive Program 2.0, bringing the DeFi-focused Noah Oracle Fund's total valuation to $7 million.
All in On DeFi
The DeFi niche in the wider cryptocurrency market has snowballed into a multi-billion dollar space, and as a leading global public blockchain platform, IOST is committed to providing a zero-barrier DeFi development ecosystem to its developers.
In that regard, IOST today announced the launch of a new incentive plan dubbed "the DeFi Incentive Program 2.0," which aims to give a $6 million boost to the ecosystem's DeFi innovators. With $6 million poured into the fund, IOST's DeFi-specific Noah Oracle Fund is now worth $7 million.
How and When to Apply?
IOST encourages talented developers to apply for the fund in the several categories outlined by the project by August 26, 23:59 PM (GMT+8). After the information is submitted, the IOST team will contact the applicants within 3 working days.
Developers/teams are recommended to add a project introduction (200 words), team introduction, and contact information in the form. The form can be accessed here.
Application Categories
Developers can apply in the following categories to gain access to the multi-million dollar DeFi-specific fund.
Liquidity Pool DEX – A DEX similar to Uniswap built on the IOST chain. Developers are encouraged to add innovative features to the DEX to provide users a more robust and economically feasible DEX service.
Lending Protocols – A lending protocol built on the IOST chain akin to AAVE (LEND), and others.
Stablecoins – The use of stablecoins has run in line with the increasing market cap of the cryptocurrency space. Developers are welcome to develop fiat-collateralized, and protocol-based stablecoins such as MakerDAO, and AMPL, respectively.
Financial Derivatives – Development of decentralized open trading platforms such as dYdX.
DeFi Pools – Developers are encouraged to build a YFI like platform on the IOST chain. Alternatively, they can propose and build other more sophisticated DeFi products akin to YFI.
Oracles – Blockchain oracles play a significant role in the proper functioning of smart contracts by fetching off-chain and cross-chain data. The development of easy to use oracles such as Chainlink (LINK) and Band Protocol (BAND) on the IOST chain is encouraged.
Decentralized Autonomous Organization (DAO) – Development of a universal DAO platform such as Aragon, DaoStack or a dedicated DAO platform such as KyberDao or MakerDAO on the IOST chain.
What's in it for Developers/Teams?
The developers or teams that successfully apply for the aforementioned category projects and are selected for the IOST DeFi Support stand to receive complete, unconditional support from IOST.
IOST will help the developers with all things finance, courtesy of its multi-million-dollar support fund that would be utilized to cover all development costs, as well as excess tokens.
The fund would also be used to promote marketing campaigns of the product or service in both online and offline mediums in more than 20 countries across the globe. Further, the projects will also receive high-quality media promotion via reputed media outlets, communities, and KOLs.
High-quality DeFi projects will benefit from IOST's millions of users worldwide, attracting more user volume toward the offering.
Further, IOST will provide world-class technical support to help developers with the underlying infrastructure. The developers or teams will also benefit from one-on-one development support from technical experts.
Last but not least, IOST will provide recommendation letters to projects for listings on the best crypto exchanges in the industry.
Indeed, IOST is committed to spearheading the DeFi wave while introducing meaningful, socially impactful changes that foster an inclusive and open financial ecosystem for the future.