IOST Enterprise Edition Joins China's Blockchain Service Network (BSN) as Qualified Developer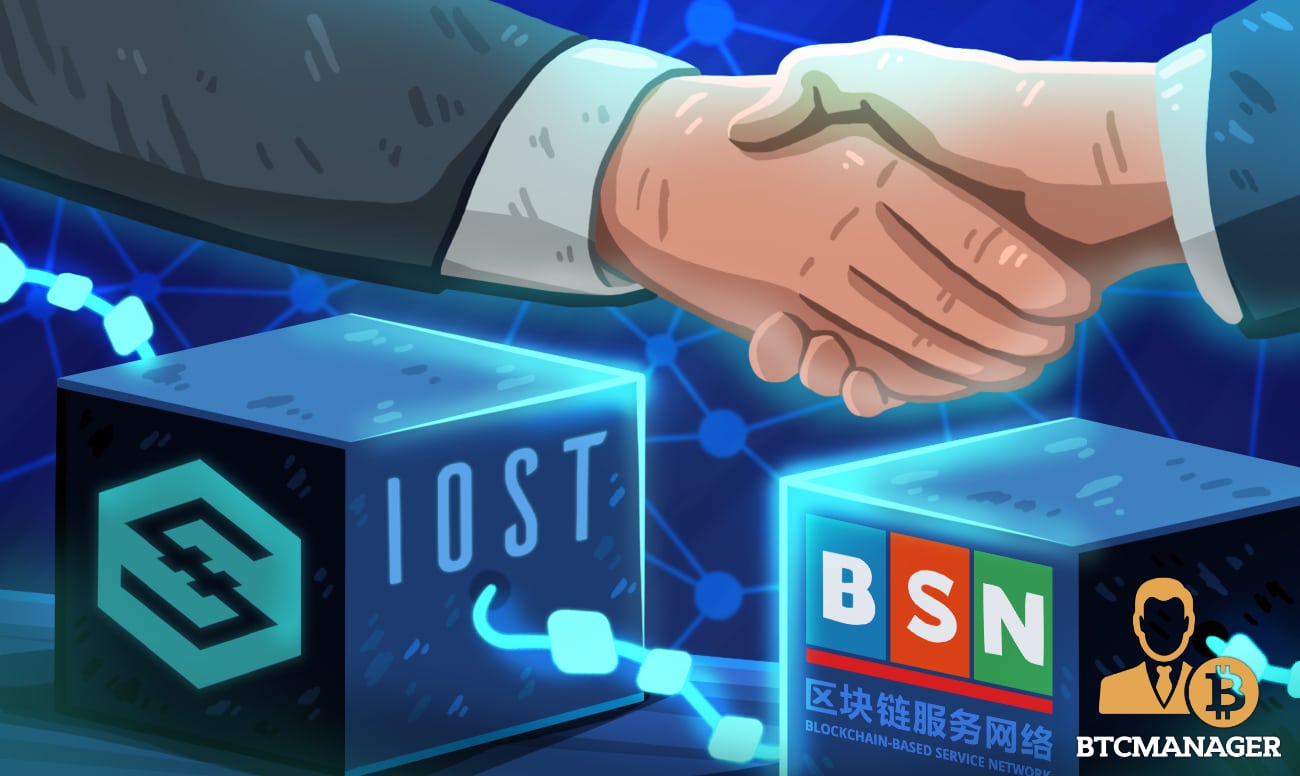 Leading blockchain project IOST Enterprise Edition Aiou Technology has officially become a qualified developer of China's national consortium chain, the blockchain-based service network (BSN). The blockchain project obtained the qualified developer certificate of the BSN on April 18, 2020.
IOST Joins BSN as Qualified Developer
In what comes as a milestone in its journey to date, the IOST blockchain project has officially joined China's national consortium chain BSN as a qualified developer.
According to the announcement, BSN is China's first national consortium that seeks to leverage the benefits of blockchain technology to provide a cross-network, cross-regions, and cross-institutional global distributed ledger technology (DLT) service infrastructure.
Led by the leaders of the State Information Center (SIC), BSN was jointly established in October 2019 by the likes of China Mobile, China UnionPay, and Red Date Technology, among others. The consortium aims to provide a public infrastructure network to develop, deploy, operate & maintain, interoperate, and supervise blockchain applications at minimal costs and maximum efficiency.
The Need for BSN
Notably, BSN was primarily established to tackle the bottlenecks associated with the traditional consortium chain application that only allowed each participant to operate its own dedicated blockchain node which often resulted in the overburdening of network resources and subpar application performance.
Further, the lack of a unified technical standard among various blockchain-based applications stunted their business data integration which proved to be another major hurdle in the development of through and through blockchain-driven industry infrastructure. This very issue necessitated the need for the creation of BSN, a public infrastructure network that could be recognized by all parties in the industry.
At present, the BSN has segregated three categories of participants which can aid in the development of the consortium chain and the public chain underlying framework. The participants of BSN can function as cloud service providers, underlying blockchain framework providers, or portal providers.
IOST's Role in BSN
As a qualified developer of BSN, IOST Enterprise Edition – Aiou Technology will participate in the development and testing of the BSN service network. IOST, in conjunction with industry leaders including China Mobile and Wezhong Bank, will continue to make an impactful contribution to the foster the development of BSN applications.
In addition, the high-speed blockchain project will contribute to the development of the new infrastructure as defined by BSN, and aid the network in the ideation and successful implementation of blockchain-enabled smart city and digital economy solutions.
Per the announcement, the BSN has released an exhaustive set of blockchain-based tools that focus on anti-counterfeiting traceability, supply chain finance, data asset sharing, and certification records to offer precise and effective docking for upstream and downstream suppliers and demand in the respective industry.
By capitalizing on its six core technological advantages – Multi-could support, Multi-chain support, Permission management, Smart contracts, Privacy protection, and Consensus Mechanism, IOST Enterprise Edition will provide significant inputs to the BSN Development alliance and usher in a new era of a scalable and efficient blockchain-driven economy.