IOTA Partners with Cisco, Volkswagen and Others on Data Marketplace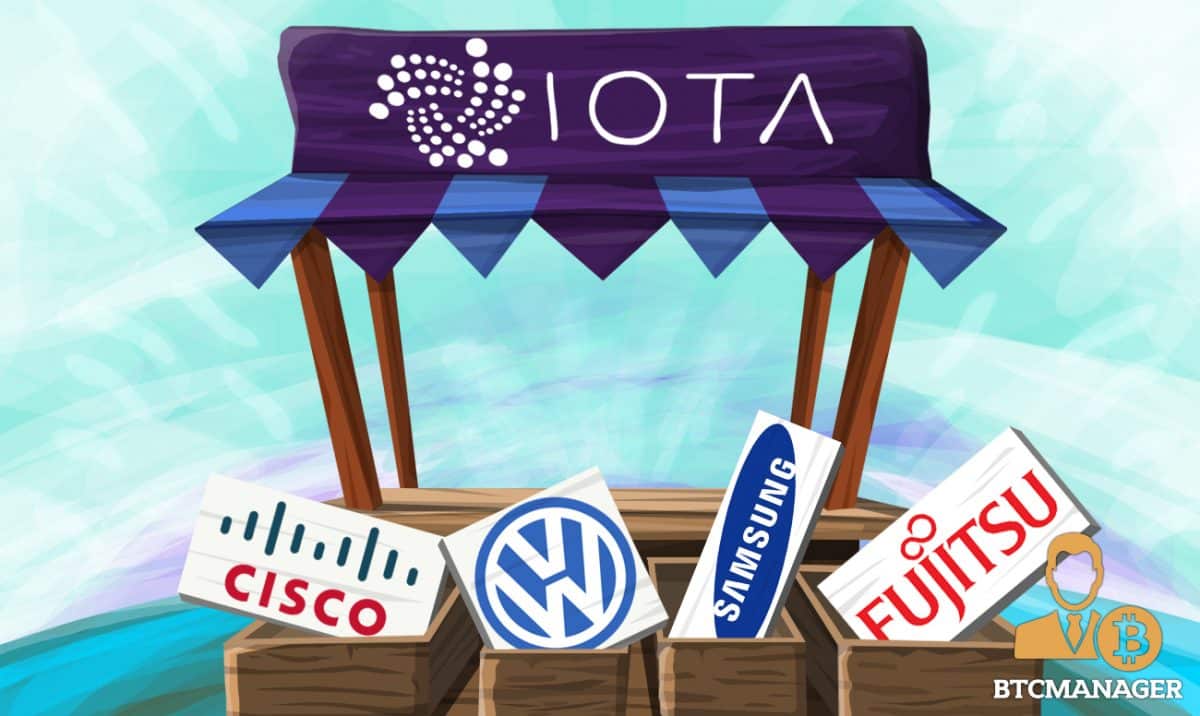 On November 28, 2017, the IOTA project, an open-source ledger infrastructure, announced partnerships with some of the world's largest companies with the intention of launching a secure marketplace for data. The list of companies is quite extensive and encompasses several industries, ranging from automobiles to consumer electronics. According to the co-founder of IOTA, David Sønstebø, some of the participating companies include Cisco Systems Inc, Volkswagen AG, and Samsung Group.
IOTA is a type of a DAG-based cryptocurrency built specifically with the Internet of Things in mind. Headquartered in Berlin, the IOTA Foundation has made the technology open-source, non-profit and license free for any company to adopt. As of November 2017, IOTA's market capitalization is over $3 billion, making it the world's eighth largest cryptocurrency in that regard.
IOTA is popularly marketed as the "Next Generation Blockchain." Regardless of the slogan's accuracy, IOTA's Tangle was built to get rid of the problems that almost all current implementations of blockchain suffer from. Much like the original blockchain technology itself, Tangle aims to be decentralized, scalable and secure. It differentiates itself from standard blockchains by finally bringing down transaction times and fees, and does this by increasing the transaction throughput.
Almost all major cryptocurrencies that currently employ blockchains as a transaction ledger suffer from the problem of high fees and is an issue that begins to become apparent as the volume of transactions increases. There have been many attempts to circumvent this limitation of the blockchain, most notably including Bitcoin's Lightning Network, Bitcoin Cash's bigger block size limit, and Ethereum's Raiden Network. Instead of relying on a similar workaround to solve this problem though, IOTA takes a different approach, that is, to validate transactions concurrently.
The IOTA Foundation stated that more than 2.5 quintillion bytes of data are produced each day, with the number exponentially growing every month. Most of that figure, an estimated 99 percent, is lost due to the lack of a secure marketplace to facilitate the buying and selling of data.
According to David Sønstebø, the principle of collection and distribution of data for IOTA's marketplace is not too different from a typical blockchain implementation. Immediately after data has been added to the ledger, all participating nodes begin maintaining a copy of it, provided sufficient verification has been completed. IOTA aims to leverage their existing infrastructure for this platform and ultimately promote a transparent and secure market for huge amounts of data.
Security and tamper resistance is of supreme importance for data-based applications, and also happen to be factors that decentralized ledger-based technologies excel at. Data entered on a blockchain is immutable, which means that it can never be modified or deleted.
Since IOTA's inception in 2015, when it raised over 1,300 bitcoin as part of a fundraising event, the foundation has presented the world with a unique alternative to blockchain technology and is likely to disrupt several industries. As of now, it joins the ranks of Ripple, another cryptocurrency, to become one the very few endeavors built specifically around enterprise applications.