Kusama (KSM), Polkadot (DOT) Surge Over 20% Ahead of the 2nd Batch of Parachain Auctions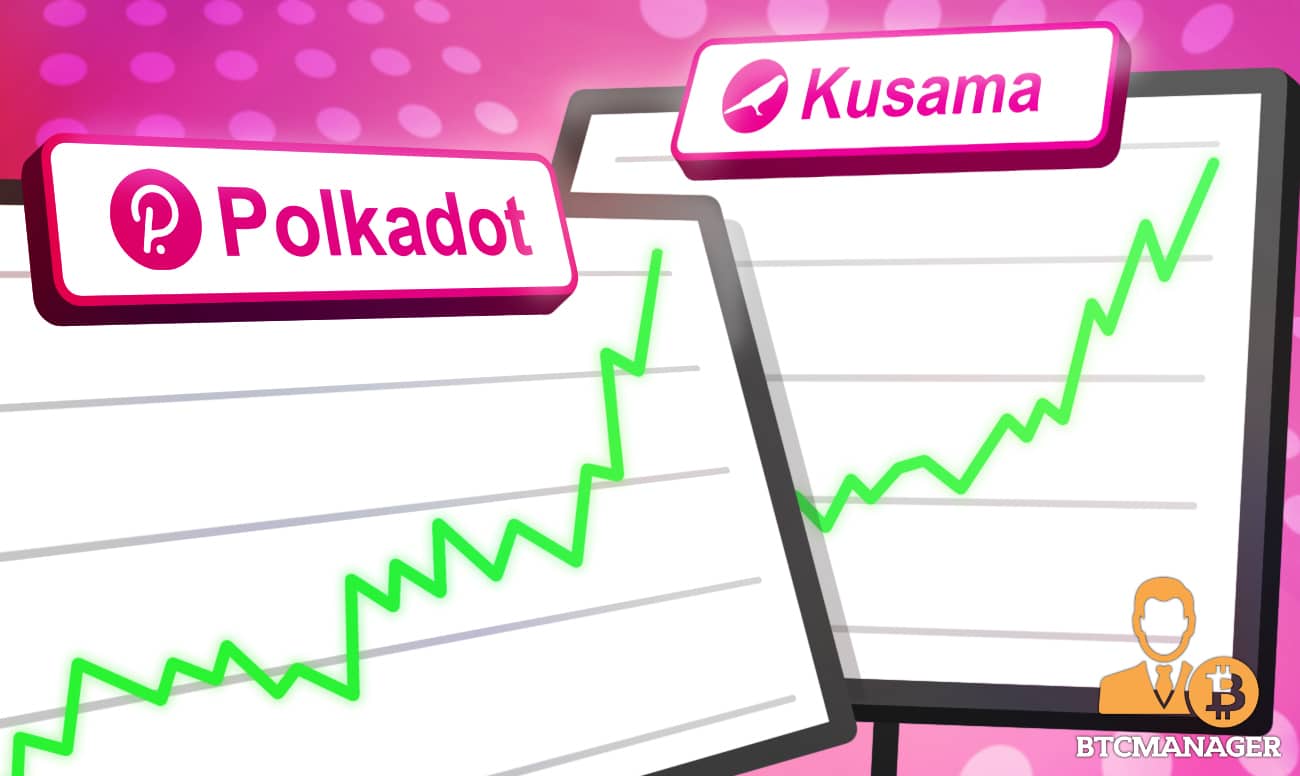 Kusama (KSM) and Polkadot (DOT) utility coins are ripping higher, adding an impressive 30 and 20 percent, respectively, on the last trading day at the time of writing on August 31.
Battle for Parachain Slots Pumping DOT and KSM
It is undoubtedly a strong close of August for the two networks whose coins continue to post tremendous gains, outperforming both Bitcoin and Ethereum in the past few months. 
Although Kusama and Polkadot exist independently, their respective architectures are a mirror copy of each other. 
They promise interoperability and lower latency than legacy platforms. However, over and beyond that, Kusama—and eventually Polkadot—will introduce parachain auction slots for high-quality, investor-popular projects.
The highly anticipated parachain auctions on Kusama begin on September 1, ending four weeks later on September 29. Ahead of this competitive slot auction, analysts across the board expected bullish pressure on KSM and DOT coins. 
Even though the former presently doesn't support parachains, auctions are live on Kusama. There are 5 slots available in the present setup, with the first batches completed in Q2 2021. 
Karura, Moonriver, Shiden, Khala, and Bifrost were the winners in the first round. 
For this next batch, it is expected that five more projects will be allowed to plug into the relay chain, operating as an independent parachain on Kusama. 
They will operate with their tokenomics and consensus style while interconnecting with other protocols and projects—through the relay chain.
Auction Starts on September 1, the KILT Protocol Likely to be the Next Parachain
The first auction slot is scheduled for September 1, while the second will be a week later, on September 8. 
The KILT Protocol is pulling ahead of the competition and is popular. It has amassed over $55.5 million of KSM at the time of writing on August 31. 
The project is bidding for the 8-period parachain slot. Once secured, the lease will last for 48 weeks. 
Users keen on crowd-loaning can do so via the Fearless Wallet or Polkadot.js, with a minimum of 0.1 KSM required for voting. The KILT Protocol has set a maximum crowd-loan of 220k KSM coins. 
Besides the KILT Protocol, Calamari Network is at second with over $30 million of KSM locked. Meanwhile, Heiko Finance, Altair, and Polkasmith seal the top-5 with $11 million, $9.2 million, and $4.4 million of KSM locked at the time of writing on August 31. 
Under the crowd-loan arrangement, projects have various means of attracting votes. They can be referral bonuses, direct airdrops, or high rewards for participants.