Lamborghini Deploys Blockchain Technology to Issue Digital Collectible Stamps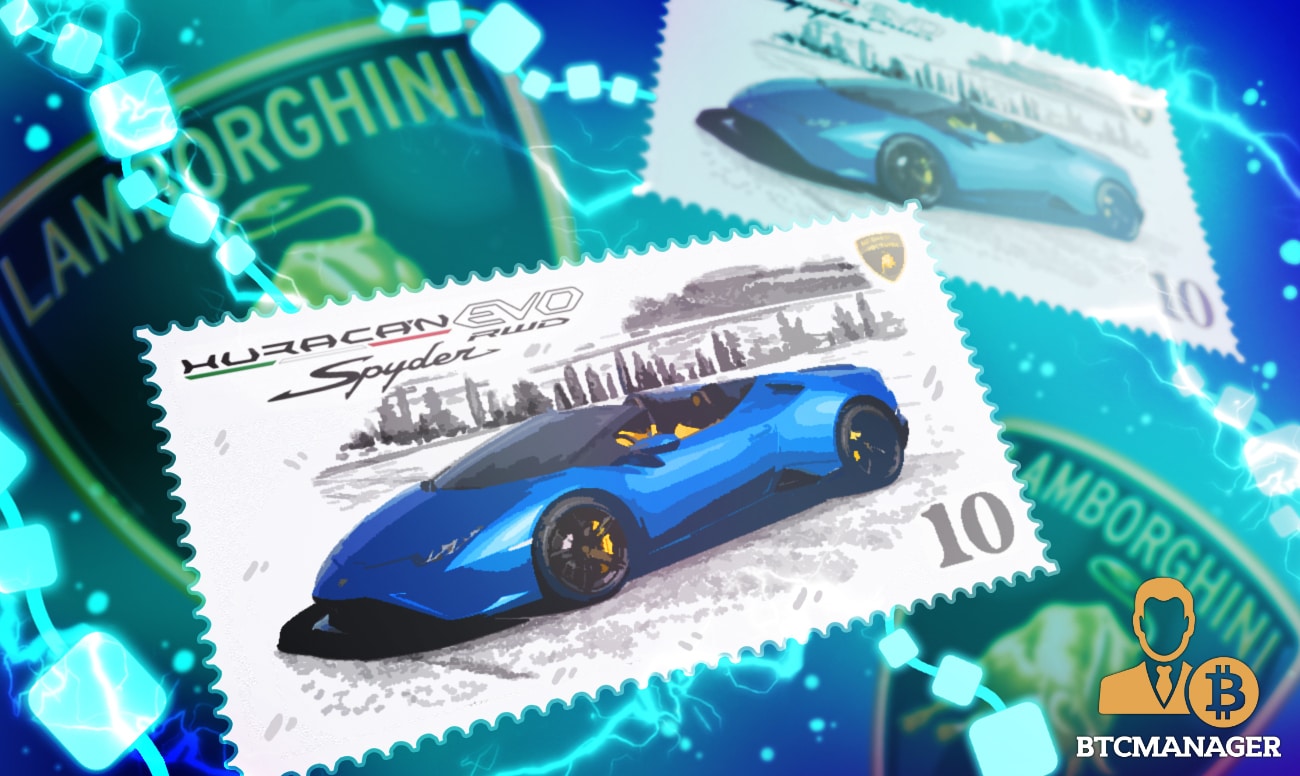 In yet another major endorsement to the myriad benefits of blockchain technology, Italian luxury sports car and SUV brand Lamborghini has announced the launch of blockchain-based collectible digital stamps to give uniqueness to each of its units. The automobiles manufacturer made the announcement on May 14, 2020.
Lamborghini Joins the Blockchain Bandwagon
Automobili Lamborghini has launched its first collectible digital stamp in collaboration with Bitstamps, the automobiles manufacturer made the announcement on Thursday.
Per sources close to the matter, Lamborghini's collectible digital stamps, called the "Automobili Lamborghini Collection" will be powered by distributed ledger technology (DLT). The collection, according to the manufacturer, is a series of collectible digital stamps dedicated to its most iconic luxury car brands.
Notably, the first digital stamp from the Automobili Lamborghini Collection is dedicated to the Huracan EVO RWD Spyder, a novel model unveiled by the Italian manufacturer in May 2020. It's also worth highlighting that the announcement to launch collectible digital stamps comes shortly after Lamborghini resumed its operations on May 4 after getting some respite from the COVID-19 pandemic.
As mentioned earlier, Lamborghini has partnered with a local DLT collectible startup named Bitstamps to launch the digital collectibles. Users can download the first Huracan EVO RWD Spyder stamp by downloading the Bitstamps.app on the iOS operating system. Reportedly, the stamp will be limited-edition with a maximum of 20,000 units.
Detailing on the utility of these digital stamps, Lamborghini said that they can be purchased, collected, or resold exactly like a paper stamp. Bitstamps.app notes the price of the Huracan EVO RWD Spyder stamp at 9.90 euros.
Blockchain Becoming Increasingly Popular Among Automobile Firms
In a relatively short period of time, blockchain technology has made its presence felt across several industries including the automobile space. An increasing number of car manufacturers are exploring the potential of DLT to not only aid them in providing better products and services to customers but also to help them streamline their operations and save on costs.
As reported by BTCManager in October last year, U.S.-based automobiles giant Ford had announced that it would be tapping DLT and geofencing to keep track of "green miles" driven by its newly-launched energy-efficient vehicles.