Leading American Wine Seller to Accept Payments in Bitcoin, Ether, Dogecoin, Others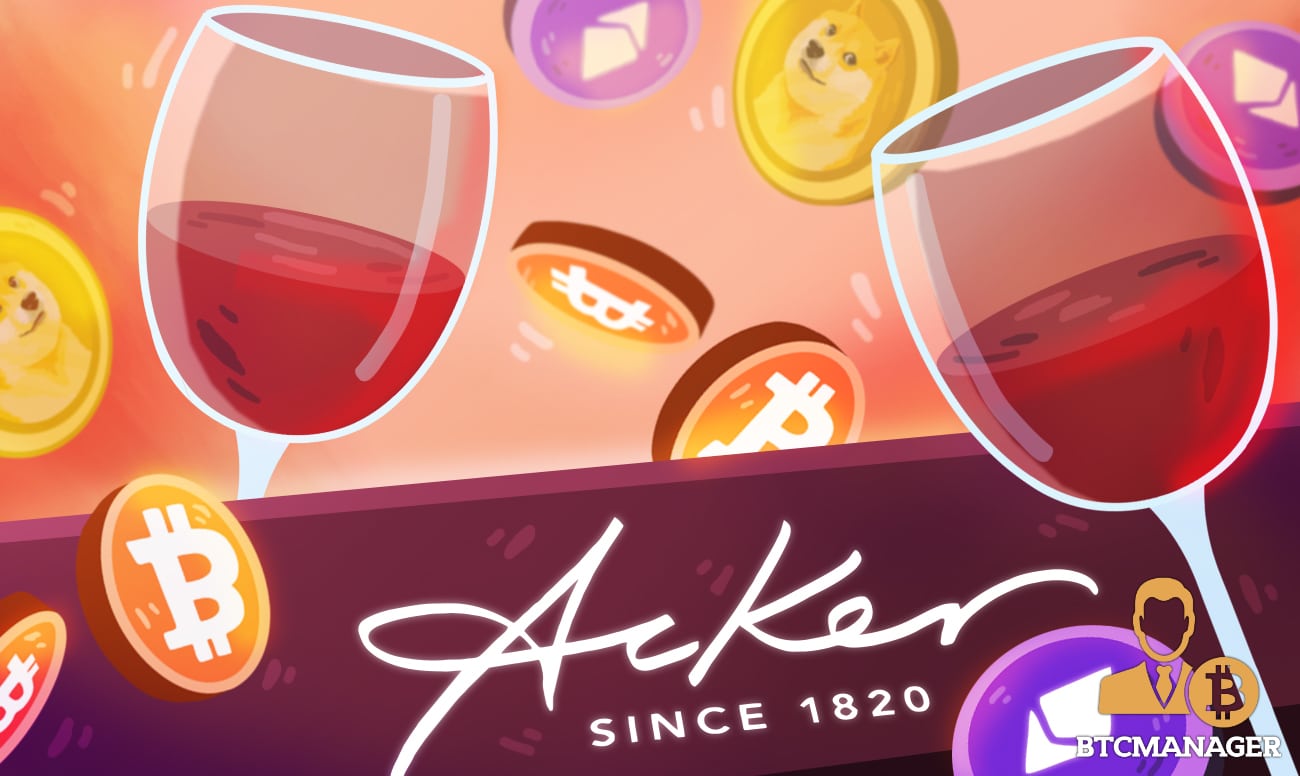 Major U.S.-based wine seller opens itself up to cryptocurrencies.
Acker to Receive Payments in Crypto
In yet another development signifying the slow and steady adoption of digital currencies, New York-based wine seller Acker today announced it accepts cryptocurrencies for payment at wine auctions and at its New York retail store.
According to the article by PaymentsSource, Acker will accept major cryptocurrencies such as bitcoin (BTC), ether (ETH), bitcoin cash (BCH), dogecoin (DOGE), PAX, Gemini Dollar, and BUSD.
Commenting on the development, John Kapon, Chairman, Acker, noted:
"As the world becomes more and more digital, which was certainly accelerated by the pandemic, cryptocurrency will become more and more important in everyday lives."
Adding:
"The best wines are all moving towards $1,000 a bottle and many are already much more, so there is a natural potential to be a highly successful match."
Notably, the payments in cryptocurrencies will be processed via bitcoin payment processor BitPay.
Inspired by Other Companies' Endorsement of Crypto
In the announcement, Acker states that during the pandemic, several high-profile companies have pushed the envelope by displaying public support for cryptocurrencies. Among these companies are the likes of Tesla, MicroStrategy, Visa, BNY Mellon, PayPal, and Mastercard.
Most recently, BTCManager reported that commercial real estate company and flexible workspace provider WeWork would commence accepting major cryptocurrencies such as bitcoin and others as a method of payment.
As mentioned earlier, a flurry of publicly traded and centuries-old companies have recently come out in support of cryptocurrencies as a viable means of payment.
BTCManager reported on xx how Elon Musk's electric-vehicle company Tesla had announced that it had added BTC to its balance sheet. In addition, Tesla also announced that it would be accepting payments in bitcoin and will not convert the same into fiat.
Similarly, MicroStrategy continues to add more BTC to its balance. In its latest such effort, the Michael Saylor-led business intelligence firm added xx bitcoin during a recent market dip.
Most recently, several crypto influencers endorsed Polygon co-founder's campaign for COVID Relief in India. The likes of Vitalik Buterin, Balaji Srinivasan, and Justin Sun have already donated to the fund.