Exploring the most popular crypto amidst the market surge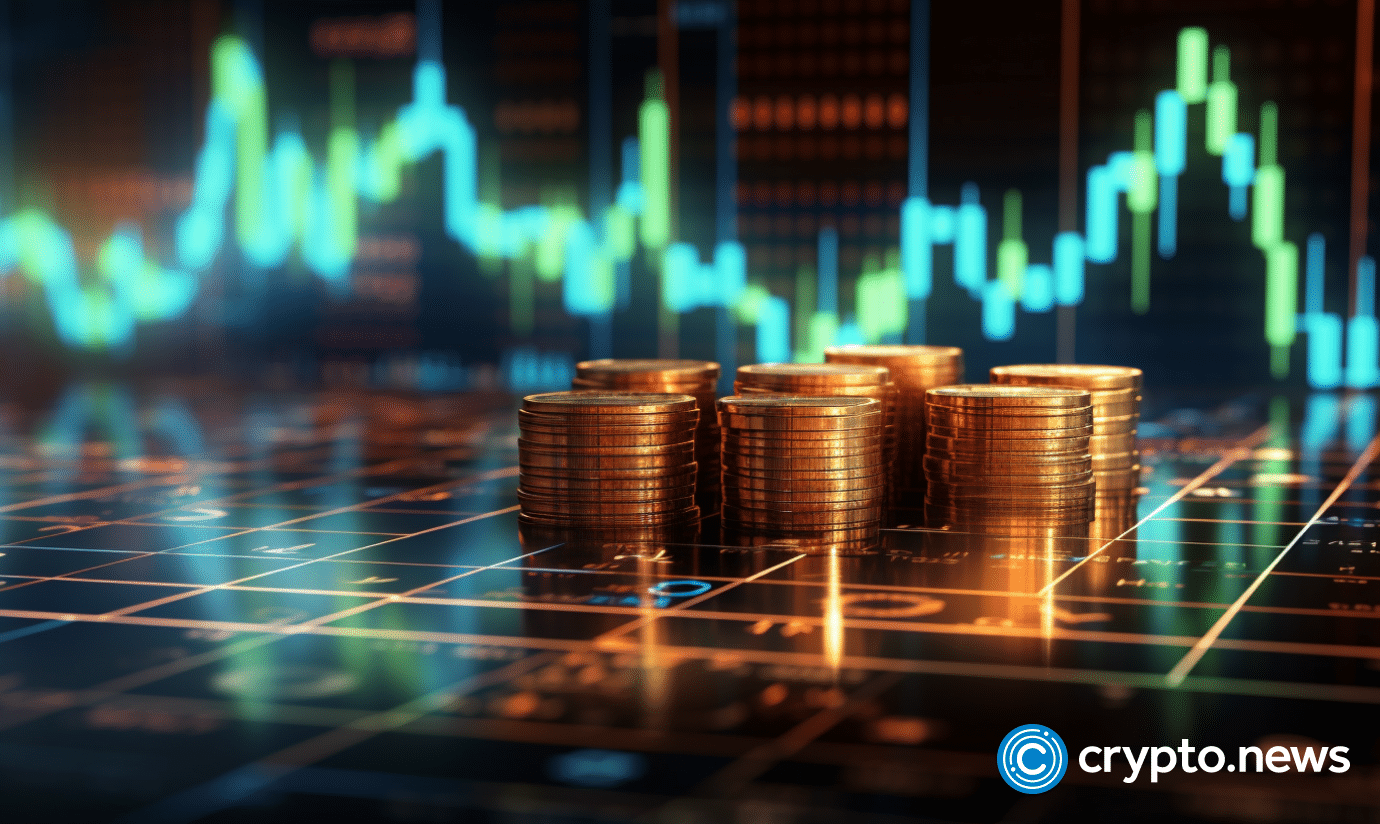 With the market at a turning point, which cryptocurrencies remain the most popular in an overflowing market, and how should investors go about choosing the best crypto to invest in?
2023 has emerged as a milestone year in the cryptocurrency narrative, with substantial growth and momentum taking place across a spectrum of digital assets, making many investors' quest to discover the best cryptocurrency more relevant than ever.
As the dust has settled from the events of 2022, including the notable FTX collapse, the global financial community is gradually turning its gaze towards the potential harbored in the crypto realm, reigniting discussions around the best crypto to invest in.
The last quarter of 2023 has so far seen the total cryptocurrency market capitalization soar to $1.36 trillion as of Nov. 2, reflecting a robust 64% gain from the previous year's ending cap of $831 billion.
Despite a dip in investment activity in Q1 2023, with startups raising $2.6 billion across 353 deals — the lowest amount since Q4 2020 — the interest in identifying the best cryptocurrencies for investors has not waned.
This is particularly underscored by Bitcoin's price touching the $36,000 mark for the first time since May 2022, hinting at renewed investor confidence and a positive outlook for the crypto market.
Amid this, the anticipation around regulatory advancements, such as the U.S. Securities and Exchange Commission's (SEC) potential approval of a Bitcoin spot ETF, further adds to the optimism, opening doors for more mainstream acceptance and adoption of cryptocurrencies.
As the crypto market navigates through the remnants of past adversities, the discussion around which cryptocurrency to buy extends beyond mere speculation. Let's dive deep into understanding the dynamics that encapsulate the best crypto to consider in 2023.
Bitcoin (BTC): the highest-selling crypto
The narrative surrounding Bitcoin (BTC) as the favored cryptocurrency among investors has been ongoing for years, as it has been the highest-traded crypto since its inception. According to a panel of 32 financial technology and cryptocurrency specialists, the price of Bitcoin is expected to peak at $42,225 before settling down to $35,459 by the end of this year.
Bitcoin has doubled its value this year, reaching over $35,000, yet the market displays no signs of overheating, which could be a positive indicator for continued growth.
Meanwhile, Tim Draper, a long-time crypto supporter, revised his previous prediction to a $250,000 Bitcoin price to be hit in the middle of 2023. Similarly, Alistair Milne, the founder of Altana Digital Currency Fund, forecast a surge to $45,000 depending on inflation scenarios.
Other predictions also point towards a significant price increase, with some even suggesting prices could hit highs of $300,000 by the end of the next year.
Inflation is pinpointed as a critical factor affecting Bitcoin's price in 2023, given its reputation as a hedge against inflation.
The halving event scheduled to take place in 2024 is further expected to bolster its price by counteracting inflation and maintaining a steady rate of Bitcoin in circulation.
The diverse price predictions for 2023 reflect the volatile nature of Bitcoin, underlining the importance of thorough research and risk assessment when considering it as the best crypto investment.
Ethereum (ETH): the second most-traded crypto
As a leader of smart contract technology and decentralized applications (dApps), Ethereum (ETH) has firmly rooted itself as a cornerstone in the crypto domain, continually evolving to meet the demands of a burgeoning digital economy and is the second most popular cryptocurrency among traders after Bitcoin.
Its transition to a more eco-friendly proof-of-stake (PoS) consensus mechanism, coupled with its robust smart contract capabilities, presents a compelling case for its growth potential.
While the future of Ethereum, like other cryptocurrencies, holds no guarantee, a closer look at its trajectory reveals promising prospects.
Financial analysts and crypto enthusiasts often highlight Ethereum's diverse ecosystem, which caters to a myriad of decentralized finance (defi) and NFT platforms, as a strong suit that sets it apart from many other blockchain projects.
Price predictions for Ethereum in 2023 suggest that the cryptocurrency could see its price escalate to around $2,567 by the end of the year, with potential highs reaching up to $4,029, given favorable market conditions.
As always, potential investors are encouraged to conduct thorough research and consider their risk tolerance levels when diving into the crypto investment arena.
Tether (USDT): the stable crypto
Among the various cryptocurrencies available, Tether (USDT) stands out as a stablecoin, pegged to the US Dollar, providing stability in a typically volatile market.
As of now, it's one of the largest stablecoins by market capitalization, allowing users to trade and exchange their fiat currencies like US dollars in and out of the market with ease.
Tether has had its share of scrutiny, especially due to controversies regarding the backing of the USDT coin. However, recent attestations and financial reports show a positive trend.
In Q3 2023, Tether recorded the highest percentage of reserves held in Cash and Cash Equivalents (C&Ceq) at 85.7%. In Q2 2023, an assurance opinion by BDO reaffirmed the accuracy of Tether's Consolidated Reserves Report​​.
With over $67 billion in assets and $700 million in profits reported in the fourth quarter, Tether holds a substantial position in the crypto market.
However, the landscape of cryptocurrencies is complex, and what may be the best crypto to invest in for one individual might not suit another. Hence, due diligence and a well-rounded understanding of the cryptocurrency market are imperative before making any investment decisions.
Solana (SOL): A cryptocurrency with potential
2023 has been a remarkable year for Solana (SOL), a blockchain platform known for its high throughput and low fees, with its native token SOL showcasing a substantial price rally.
The price of SOL soared by a staggering 400%, rallying from its initial price of $7.63 and nearing the $40 mark. A significant chunk of this price surge occurred recently, starting from Sep. 11, reflecting a robust momentum in the SOL market as we moved through the year.
Various predictions suggest a bullish price prediction for SOL in 2023, with the price reaching around $50 by the end of November, underlining the potential for significant returns for investors keen on diversifying their portfolios beyond the mainstream cryptocurrencies like BTC and ETH.
Chainlink (LINK): the top altcoin
Chainlink (LINK), an Ethereum-based decentralized oracle network that enables smart contracts on Ethereum to securely connect to external data sources, APIs, and payment systems, presents an intriguing case for investors.
The strategic positioning of Chainlink in the DeFi space, its unique technology that addresses real-world data connectivity problems in blockchain-based smart contracts, and the positive market sentiment are factors that could appeal to some investors.
In 2023, LINK showed a promising trajectory, as evidenced by various market analyses. A recent forecast suggests an increment of 8.77% in LINK's value, reaching around $13.89 by late November, with a bullish market sentiment of 55% accompanying this prediction.
The performance of LINK over different time periods also paints an encouraging picture. For instance, over a month, LINK's price soared by 47.11%, and year-to-date (YTD), it escalated by 97.54%, reflecting a favorable market response.
With a market capitalization of $6.32 billion, LINK stands as a notable contender in the altcoin arena.
However, it's important to remember that the crypto market is inherently volatile, and investments come with their share of risks. Hence, it's prudent for investors to conduct thorough research, aligning their investment choices with their financial goals and risk tolerance.
The road ahead
Looking forward to the remainder of 2023 and beyond, the cryptocurrency market stands at a crossroads of opportunity and scrutiny. The imperative for anyone looking to invest in a cryptocurrency is to keep in mind that choosing the right crypto for them requires a judicious blend of strategic foresight and prudence.
While Bitcoin and Ethereum continue to dominate the narrative as prime investment candidates, the burgeoning interest in alternatives like Solana and Chainlink illustrates a market ripe for diversification. Additionally, there are a number of smaller coins that may require less of a monetary investment and therefore may potentially be more suitable for new or uncertain investors.
The road ahead is paved with regulatory milestones, such as the anticipated SEC verdict on a Bitcoin ETF, which could catalyze a new era of mainstream crypto integration.
Additionally, the upcoming Bitcoin halving in 2024 looms on the horizon, promising to shake up market dynamics further.
FAQs
Why does crypto matter?
Cryptocurrencies represent a breakthrough in technology and finance, with the best cryptocurrencies for investors providing decentralized, secure transactions and potentially high returns.
How can I invest in cryptocurrency?
Aspiring crypto investors should start by researching the best crypto to invest in. Use reputable exchanges, and diversify your portfolio with the best cryptocurrencies to buy. They should also always keep in mind that cryptocurrencies can be very volatile and be mindful not to risk more money than they are comfortable losing.
Why are there so many cryptocurrencies?
Many cryptocurrencies exist to innovate, address specific needs, and offer varied features, positioning themselves as the best crypto investments for diverse objectives.
Why is Bitcoin valuable?
Bitcoin is valuable due to its limited supply, widespread adoption, and status as the best cryptocurrency to buy for many investors looking for a store of value.
What are meme coins, and are they a good investment?
Meme coins are cryptocurrencies inspired by internet jokes. While they can offer quick gains, they can be very risky, investors should ensure they take sufficient time to conduct thorough research before making any investment decision.
What are altcoins?
Altcoins are alternatives to Bitcoin, often with unique features. Many are considered the best cryptocurrencies to invest in, aiming to improve on Bitcoin's technology.