How to Buy a Tom Brady NFT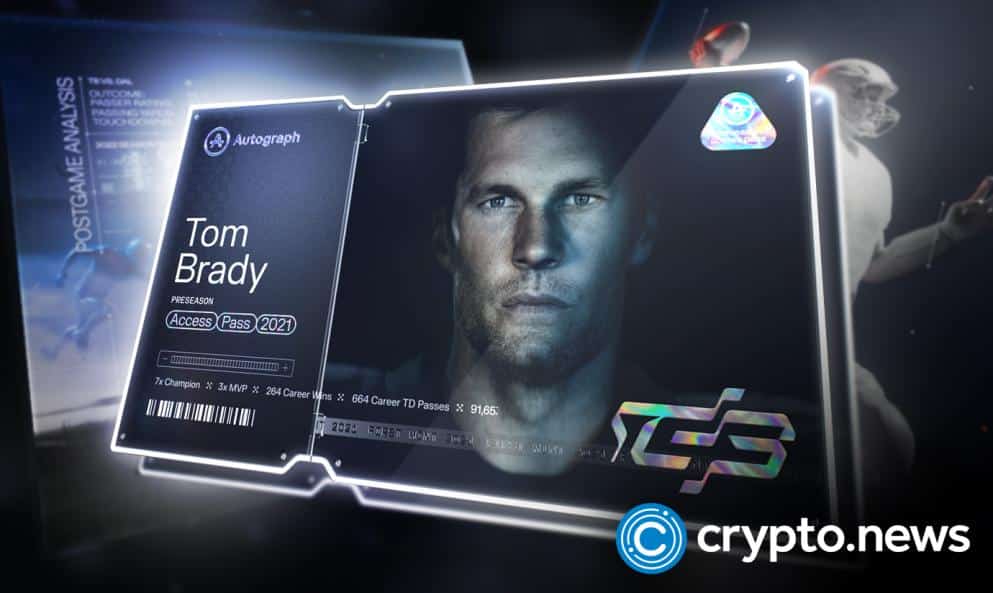 Sports pundits, critics, NFL die-hards, and Americans at large know who Tom Brady is; if you fall into any of those categories and don't know who he is, it's unfathomable. The 45-year-old, a quarterback for the Tampa Bay Buccaneers, has won several NFL championships and has an illustrious career. He is considered the greatest quarterback of all time, accomplishing several NFL records in his career with the New England Patriots. And while he is not counting his 7 championship rings, you may wonder, what does Tom Brady do outside the NFL?
Tom Brady's Cryptocurrency Activities
In 2022, according to multiple sports analysis sites, Brady's net worth is $250+ million. Surprisingly enough, any U.S. sports pundit can tell you a big part of Brady's championship victories tenure didn't include him being the highest-paid player. So where are the profits from? Well, it could have come from his cryptocurrency interests and activities. Brady has positioned himself as an outstanding NFT and crypto ambassador.
His interest in the NFT craze is quite obvious; for example, Brady recently launched his non-fungible token (NFT) collection dubbed "Live Forever; The Tom Brady Origins Collection." It mainly reflects the early years of his NFT career. Here's everything you need to know for those who wish to buy a Tom Brady NFT.
What is Tom Brady's NFT Collection?
The Tampa Bay Buccaneers NFL quarterback launched Autograph.io with his collection as the first on 9th December 2021. Tom Brady's collection reflects defined key events before he got drafted into the NFL in 2000. Brady has 16,000 NFTs stored in mystery boxes, with each retailing at $80 during launch. However, buyers were skeptical about the type of NFT to purchase because they had no clue, so they had to wait for the big reveal on December 14.
Brady's NFTs featured 25 sets of tiered collectibles based on rarity. For example, his memorabilia contained NFTs for his college resume, combined cleats, combined jersey, combined stopwatch, and his rookie draft card.
The collectibles sprouted from Brady's week-long scouting event in 2000, where he completed physical and mental tests to impress NFL coaches before joining the Patriots.
Brady's Autograph NFT collection rarity Tiers are arranged from the rarest to least rare as follows:
Ruby
Sapphire
Emerald
Platinum
Carbon
Also, the NFL superstar included rare NFTs called "immortal statues," which also include rarity tiers. Brady personally autographed the Ruby and Sapphire tiers, whereas the "immortal statues" were issued to participants who met specific requirements. A requirement like holding a particular NFT is set before the activation deadline of December 21, 2021. Anyone wishing to get a Tom Brady immortal statue NFT is to purchase from a selling holder.
How to Buy and Sell a Tom Brady NFT
Purchasing and selling a Tom Brady non-fungible token is simple, but it comes with its perks. You should register an account on autograph.io and create an account on the DraftKings platform. However, the firm restricts users and only allows those living in the U.S. and Canada.
Furthermore, age restrictions apply on the DraftKings platform, including an 18-year-old restriction for anyone to buy and sell NFTs on DraftKings. Alabama and Nebraska allow 19+, Lowa Louisiana, and Massachusetts allows 21+.
You can purchase a Tom Brady NFTon Autograph through several payment methods like:
Credit and debit cards
DraftKings gift cards
Online banking
Paypal
Electronic gift card
DraftKings offers two ways you can purchase a Tom Brady NFT through;
Primary Drops
Any new NFT introduced to the platform follows a drop date and time for its launch. DraftKings then forms a virtual queue after the drop launches, where users get a chance to grab a Tom Brady NFT. Although the queue is competitive, be on the lookout and don't lose your spot because new collections can often sell out in minutes. You don't want to miss a Tom Brady NFT.
Secondary Marketplace
Here, DraftKings has a browse section on its platform where you can look for any available Tom Brady NFT that users are currently selling. However, be aware that sellers might sometimes list items at a higher price after acquiring them from the initial drop.
How Much for a Tom Brady NFT?
The quarterback's company offered NFTs for $12 to $1,500 each immediately after they appeared on the platform. Furthermore, participants can resell the NFTs on the DraftKings platform, usually ranging from $12 to $88,000, depending on their rarity.
Brady's platform boasts of selling more than 100,000 NFTs since its genesis. Brady NFT The Autograph NFT network is a good platform for anyone wanting to buy Tom NFTs because they're pretty valuable significantly when they first drop; you could stand to make a massive return on your investment.
What is Tom Brady's Autograph NFT Platform?
Autograph.io is among the best NFT marketplaces in the blockchain ecosystem that Tom Brady and father-son duo Richard and Dillon Rosenblatt founded in December 2021. Autograph's network eases the creation, buying, and selling of iconic branded NFTs in the sports and entertainment industry. Many big names in these industries could partner with the firm to digitally monetize their brands by minting and selling limited edition NFTs.
Autograph came in with a blast, gaining broad initial interest and success, and it garnered over $170 million in capital from top crypto investors. Since its launch, the company has grown significantly, even selling The Tom Brady Origins Collection in less than 10 minutes and grossing more than 1.3 million in sales.
Big icons and brands are eager to jump onto the bandwagon to launch their collections. For example, a movie like Moonfall has even minted NFTs on Autograph. Furthermore, some other icons and brands to join the platform include Tiger Woods, Derek Jeter, Wayne Gretzky, Tony Hawk, Usain Bolt, The Weekend, Slam, and many more.
Conclusion
Buying a Tom Brady NFT isn't much of a hassle unless you plan on using cryptocurrency payments. That's because Autograph doesn't currently support digital asset payments. Nevertheless, DraftKings aims to work on being able to accept more currencies in the future apart from the U.S. dollar. Users can now link their crypto wallets to Autograph.io; this raises the chances of buying a Tom Brady NFT using crypto.
Who is Tom Brady?
Tom Brady is an NFL Quarterback for the Tampa Bay Buccaneers, a 7-time NFL championship winner and a 5-time NFL Finals MVP. Tom Brady won his NFL championship rings in 2002, 2004, 2005, 2015, 2017, 2019 and 2021.
Did Tom Brady Retire?
After 22 years of super bowls and MVPs, Tom Brady decided to hang his American Football boots in June. However, after a few weeks, Brady came out of retirement, saying he still had the 'appetite' to compete.
What is an NFT?
An NFT is the abbreviation of a non-fungible token. Non-Fungibility refers to the uniqueness of each asset. Each unit has only one owner and cannot be easily replaced by another. The main advantage of non-fungible tokens is that they allow users to trade them directly between themselves instead of going through centralized exchanges. This decentralization brings transparency into trading, which makes it easier for users to track transactions.