Is the Anonymity-Centric Cryptocurrency Verge (XVG) a Good Investment?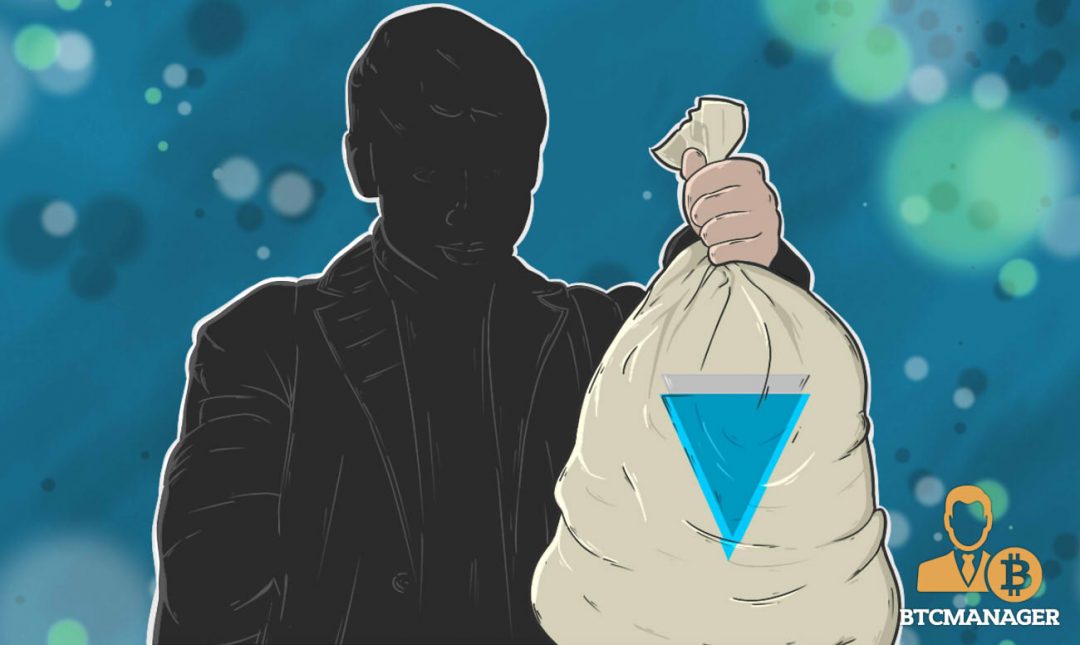 2017 was an excellent year for the Cryptocurrency Verge. Verge solves a real issue that is present in many large crypto including Bitcoin, fungibility. Mostly this comes down to the fact that Bitcoin is not anonymous. No matter how much the media likes to make it out to be an excellent place for illegal money, it is not. Many ways have proven to be able to link bitcoin users to their wallet addresses.
As awareness of this issue grows, many users are wary that regulators and governments are tracking transactions. Libertarian and privacy-focused crypto users are now turning to anonymity-centric cryptocurrencies. These coins, Verge included, have experienced substantial user adoption in 2017. Growing and increasing in value in the past six to twelve months.
To skip to the investment info click here Should You Invest in Verge?
In this article, you are introduced to the anonymity-centric digital currency verge. A little history, a brief overview of the technology, where to buy it and would it make a sound investment? Especially in light of the increasing popularity of anonymous coins in 2017. Will we see another fantastic year for Verge in 2018?
What is the cryptocurrency Verge Coin?
Verge is a coin focused on giving greater privacy and Fungibility to those that want to use cryptocurrency similar to Bitcoin. Verge's fork of the bitcoin blockchain improves it by adding privacy-enhancing features. Foremost is the secure utilization of anonymity-centric networks Tor and i2P. The project was created and is spearheaded by 'Sunerok.' With a background is in network security and online privacy he is more aware than most of Blockchain privacy concerns.
Some history on Verge
The digital currency verge (XVG) started trading in October 2014 and is, therefore, one of the older anonymous coins in the market. However, when the cryptocurrency first launched, it was called DogeCoinDark. DogeCoinDark goal is to make a fun anonymous Dogecoin-based digital currency. Specifically including enhanced privacy features such as i2p. In February 2016, the team behind DogeCoinDark decided to rebrand the coin. Under the name Verge (still used today) they continue to work on improving the cryptocurrency.
Speaking in an interview with secure.net, Sunrock explains the backstory of Verge:
"Verge started as a hobby back in 2013, under the name DogecoinDark. As I started producing a lot of resources for the blockchain, many community members suggested a rebranding, so the coin would be taken more seriously… Within a week or so, we had rebranded and our community started growing a lot faster. I try to seriously consider all input from the community, because without them, we're nothing."
"To protect users against traffic analysis, which is a form of network surveillance that threatens personal freedom, privacy, and confidential transactional activities, the user's transactional traffic is routed through a number of global servers. Each of these servers removes the information of the previous server to the extent that the last exit node server ends up being unaware as to where the network originated from. As a result, Verge users can comfortably send and receive transactions of Verge over the internet with the assurance that the currency trail is virtually untraceable […]," verge's developers state on the use of Tor in their new black paper, which was released on June 4, 2017. Through the use of Tor, and opt-in wraith protocol verge users can transact anonymously. Well still able to benefit from faster confirmation times.
Verge Technology
Aside from Tor, verge also makes use of i2P in all its clients. That means that all data sent to and from the verge blockchain is anonymized using the i2P tunneling service. Adding another layer of privacy through the use of "garlic encryption." The blockchain Verge uses different to Monero in the sense that it is still public. You may be unable to determine the specific IP or location of transaction origin. However, you can always trace the line of ownership of each coin used.
Verge Wallet
The favorite solution for using the coin today is through the Verge Electrum Client. Both Tor and i2P can are used when transacting using Verge's Electrum clients. Meaning that any personal information related to the transaction will not be leaked to the ISP or other servers that the user is connected to.  Including location and IP address. Electrum client includes another opt-in feature wraith that makes even the transaction private. The wallet also has out of the box support for multi-signature. Allowing wallets users to require more than one key to use. This is not needed but can allow for another level of personal digital security. Without sacrificing significant ease of use and control your Verge.
Mining Verge Coin
Verge also uses multi-algorithm mining support. Meaning individuals with different types of mining equipment can mine verge. Improving security through further mining decentralization. AND over time a fairer distribution of coins among the community. Verge is one of the few cryptocurrencies that support five different hashing algorithms. Namely, Scrypt, X17, Lyra2rev2, myr-groestl, and blake2s. Verge uses a proof-of-work consensus mechanism, same as bitcoin, and has a block time of 30 seconds.
The Future and use today
Verge has a detailed roadmap, and the team will shortly announce exact dates for each stage. Some upcoming developments to anticipate are the i2P/TOR Android wallets. A unique aspect of the altcoin, as it forces use of essential privacy features on Android. July 2017 saw an RSK integration, allowing for smart contracts, as well as an online merchandise store. However, this feature is still in beta.
How can you buy Verge?
The digital currency can currently be traded on numerous exchanges including Bittrex, NovaExchange, and Cryptopia. Bittrex has by far the most significant share of daily trading activity. Verge's market capitalization stands at $45 million at the time of writing, and its price is hovering at around $0.0035. The total supply of verge coins is capped at 16.5 billion. This is a big incentive for early investors as demand can end up outstripping supply due to scarcity.
Verge Vs. Monero
Well, Verge and Monero both have a focus on privacy there is a pretty big difference between the two. Monero is a privacy-based coin with the ability to opt-out and shows your transactions. Verge is a clone of Bitcoin/Doge with privacy features added on that you can opt-into. You can take any public address with Verge and find all the transactions related to it. There is no way to say that one is better than the other. Both can quickly do private fungible transactions. However many people or Reddit and YouTube argue that Monero is the more private secure solution while Verge is easier to use.
Verge Vs. Dash and Zcash
Well being entirely different coins technology-wise, as a user these three coins are very similar. They all three allow for private transactions, but it is opt-in. Even if you do "private" transactions, the total balance of any wallet can quickly be checked on the public blockchain. Well, this system works it is mostly the same as sending any coin such as Bitcoin or Ether through a coin mixer. There is no clear winner here. Each will get the job done, each has a great solution and supporting community. Though the Verge community seems to be the most active and outspoken.
What is fungibility and why is it important?
Fungibility is the ability for money to hold its value regardless of its source or current owner. For example, you purchase the coin from an exchange. That exchange purchased it from someone doing illegal things (unknowingly). A fungible currency is one where it doesn't matter where the coins are coming from or going to. Bitcoin and even Verge coin today (the plan is to change this) mean that the total history of every coin can be tracked. Obviously, this is a problem that only gets worse over the life of a currency.
Should You Invest in Verge?
The investment case for Verge is very straightforward. Do you believe that cryptocurrency users will move to protect their payment privacy using anonymous coins? Can verge's development team deliver innovative improvements to their currency? If you answer yes then adding verge to your digital asset portfolio could be the right move.
However, if you believe that digital currency users will not migrate towards anonymous coins as a solution to privacy and fungibility. OR you think that other anonymity-centric coins such as Monero, DASH, Zcash or PIVX will provide better technology for private transactions and payment solutions. Then there is no need for you to purchase any verge.
Nevertheless, adding Verge to your portfolio is recommended even if you already hold monero or other privacy coins, as Verge's approach is slightly different. With the constant creation and change of tech today it is hard to ascertain which technology will be the best solution to concealing user's identity and protecting privacy. Lead developer of Verge, Sunerok said it well in a recent interview:
"I'm a fan of XMR as they've gone down their own path to fulfill their vision and I do hold quite a few in my portfolio. I have read recently that their obfuscation techniques are not yet perfected, but that's to be expected this early in crypto, as all of this is still new."
Verge Price Development
The price of verge went sideways from the time it launched in October 2014 up until its rebranding in February 2016, ranging from $0.000005 to $0.00001. After its rebrand in early 2016, the price jumped in April 2016 to reach its all-time high of $0.000227 on April 7. However, the price dropped quite substantially after reaching its 2016 high and trended between $0.00005 and $0.00001 for another year.
In April, together with the rest of the cryptocurrency market, verge managed to rally once again. It wasn't until June 2017, when the developers behind Verge published their black paper and made several positive development announcements that the cryptocurrency jumped significantly from $0.001 on June 1, to a new all-time high of $0.0063 on June 7.
Verge performance Predictions
From a technical analysis standpoint, is Verge expected to perform well? Looking at the weekly chart below of XVG-BTC will give us an idea of the price action that will be anticipated over the long run.
Verge displayed a bullish Ichimoku breakout in mid-May, giving an early signal that an uptrend would materialize. Since then, XVG-BTC has climbed from 0.00000048 to 0.00000170 at the time of writing. The market has displayed a sharp upsurge, with a retracement looking complete, as the chart below also shows the Fibonacci retracement levels. XVG-BTC bounced up from the 38.2 retracement level at 0.000000096 for the week beginning June 26. Over the course of the next month or two, we are likely to see another upsurge to the Fibonacci extension level at 0.00000396.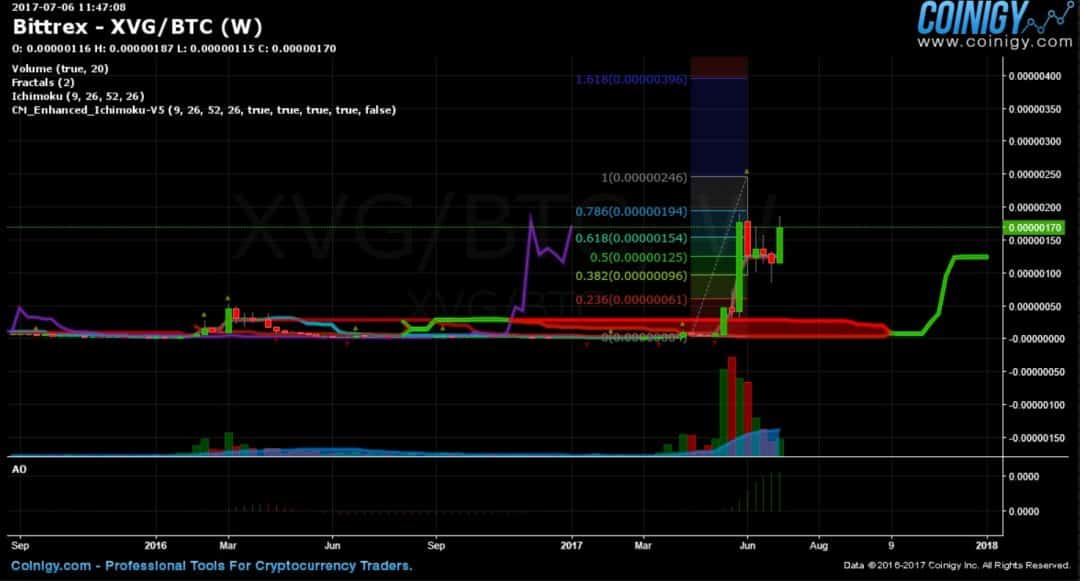 Rise of anonymous Crypto
The anonymous cryptocurrencies market segment is becoming increasingly competitive, with currencies such as Monero, DASH, ZCash, and PIVX, already having established themselves in the top 50 of cryptocurrencies. It will, therefore, most likely take more than a dedicated developer team for verge to compete with the cryptocurrencies mentioned above. Verge will also need to build a proactive community that is willing to promote the use of the currency and marketplaces that are willing to accept it as a spending currency for the coin to flourish.
However, the firm vision, privacy offering and developer activity, Verge will be an excellent coin to add to your portfolio to diversify regarding cryptocurrencies that offer privacy. The only thing XVG needs to propel it even further is growth in the community backing it, where CoinGecko gives it a ranking of 39 percent for this aspect of the cryptocurrency, which could be achieved with its ambitious roadmap.
Contributions by Jamie Holmes and Ben Ullrich