Here are the Top Decentralized Exchanges (DEX) of 2020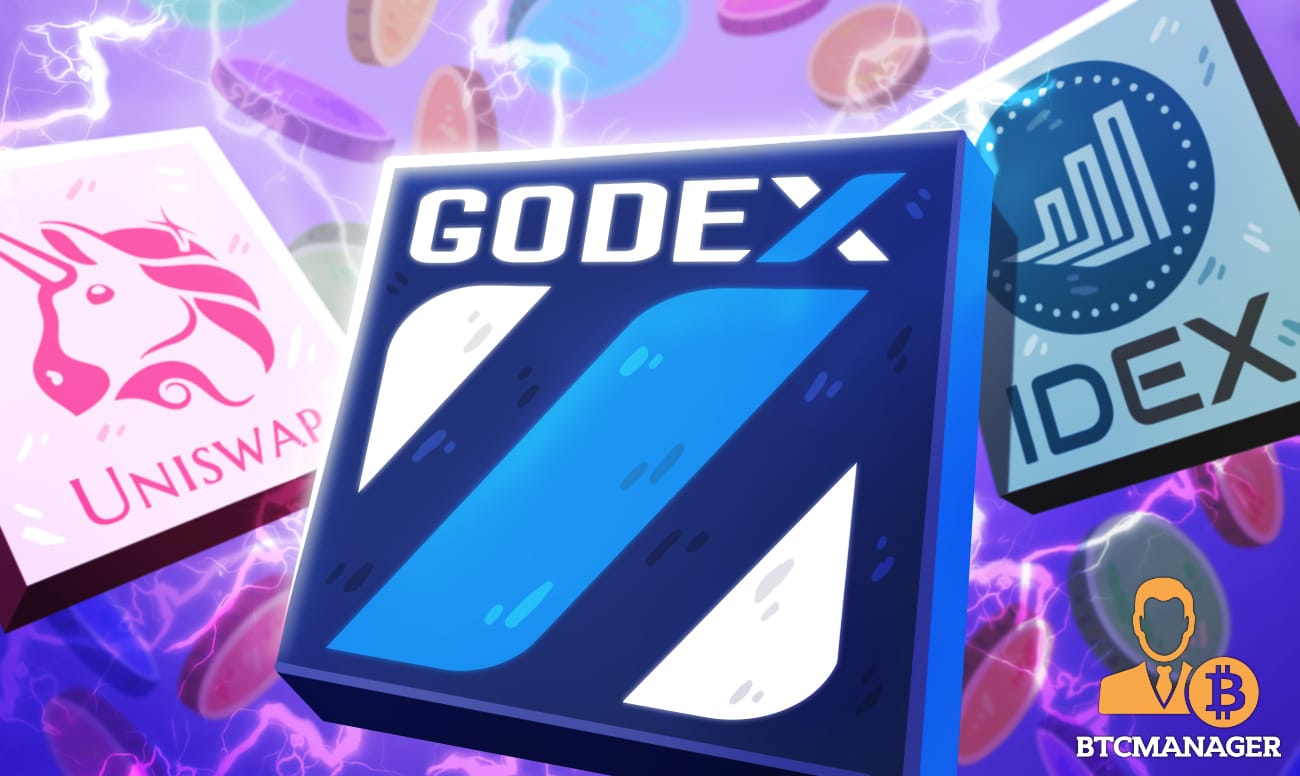 The exponential rise of decentralized finance (DeFi) in the crypto industry has run alongside the increasing popularity of decentralized exchanges (DEX).
This hardly comes as a surprise as DEXes not only offer several benefits over the traditional centralized exchanges (CEX), such as user-custody of funds, privacy protection, and robust security mechanism but also stay true to the democratizing ideology of the technology underpinning them, blockchain.
In this article, we explore the advantages of DEXes over CEXes to establish why they are the inevitable backbone of tomorrow's decentralized economy. Further, we will also look at the top three DEXes of 2020 that have amassed a strong user base in a relatively short period of time, namely, Uniswap, Godex, and IDEX.
Why DEX?
DEXes run commensurate with the ethos of blockchain technology. The pseudonymous creator of Bitcoin, Satoshi Nakamoto developed the world's most popular cryptocurrency in response to the infamous 2008 financial crisis which was, essentially, an unfortunate result of centralization of power in the hands of the few. Below, we explore some key points that necessitate DEXes.
Dilution of Power
CEXes mirror the same centralization of power in that they are managed by a select few individuals who own the decision making authority to indulge in various behind-the-scenes nefarious activities such as wash trading, shorting the market, and market manipulation, among others.
CEXes are essentially for-profit companies that earn revenue from the platform's fee structure. This way, they own both the entry and exit points for anyone wishing to become a part of the blockchain economy which puts people with a weak financial background at an unfair disadvantage and runs in contrast to the community-oriented ideology behind blockchain technology.
DEXes tackle this point of concern as they are not owned by a single entity. DEXes operate as community-driven trading platforms that seek participation from all its stakeholders, including users, for their governance.
Custody of Assets and Security
CEXes require users to deposit their funds with the platform, thereby giving up their custody over their assets. This can prove to be particularly painful during unanticipated events such as exchange hacks which can rob users of their entire portfolio.
The crypto industry is replete with numerous exchange hacks involving popular CEXes such as Binance, Bithumb, and Cryptopia. DEXes solve this point of pain as they do not require users to give up on their custody of crypto assets.
DEXes circumvent this problem as being powered by blockchain technology, they do not have a single point of failure which makes them relatively less susceptible to carefully orchestrated hack attacks.
Preserving User Privacy
Last but not the least, DEXes preserve user privacy in that they typically do not require users to complete the KYC process.
Conversely, CEXes are legally obliged to conduct user KYC which might not sit well with users who do not want to share their personal details with an entity for cryptocurrency transactions.
Top DEXes of 2020
Now that we have discussed the areas where DEXes trump CEXes, let us now look at some of the best DEXes in the industry today that are bridging the gap between individuals and financial freedom.
Godex
Godex is a fast, secure, and privacy-preserving DEX that supports more than 200 cryptocurrencies and continues to add support for more coins with every passing day.
Through Godex, users can swap cryptocurrencies without sharing any personal data. Trading cryptocurrencies on Godex requires no account creation or registration whatsoever. This privacy-centric attribute of Godex makes it a favorite among users who value their financial privacy.
Godex allows users to anonymously exchange crypto assets of any volume with guaranteed fixed rates. That's right. By using Godex, users can swap as many coins as they want without any limits, at a fixed rate free of market price fluctuation.
The developers behind the Godex DEX are seasoned blockchain developers with years of experience in the industry, thereby ensuring the best security mechanisms for the platform's users.
According to its official website, Godex servers are protected by strong security protocols and use SSL certificates to avoid interception of information. Godex is also safeguarded from DDoS attacks that typically breach through the security infrastructure of CEXes.
The multiple partnerships forged with platforms like Bitfinex, HITBtc, Binance, and several others is a testimony to the level of confidence Godex enjoys within the wider digital assets industry.
As a cherry on the top, Godex also has an attractive affiliate program with a 0.005 BTC bonus and as much as a 0.6% revenue share.
Notably, Godex is slated to release its app on the iOS and Android platforms this month.
Uniswap
Uniswap came into prominence recently due to the boom in the DeFi space in the crypto industry.
While naysayers criticize Uniswap's minimalistic user interface that only includes a window to trade crypto assets, it has, nonetheless, cemented itself as one of the favorites among users seeking to trade cryptocurrencies that might not necessarily be available on centralized exchanges.
As mentioned earlier, one of the major reasons contributing to Uniswap's rise in fame is its simplistic user interface. Uniswap involves no order books or complicated trading charts for users to fidget with. Rather, Uniswap uses what it calls an "automated market maker" that provides the user with a market rate that they can choose to sell or purchase crypto assets.
Traders are only required to deposit their crypto assets on their Metmask wallet and connect it with Uniswap to begin trading on the simple-to-use DEX.
IDEX
Launched in 2018, IDEX is an Ethereum-based DEX that leverages smart contracts for real-time trading and high transaction throughput.
IDEX, unlike Uniswap, provides a detailed user interface that closely resembles that of CEXes. Users can view the order books and use charts with multiple tools for technical analysis.
Additionally, IDEX offers a fast and user-friendly trading experience by using an off-chain trading engine that works in parallel with the Ethereum smart contract. While the off-chain structure takes care of the trading experience, the Ethereum smart contract manages the user funds, trade authorization, and final settlement.
In terms of trading options, IDEX trumps Uniswap as it gives the users access to placing limit and market orders as per their desire. Further, it also allows gas-free order cancellations and allows users to fill multiple orders at once.
Final Thoughts
DEXes provide a myriad of advantages over CEXes which prime them for widespread adoption in the coming times.
Leading DEXes such as Godex, Uniswap, and IDEX prove that trading exchanges can indeed be run efficiently with a decentralized governing infrastructure. Further, their immense popularity and user base also cements the fact that DEXes are not merely vapourware but are here to stay.
Summing up, the plethora of benefits provided by DEXes over CEXes will, over time, help them eclipse the latter's popularity among the masses.
Unparalleled security, full custody of assets, focus on privacy, are just some of the numerous advantages that hold the potential to usher in the era of a DEX-dominated blockchain economy. Until then, users can continue to trade hassle-free with Godex.