Lightning Network Achieves Another Milestone as it Surpasses 4,000 Nodes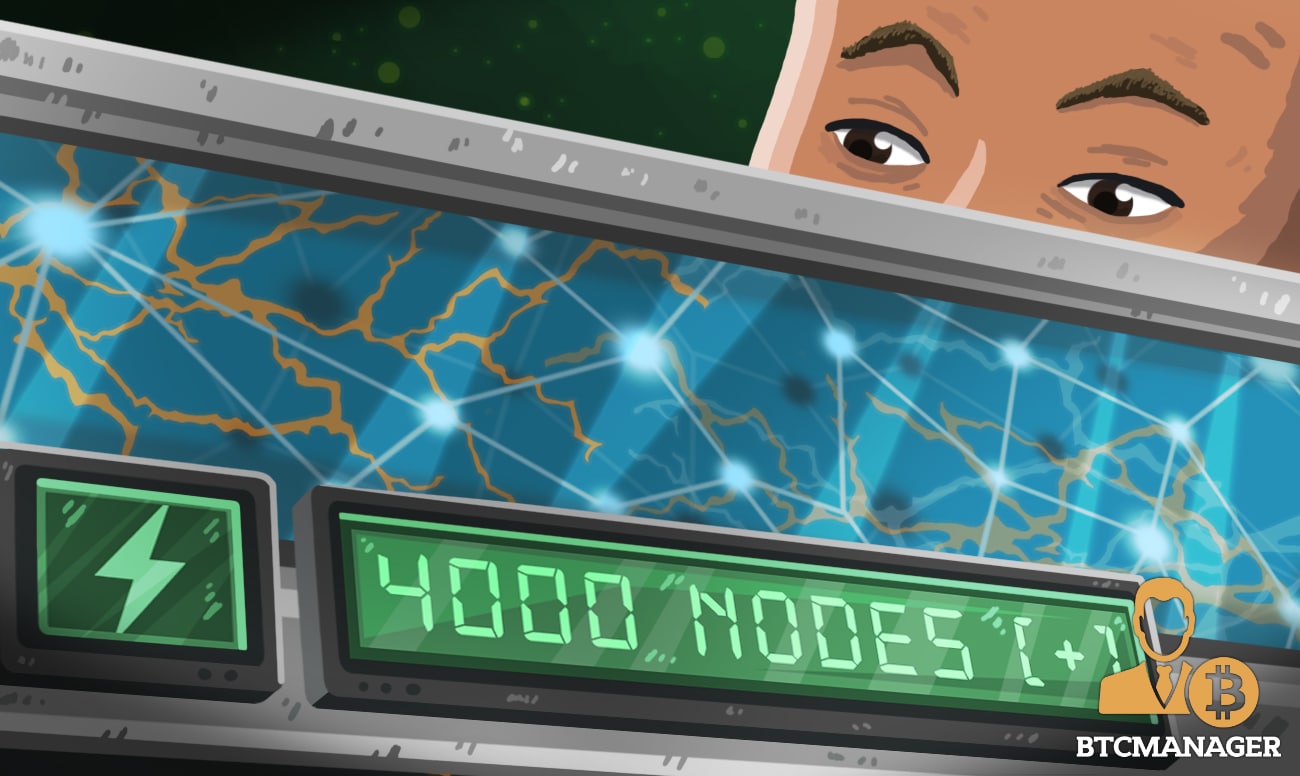 According to 1ML.com, a search engine dedicated solely to Lightning Network metrics, the second layer, off-chain scaling solution for bitcoin has reached a new milestone, as it passed 4000 nodes for the first time at press time, November 14, 2018.
Lightning Network Takes a Charge
Bitcoin's second layer solution created to enable rapid and affordable payment, Lightning Network has taken the cryptocurrency sector by storm in a short period. At press time, the mainnet network capacity was close to 123.22 BTC (approx. $714,407), with a total of 11,909 channels.
Lightning Network differs from the Bitcoin network in that, not every bitcoin transaction is required to be recorded in the case of the former. Lightning Network involves nodes which operate on the network to facilitate the transfer of bitcoin among them. The network is constructed from building blocks referred to as payment channels.
It trumps the Bitcoin network regarding speed, efficiency, and scalability. The Lightning Network only logs the opening and closing balance of transactions until one of the participating nodes voluntarily close the channel.
Once the channel is closed, the blockchain only records the final state or the closing balance. Consequently, this saves a large amount of data from getting stored in the main blockchain and wasting the data space on the digital ledger.
Notably, as the transactions take place off-chain, it also helps in minimizing the time it takes to transmit data from the channel. While the network is still in its infancy, its robustness and scaling prowess have impressed many in the crypto world.
On November 13, 2018, Alex Bosworth, infrastructure lead at Lightning Network, tweeted the upgrades that the Lightning community has agreed to implement. These improvements include multi-path payments, dual-funded channels, and splicing, among other things. A total of 30 changes have been accepted to go live with the next version of the Lightning Network.
Stellar Lumens (XLM) to Ride the Lightning?
Having overtaken EOS and becoming the fifth largest cryptocurrency by market cap, Stellar Lumens could be the next giant to ride on the Lightning Network.
BTCManager reported on March 22, 2018, how Stellar is aiming towards implementation of the off-chain Bitcoin scalability solution enabled by SegWit.
With a flurry of recent developments including the launch of first ever zero-fee decentralized exchange StellarX, having the Lightning Network incorporated in the project will further bolster the community in the long run.