Malta: Crypto.com Bags the Prestigious Electronic Money Institution License from MFSA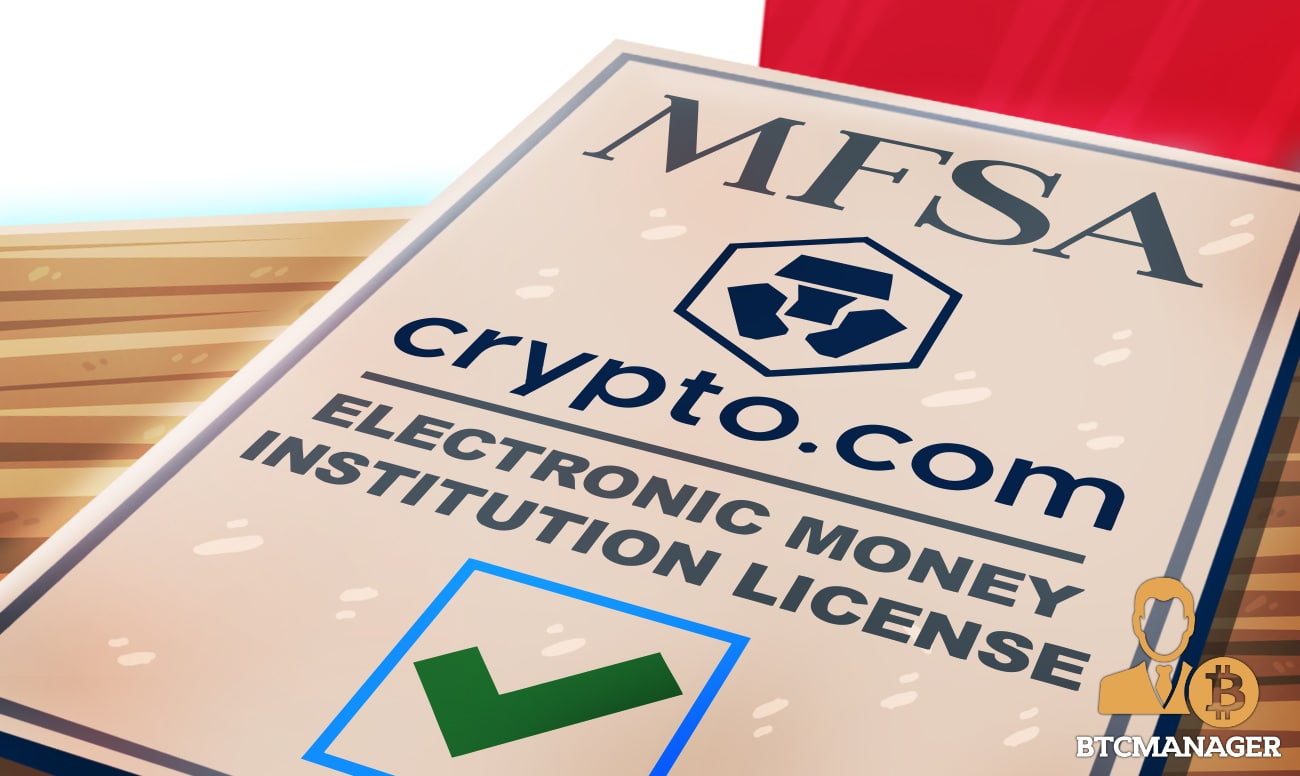 As of July 2021, Crypto.com announced that it is the first global cryptocurrency platform to receive an Electronic Money Institution (EMI) license from the Malta Financial Services Authority (MFSA).
Crypto.com Manifests Outstanding Possibilities
It opens a colossal opportunity for the cryptocurrency realm as massive institutions, and regulated bodies join hands to significantly perform businesses under the support of a regulated framework, Crypto.com.
The platform vows to work hand in hand with MFSA to provide the most secure and reliable services as an Electronic Money Institution service provider. Co-founder and CEO of Crypto.com, Kris Marszalek, said, 
"Being the first global cryptocurrency platform to receive an EMI License from the MFSA is a major milestone for the industry as a whole. We are proud to lead the industry in regulatory compliance, ensuring consumer safety and protection in the EU, and look forward to securing licenses in every country we operate in."
Acquiring a Class 3 Virtual Financial Assets License
The announcement comes just months after the platform received a class 3 Virtual Financial Assets (VFA) license.
A Class 3 VFA Service Provider will allow customers to enjoy more excellent consumer protection since it is subject to rigorous security, governance, and compliance requirements. 
A Class 3 VFA License authorizes Crypto.com to provide some services to all investors, including executing orders on behalf of other persons, offering Custodian and Nominee Services, and dealing on own account.
The CEO of Crypto.com said that they have long believed that building a fully regulated business is the best way to accelerate the world's transition to cryptocurrency.
Garnering Huge Partnerships
As of June 29th, 2021, Formula 1 announced that Crypto.com became an official inaugural global partner of the new Sprint series for 2021. In particular, the partnership will commence in the first event at Silverstone on Saturday, July 17th, at the Formula 1 Pirelli British Grand Prix.
In addition to the global partnership with Formula 1, Crypto.com will have a trackside presence at every race for the remainder of the season. 
A statement from F1 stated that Crypto.com would become the Official Cryptocurrency Sponsor and NFT Partner of F1. Since Crypo.com pledged in May 2021 to become carbon negative within 18 months, it perfectly aligns with plans of F1 to be Net Zero Carbon as a sport by 2030. 
An announcement by UFC on Wednesday, July 7th, brought to light an unprecedented partnership with Crypto.com.
Crypto.com stands as the UFC 264 promotion's "official fight kit partner," beginning Saturday. Dustin Poirier vs. Conor Mcgregor 3 headlines it. Crypto.com will have its logo on all fighter walkouts in-cage gear, which is the first time UFC has sold such global rights.