MonkeyBids and Lithium Finance Partner for Decentralized Auctioning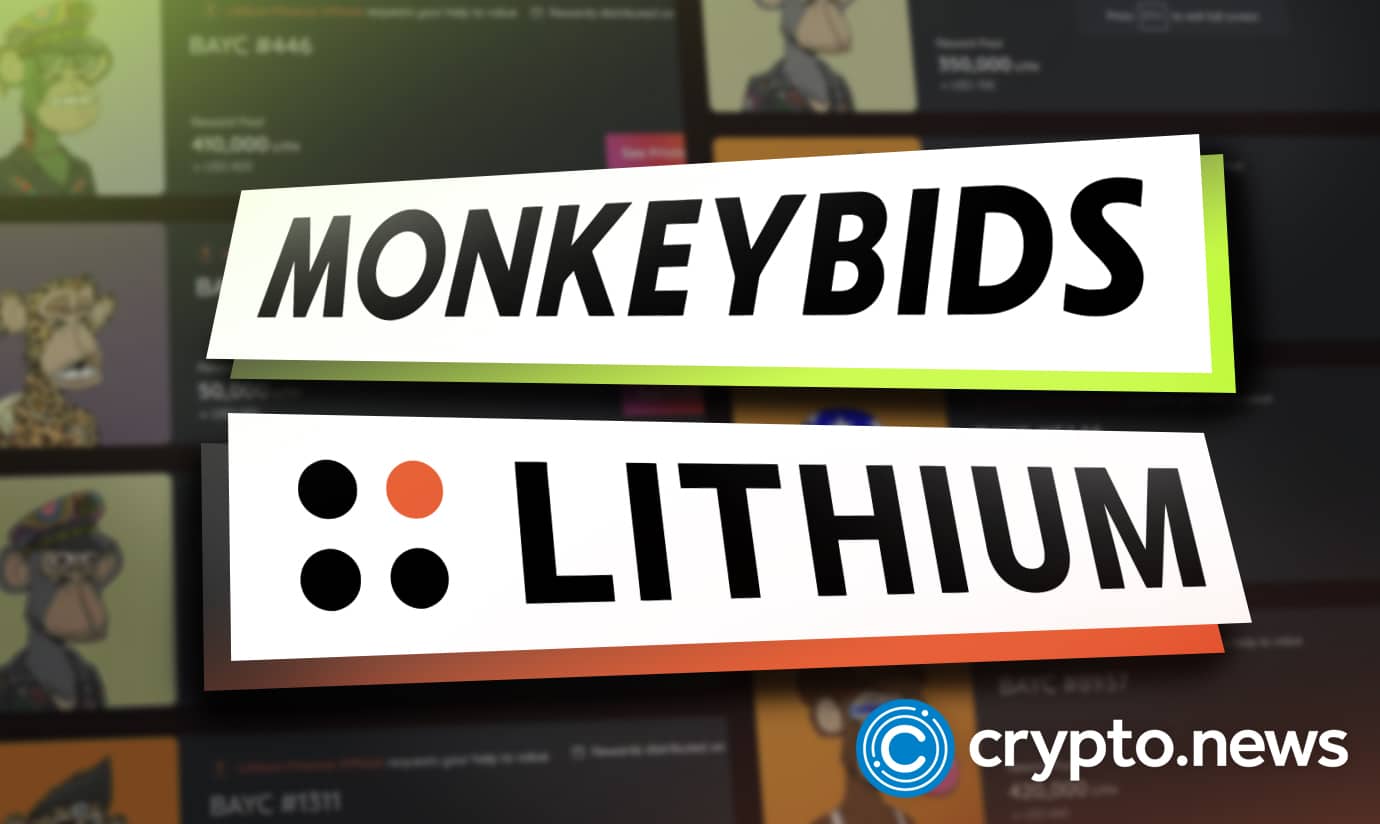 MonkeyBids will collaborate with illiquid asset valuation solution provider, Lithium Finance, to offer consumers with a decentralized auction experience, according to a press release on November 3, 2022.
Reliable and Transparent Valuation
MonkeyBids, a Solana-based decentralized auction platform, has announced a partnership with Lithium Finance to offer users more transparent and reliable digital and physical collectibles valuations.
Thanks to this team-up, consumers will now enjoy a "decentralized auction experience through a new valuation method," which will help them navigate the enormous Web3 market more effectively.
Lithium offers decentralized approaches to valuation based on collective intelligence and machine learning, as opposed to the centralized methods used by conventional auction houses. Through crypto-economics, Lithium incentivizes and collects community opinion to disclose market expectations on illiquid assets like rare NFT.
MonkeyBids CEO & Co-Founder Kelvin Ho stated that;
"Lithium is aggregating the community sentiment before every auction starts. This gives our collectors and us the confidence to understand how much the community desires the auction item."
With the new valuation method, participants in decentralized auctions on Solana (SOL) organized by Lithium Finance can enjoy more accurate pricing for available assets.
Future Collaborations
According to the report, both platforms are currently working on future collaborations to organize future events to attract more consumers and investors. In essence, participants can access and bid on all auctioned items.
The two teams will organize joint events for Web3 enthusiasts, including games and quizzes where winners will be rewarded with crypto assets.
MonkeyBids is looking to bridge the gap between Web2 and Web3 to develop the "collector's economic circle," where every commodity is a collectible, and everyone can become a unique collector and earn great rewards.
MonkeyBids was created by Monkey Kingdom, one of Asia's most prominent PFP NFT platforms. Monkey Kingdom became the first Asian NFT platform to gain mainstream adoption after some of its digital collectibles were auctioned in some top auction houses, including Sotheby's and Phillips in London.
Transparency is one of the core features of the MonkeyBids ecosystem. In every auction process, the bidder's wallet address and the number of bidders will be publicly displayed on the platform to provide users with a more complete picture of every decision-making process.
The community will also be able to participate in certain vital aspects of MonkeyBids, including deciding on operational strategies and the overall direction of its development. In the future, the community can also decide on the fee structure and duration of auctions. MonkeyBids will reward its early supporters by granting them access to exclusive auctions of some of the most coveted and limited-edition items.
Meanwhile, unlike traditional valuation solutions, Lithium Finance leverages data from social media to check out the sentiment of traders, commissioners, enthusiasts, and analysts.
The protocol's vision is to redefine how NFTs are valued by incentivizing the community to provide honest assessments to reveal market sentiments.
The platform has been busy lately in terms of partnerships and adoption. In September 2022, Lithium partnered with DegeX, a crypto derivative, and perpetual futures trading platform, to provide timely and accurate prices for non-floor price NFTs deposited by DegeX users as collateral into the exchange.
Lithium finance is looking to launch its mainnet beta with exciting features, including the introduction of machine learning to supplement collective intelligence, real-time full collection pricing, and reward and reputation mechanism optimization.