225-Year-Old Arts Auction House Now Accepting Bitcoin (BTC) and Ether (ETH)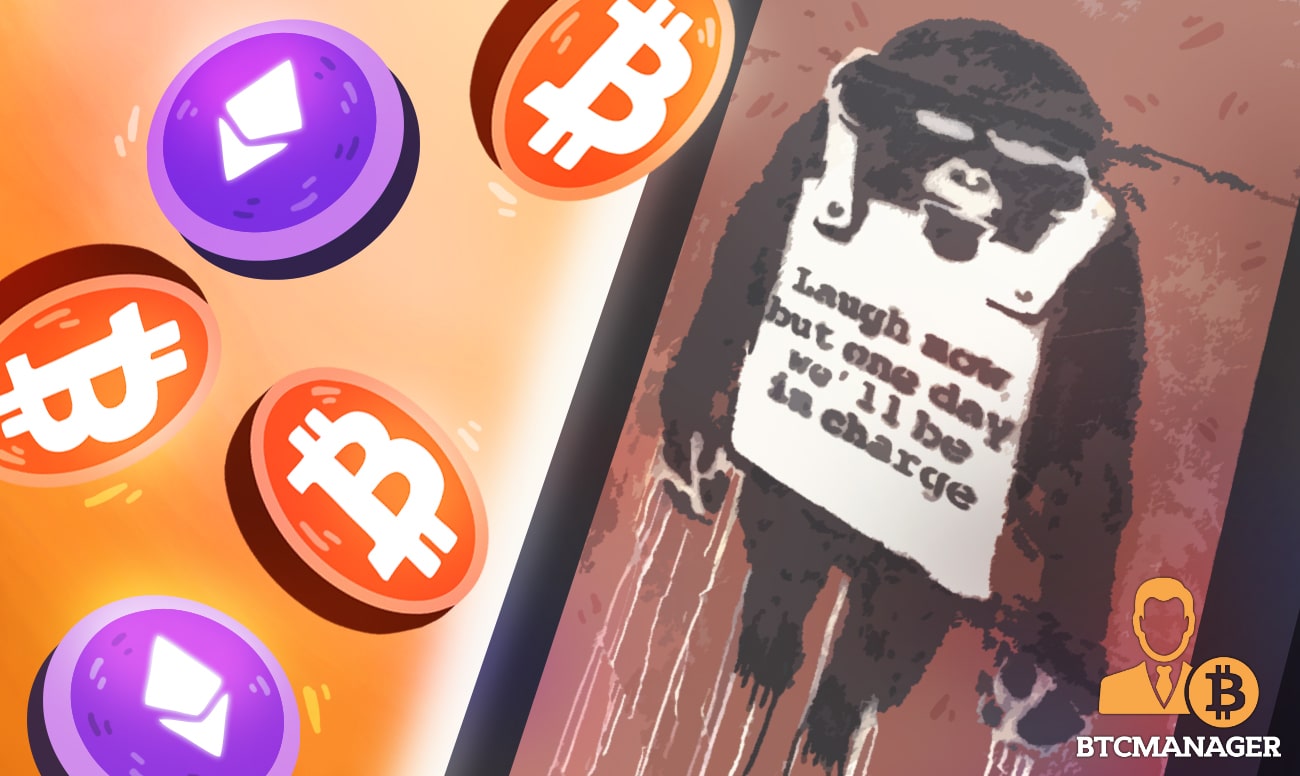 Phillips has announced that bitcoin (BTC) and ether (ETH) will be part of the accepted payment options for art-lovers interested in participating in the upcoming auction of Banksy's "Laugh Now Panel A" artwork, which is worth between $2.8 million and $4.1 million, according to reports on June 7, 2021.
Phillips Adds Support for Crypto
Phillips, a leading auction house for arts, watches, jewelry, photographs, and more, has joined the growing list of highly reputed brands accepting cryptocurrencies as legitimate payment options for their products and services.
Per sources close to the matter,  the British auction house, which was founded by Harry Phillips in Westminster in 1796, has made it clear that participants in the upcoming auction of Banksy's "Laugh Now Panel A" artwork, which is slated to take place on June 8, 2021, will be able to pay with bitcoin (BTC) and ether (ETH) during the event.
Estimated to be valued between $2.8 million and $4.1 million, the painting is one of Banksy's earliest and most internationally recognized works and it depicts a forlorn monkey wearing a sandwich board that says "Laugh now, but one day we'll be in charge." 
Meeting Clients Demand
With a presence in New York, Hong Kong, Geneva, and various jurisdictions across the world, Phillips, which claims to be the only auction house to have ever held a sale inside Buckingham Palace, says the integration of established cryptocurrencies like bitcoin and ether into its operations is in a bid to satisfy the yearning of its clients.
The team says bidding will be done in Hong Kong dollars, and the exchange rate of the supported digital currencies will be referenced from the Nasdaq-listed Coinbase crypto exchange on the event day. 
Despite the energy consumption narrative of bitcoin (BTC), the world's flagship cryptocurrency, as well as other blockchain-based digital currencies, have continued to see significant adoption globally, both as a borderless payment option and store of value.
As reported by BTCManager earlier in May 2021, Sotheby's, the world's largest fine arts and collectibles broker joined forces with Coinbase, to accept crypto payments for Banksy's "Love is in The Air" painting which has an estimated value of between $3 to $5 million.
"What better combination to introduce crypto than an iconic Banksy painting. It may well be that the winner of this painting pays in dollars and not crypto, but I think for us, creating the possibility for this is interesting," declared Sotheby's CEO, Charles Stewart, at the time.
At press time, the bitcoin (BTC) price is hovering around $36,295, with a market cap of $680.19 billion, while ether (ETH) is trading at $2,779, according to CoinMarketCap.