Multi-Billion Dollar Logistics Giant DB Schenker to Use VeChain's Blockchain Protocol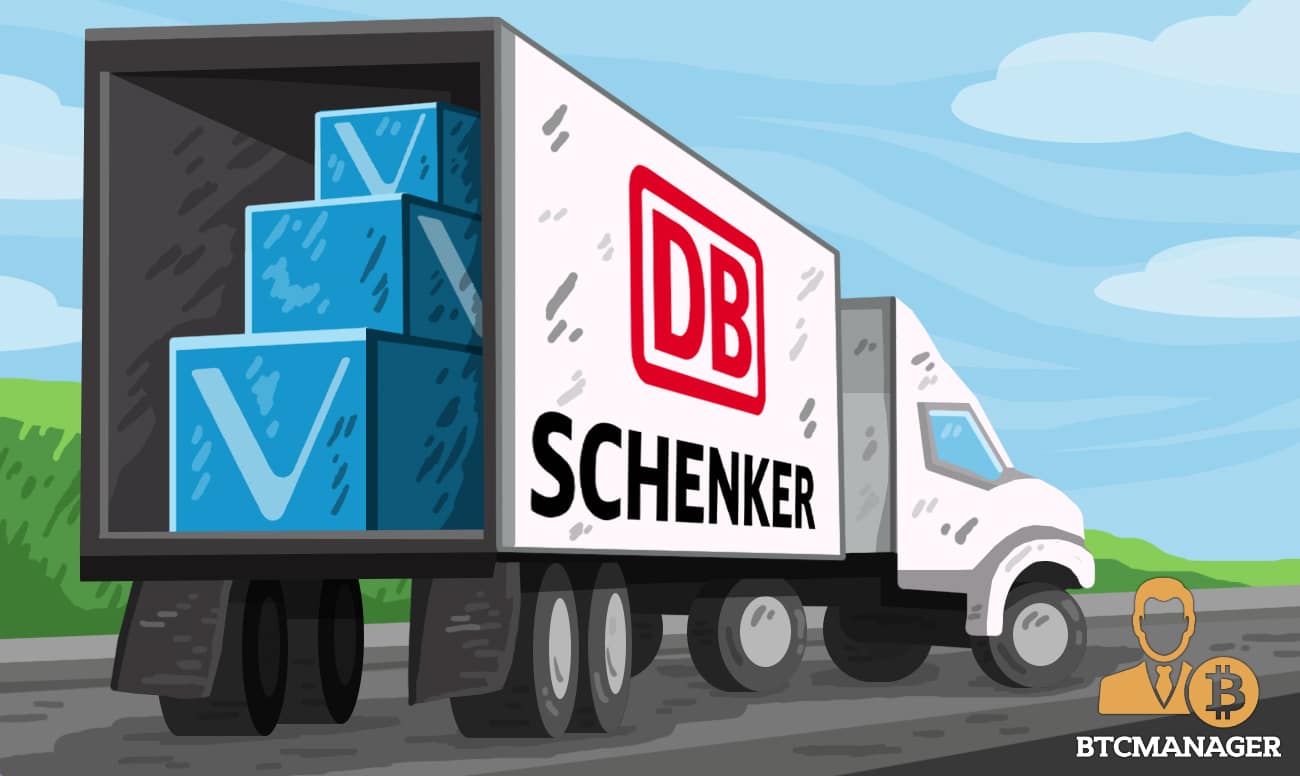 DB Schenker, a multi-billion dollar logistics behemoth with annual revenues of $23 billion, is collaborating with China-based blockchain project VeChain to establish an Internet of Things (IoT) and supply chain network on the blockchain.
First Supply Chain Blockchain Application Commercially
On June 12, 2018, VeChain Foundation announced it had co-developed an IoT-enabled blockchain network for enterprises with DB Schenker. As the transport and logistics division of Deutsche Bahn, Germany's main railroad operator wholly controlled by the German government, DB Schenker covers large-scale supply chains and provides air, ocean, rail, and land transport to more than 2,000 locations.
Acknowledging the efficiency and security benefits of utilizing the blockchain in managing major supply chains, DB Schenker entered the blockchain sector and secured a strategic partnership with the $1.7 billion blockchain project VeChain to create a high-performance blockchain protocol optimized to process significant chunks of information specifically for supply chains, logistics, and IoT networks.
VeChain Foundation stated:
"By collaborating with third-party logistics providers in China, DB Schenker is able to offer extensive and seamless logistics solutions across China for any industry and trade. However, the immense potential of such a comprehensive logistics network is challenged by the complexity of measuring the performance and service quality of their business partners."
The blockchain protocol co-developed by DB Schenker and the VeChain development team on the VeChainThor platform is officially the first blockchain protocol used for supplier management purposes, by a major logistics conglomerate.
In the upcoming months, developers from DB Schenker and VeChain will assist the logistics partners and partner corporations of DB Schenker in using the supply chain blockchain network and potentially develop relevant decentralized applications on the VeChain-DB Schenker blockchain network in the long-term.
Ultimately, DB Schenker envisions its blockchain platform to evolve into a collaborative effort amongst the world's largest logistics companies and supply chain operators, and various conglomerates to contribute to the codebase of the blockchain to improve the protocol.
PwC's Involvement
Earlier in May, PwC, one of the "Big Four" auditors alongside the likes of Deloitte, E&Y, and KPMG, acquired a small ownership interest in VeChain, with the intent of leveraging the VeChain blockchain network in powering IoT networks and supply chains of its partner conglomerates.
At the time, Raymund Chao, PwC Asia Pacific and Greater China Chairman, said:
"We are glad to establish a deeper relationship with VeChain, which aims to build a trusted and distributed business ecosystem to help address long-standing challenges in supply chain management, food trust and anti-counterfeiting areas. VeChain's mission aligns with PwC's purpose of solving important problems and building trust in society."
While the connection between the PwC deal in May and DB Schenker partnership this month remains uncertain, it is possible that the involvement of PwC in the long-term growth and development of VeChain has led major conglomerates such as DB Schenker to take an interest in VeChain and its enterprise-focused blockchain protocol.
With support from the Chinese government, VeChain will likely be able to continue focusing on applying its blockchain technology in various industries including logistics and supply chain, without conflicting with local regulations and ban on cryptocurrency trading.
The Chinese government had banned cryptocurrency trading in September 2017 to prevent the Chinese yuan from leaving the country to other economies, and to ensure its strict capital controls remain in place. But, the Chinese authorities have continued to support local blockchain projects such as Qtum and VeChain, and even led a multi-billion dollar fund to finance emerging blockchain projects.