Nvidia CEO Very Bullish on Cryptocurrency's Long-term Forecast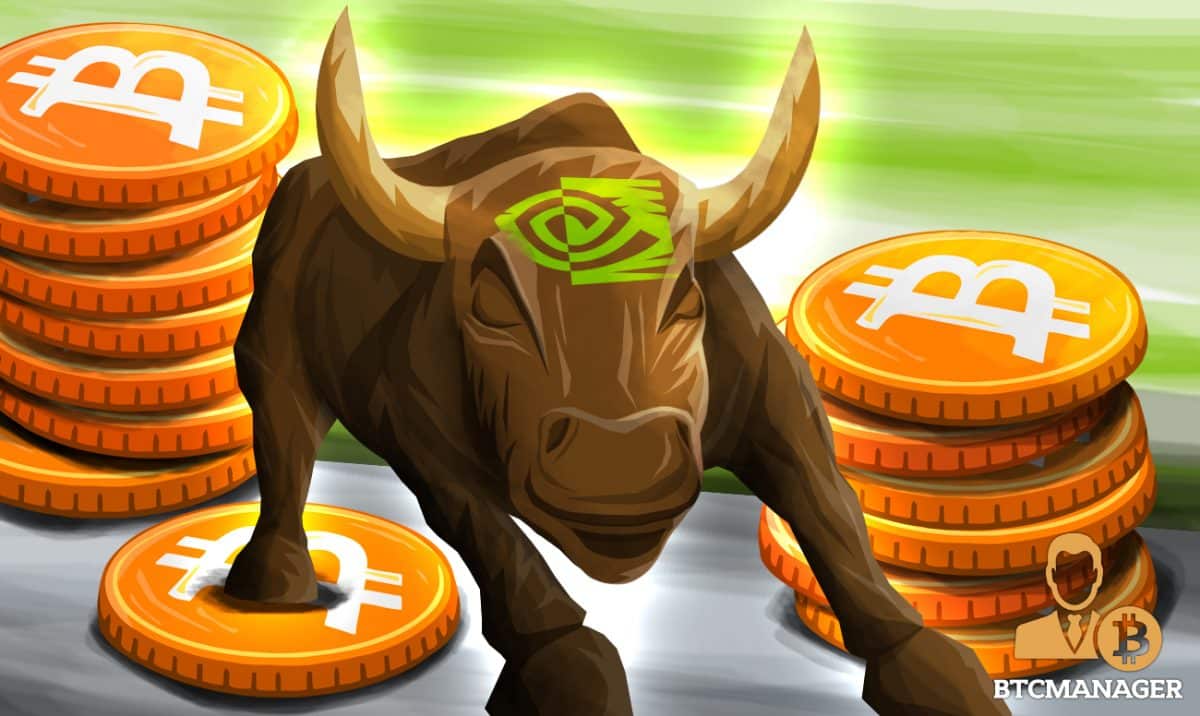 Many companies are trying to capitalize on the cryptocurrency craze that is sweeping business sectors worldwide. What many expected to be a fad from 2009 has solidified itself as one of the most promising technologies of recent memory. Very few companies are capitalizing on the mass adoption of cryptocurrencies more so than Nvidia.
Nvidia Loves Crypto
Nvidia is a company that specializes in graphics cards and computing hardware. Nvidia (NVDA) is traded on the Nasdaq stock exchange. January 1, 2015, NVDA was being sold for $20 per share. That is in stark contrast to the $235 NVDA is trading at February 13, 2018. Three years later and NVDA has provided purchasers over one thousand percent returns. Numbers like this are not surprising in the crypto space, but in the normal financial stock markets, these high yields are fantastic.
NVDA has been able to capitalize on the mining associated with cryptocurrencies by producing high-quality ASICs (Application Specific Integrated Circuit) and GPUs (Graphics Processing Units) for the last few years. The shift to mining has propelled their balance sheet, beating analyst's estimates almost every quarter going back to 2015, including quarter four of 2017. By producing the hardware required for mining individuals can profit by purchasing their ASICs and GPUs in the short term by selling the mining units at a profit, or the long term by using the devices to mine. Whether an individual is looking to make a short-term profit on NVDA's sold out ASICs and GPUs or intends to use them for mining NVDA provides products you can quickly profit from.
Most people do not expect to profit off their recently purchased computer, but when people buy NVDA's ASICs or GPUs, they are looking at it as a one to two-year investment with an ROI (return on interest) of over one hundred and fifty percent. The momentum the cryptocurrency markets have built over the prior four years has propelled NVDA to an all-time high.
A Happy CEO
NVDA's CEO, Jensen Huang, was ecstatic with his company's most recent results. His quarter four results beat analyst estimates prompting many to increase price targets to $300 and higher for the coming year. What does a CEO do that has had successful quarters back to back for years, during the Chinese New Year (similar to Christmas in the Western world)? Well, Mr. Huang spent the Chinese New Year traveling Asia passing out red envelopes with cash. What could be better than that? Fortunately, Mr. Huang has much to celebrate.
Mr. Huang was keen to focus when questioned about crypto that, yes, crypto was a driving factor in their better than expected results. However, it should not be forgotten that "data centers are growing so fast…and GForce gaming has grown, and self-driving cars, the momentum is just great." Evidently, Mr. Huang wants the focus to be on the multiple aspects of NVDA's business model and not solely crypto ASICs and GPUs. Data centers are one of the CEO's favorite things to highlight as these sales have risen by triple digits as of recently. Huang is not only bullish on NVDA as a whole but is very bullish on the crypto scene.
Mr. Huang can be quoted as saying, "Crypto is a real thing, it is not going to go away." When CEOs of one of the largest tech companies concedes crypto's relevance, few should still doubt. He agrees with the CEO of Pantera Capital regarding cryptocurrencies relevance in society and importance. A favorite quote of Huang's is, "This year, the world is starting to come to terms with the existence of crypto. It's based on the blockchain, and it's very secure and very low overhead. I think there's clearly real utility. It's a real phenomenon, and so everyone is coming to terms with it." Like all phenomenon, there is not instant adoption. Businesses along with the general public are just starting to understand the importance of the blockchain and cryptocurrencies.
Wall Street is Obsessed with Crypto, but NVDA is More Than That
Wall Street analysts keep focusing on crypto and its impact on the balance sheets of companies like NVDA. However, it is important to realize that artificial intelligence and augmented reality also use the same GPUs and ASICs that mining uses. As a result, they are the most high-throughput and programmable, energy-efficient processors on the planet today. The applications for the processors NVDA has built go far beyond the world of cryptocurrency mining. NVDA looks to be one of the first companies to have capitalized on the cryptocurrency market and over many years has still managed to solidify its place as a favorite for miners, artificial intelligence, and augmented reality. The CEO, Mr. Huang, is an excellent advocate for technological advancement along with the resilience of cryptocurrencies.