NvirWorld Metaverse Joins Forces With Solana (SOL)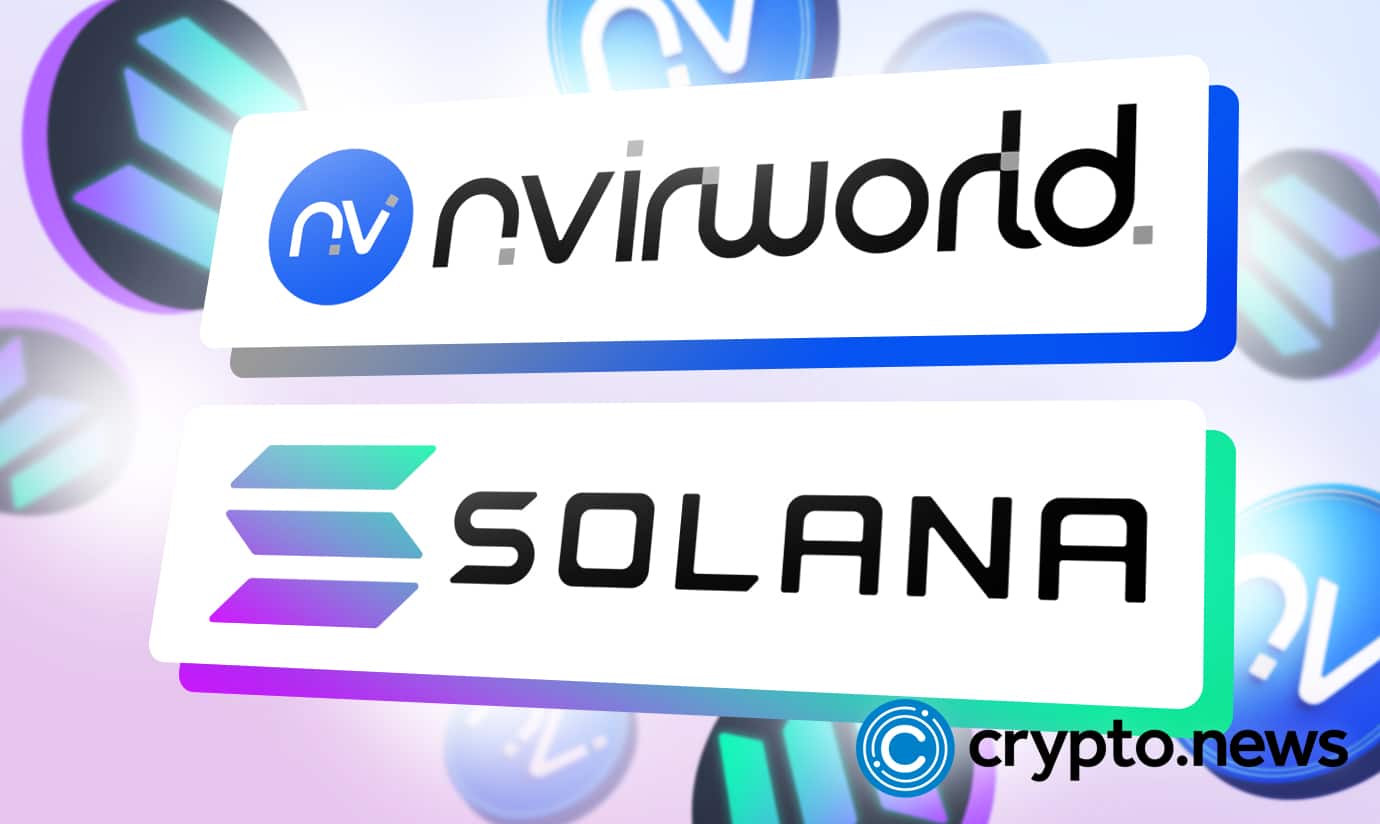 NvirWorld (NVIR), a layer-2 hybrid decentralized non-fungible tokens (NFT) platform has announced the memorandum of understanding (MOU) with the Solana (SOL) Foundation.
NvirWorld Taps Solana (SOL)
NvirWorld, which houses striving products like the Nvir Market (NFT Marketplace), and N-Hub (DeFi Synthetic Asset Exchange) entered into a strategic partnership with Solana Foundation on September 23, 2022.
According to the announcement on October 5, 2022, the partnership was created to facilitate the development of NvirWorld's projects built on the Solana blockchain and to expand the NvirWorld ecosystem in general.
NvirWorld has issued a total of 10,000 copies of 'NvirWorld X-CLUB (NWX)', a unique membership NFT, on the Solana blockchain, and introduced the Solana blockchain network to Nvirmarket in June 2022.
With the help of the Solana Foundation, NvirWorld is aiming to improve its blockchain offerings while leveraging NvirLabs, a blockchain-based fintech that NvirWorld acquired earlier in March. In particular, NvirWorld says it plans to introduce its cutting-edge mainnet next year with the goal of redefining the Layer3 blockchain technology.
There are high expectations for the MoU with the Solana Foundation especially now that NvirWorld is due to launch its mainnet early next year. NvirWorld intends to establish Layer-3 and address the issues with Layer 1 and 2 blockchains by creating the next-generation mainnet utilizing CBDC-related proprietary technologies and leveraging the blockchain sector to create cutting-edge products.
NvirWorld has been making waves in the somewhat quiet NFT space recently. The decentralized NFT platform's token NVIR was the top gainer on MEXC, Lbank, and Bitmart after listing on September 20, 2022.
NvirWorld has three core products namely, NvirMarket, an NFT marketplace with Ethereum and Solana networks, N-Hub, a DeFi Synthetic Asset Exchange, and Nvirland, a metaverse platform where users can directly invest in financial products including digital collectibles.
The layer-2 platform is also currently organizing an exciting event for NFT and Metaverse enthusiasts called the NvirWorld 8th Generation Hall of Fame Event where players will complete missions to be eligible for rewards including a $56,000 cash prize.
Solana Becoming the Ultimate Blockchain for NFT Projects
When it comes to non-fungible tokens (NFTs) and decentralized finance (DeFi), Solana is already among the most adopted blockchains in the world. It is presently the fourth-most widely used cryptocurrency worldwide with a combined market cap of $970M at the time of writing this report, and it is clear that interest in the Solana NFT ecosystem, in particular, is growing.
Solana satisfies users' requests for platforms with quicker and cheaper transactions. As a result, several prominent projects are moving to connect with Solana or already do. Some of the big names in the Solana NFT ecosystem include projects like DeGods, with a market cap of 3.88M SOL, Blocksmith Labs (484,396 SOL), and so on.
The Solana NFT ecosystem has seen significant growth in the past months with its NFT trading volume rising from 7% to 24% in the last six weeks alone. Meanwhile, the blockchain has had to deal with a lot of outages so far, with the most recent incident happening earlier this month.