Picking Up Momentum: The Week in Review for May 22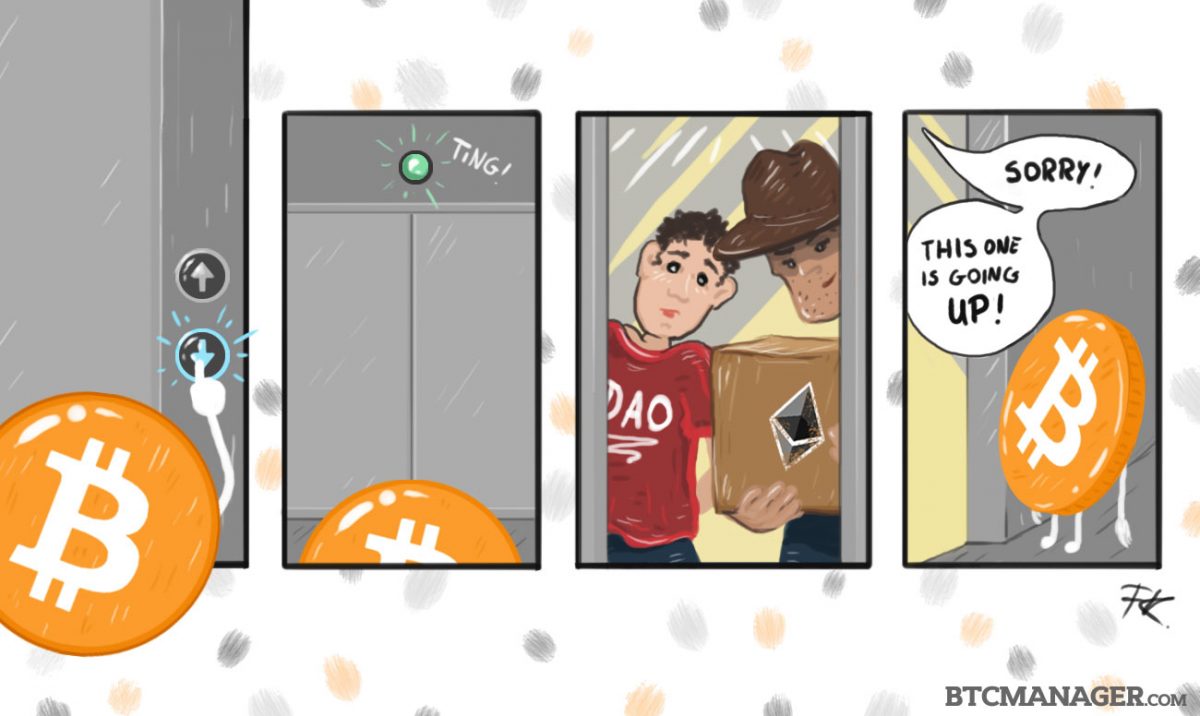 More is more this week in bitcoin and blockchain news. While the price of BTC has been somewhat in the doldrums, things are still looking up in other sectors. ETH and participation in The DAO is going up, Thunder and Lightning promise faster transactions, and blockchain companies Bitwala and Ledger are making their marks. Now let's see if the community is willing to invest in Core development itself, as Eric Lombrozo would like.
And … introducing our newest feature: our weekly editorial cartoon, brought to you by Fruzina Kuhari!
Here are your stories from BTCMANAGER this week, with contributions from Nuno Dollentas and Michael Scott.
Lightning and Thunder: Mats Jerratsch of Blockchain Gives His Forecast
Sometimes it can take a while for Bitcoin transactions to go through, but this week we took a look into The Lightning Network, a network set out to make transferring Bitcoin faster than anything else. BTCMANAGER spoke with developer Mats Jerratsch of Blockchain.info who is looking into ways to integrate the Thunder and Lightning Networks with the Bitcoin blockchain.
The Blockchain Virtual Nation: Interview With Susanne Tarkowski-Templehof of Bitnation
Does Bitcoin have the potential to form its own from of transnational, borderless governance? In an interview with Susanne Tarkowski-Tempelhof, the founder of Bitnation, BTCMANAGER learns how this Utopian idea would work. Embodying sovereignty and self-governance, this effort is fueling a worldwide movement promoting independence from statist controls.

HYPR: Biometric Keys and the Future of Digital Currency Security
We all value our safety and security, especially in this age of technology. HYPR has been developing new means of security through the use of biometric authentication using any mobile device. HYPR is looking past the average and less secure username and password authentication and is moving on to create a reduced risk authentication system with help from their partnership with BitGo.
Bitwala and Ledger Selected to Compete for Top Honors at Pioneers Festival
Pioneers Festival is the major event for future technologies and entrepreneurship where Fintech startups and entrepreneurs come together to present their latest innovations.70 teams, 10 for every 7 categories, will pitch on the Arena Stage and compete to become the Pioneer of the Year. The competition, which starts today (May 22nd) and ends on May 25th will feature two companies from the Blockchain space competing in the Financial Services ecosystem.
Feature Interview: Eric Lombrozo On Bitcoin Core Funding
In a roundtable discussion held at Consensus 2016, Core developer Eric Lombrozo made an important point regarding the relationship between the ongoing development of Bitcoin's technology and infrastructure in relation to the community's funding priorities. BTCMANAGER spoke with Eric Lombrozo on his journey into the bitcoin world, his work with Bitcoin Core, and where he sees Core's funding landscape headed.
Price Analysis: ETH-USD Due for an Imminent Test of All-Time High?
This week's Price Analysis has ETH-USD raising to an all-time high. Bullish momentum has exploded in ETH-USD with the price on the Kraken exchange up over 5% on May 19th following three consecutive days of gains. The price at the time during May 19th was at $14.20 with the market eyeing both the psychological handle at $15 and the all-time high at $15.17999. The Ichimoku cloud had started to trend upward and turned from red to green, giving bullish indications.