Political Donations in Bitcoin Outlawed in California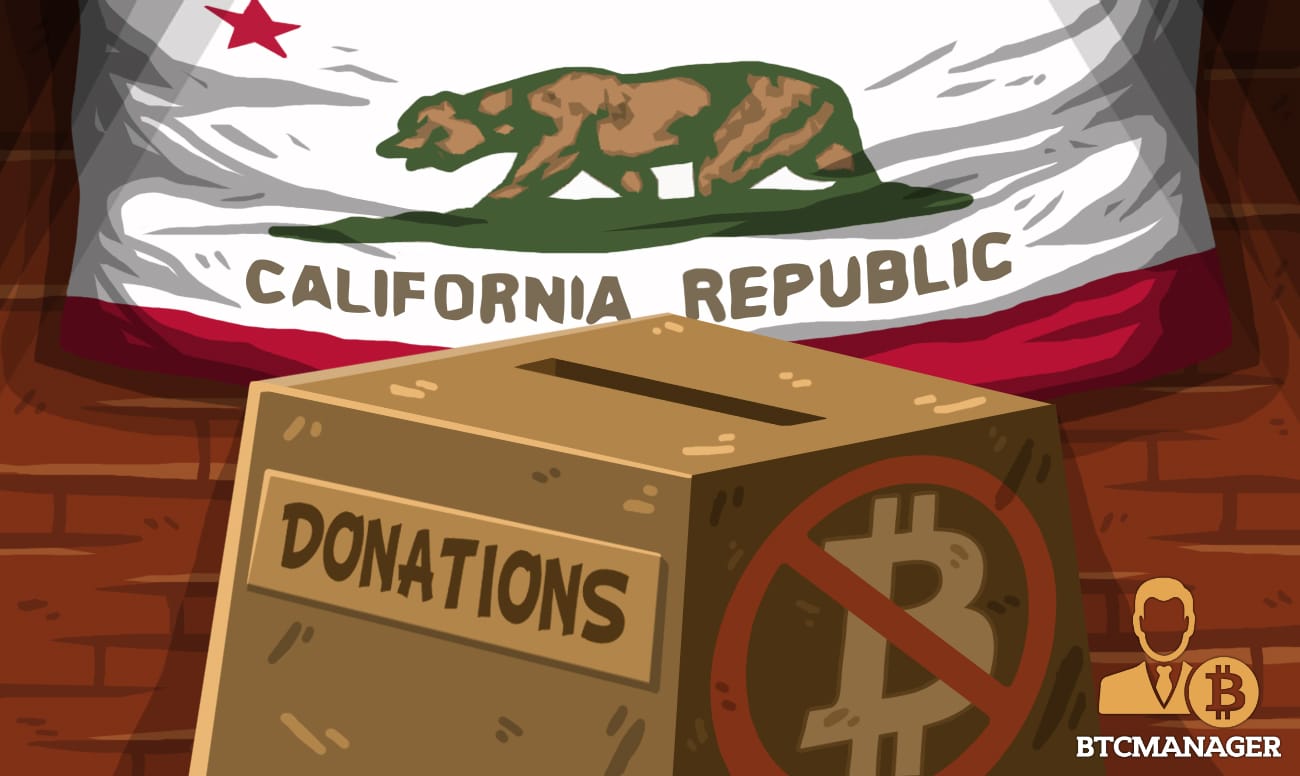 California's campaign watchdog arm, the Fair Political Practices Commission, ruled that candidates will not be allowed to receive donations for political campaigns with cryptocurrencies like bitcoin, the Associated Press reported on September 21, 2018.
Cryptocurrency Donations a Threat to Political Transparency
A new ruling from the state's political watchdog says that candidates running for public offices in the state of California cannot receive any donations in the form of cryptocurrencies.
California's Fair Political Practices Commission (FPPC) voted 3-1 to prohibit political donations in cryptocurrencies on September 20, the Associated Press reported. The commission cited the difficulty of tracking the origin of such contributions and concerns over political transparency as the reasons behind the decision.
The commission's decision follows a hearing held on August 16 at which the FPPC discussed several issues regarding elections. One of the many topics discussed was the problem of cryptocurrencies and the question of whether or not they should be allowed in political donations.
In spite of a lengthy discussion, the committee didn't reach a conclusion, citing a lack of understanding of the topic, and postponed the voting for September 20. And while some commissioners focused on the question of how to verify the origin of a virtual currency donation, many decided to vote against the proposition.
Despite having made the decision, the FPCC will continue to probe the matter and conduct subsequent discussions around the issue during the forthcoming months.
Every State for Itself
The power to shut down cryptocurrency donations lies solely in the hands of each state. The U.S. Federal Election Commission (FEC) currently allows all candidates running for public office to accept cryptocurrencies like bitcoin as an in-kind donation, a ruling that made back in 2014.
However, some states, such as North Carolina, have taken a similar stance to California and decided to introduce an outright ban on cryptocurrency donations.
Colorado also decided to introduce state legislation on the matter, which permitted crypto campaign funding but placed a cap on the amount that can be donated. While the state doesn't specify any particular cryptocurrencies in its ruling, it does allow for market volatility and includes stricter restrictions on anonymous donations.
According to the Secretary of State's website, the limit for contributions from identified donors can range from $200 to no prohibition, depending on the position for which a candidate is running.