QMALL Cryptocurrency Exchange Inks Partnership Deal with Ukraine's Boxer Oleksandr Usyk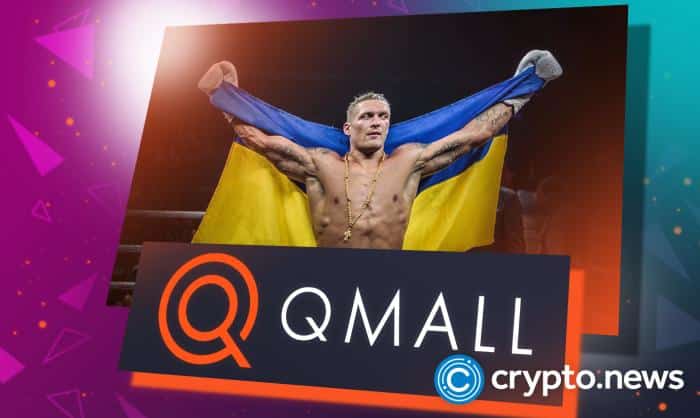 QMALL (QMALL) cryptocurrency exchange has entered a partnership agreement with Ukrainian boxing sensation Oleksandr Usyk. The deal makes Usyk an official brand ambassador of QMALL exchange. 
QMALL Exchange Partners with Oleksandr Usyk
QMALL (QMALL), a Ukraine-based bitcoin (BTC) and digital assets trading venue founded by Mykola Udianskyi and Bohdan Prylepa, has reached another significant milestone in its development, as the highly reputed European exchange has now made professional boxer Oleksandr Usyk its brand ambassador.
The 35-year-old Ukrainian boxer became a world champion in two weight categories in the sport in 2021, after defeating Nigeria's Anthony Joshua to claim the unified WBO (Super), IBF, WBO, and IBO heavyweight titles.
Usyk is regarded as one of the greatest Ukrainian boxers of all time and the QMALL exchange has made it clear that the alliance between both parties will further boost the image of the nation, especially during these dark times of war.
As part of the deal, QMALL says Usyk will wear QMALL-branded merchandise during his rematch with Anthony Joshua come August 20, 2022. The QMALL-Usyk alliance is also expected to cement the former's status as a leading digital assets exchange platform in crypto-friendly Europe.
A Regulatory Compliant Exchange
As regulatory authorities in various jurisdictions across the globe continue to point their searchlights into the cryptocurrency industry, with even decentralized platforms now being hammered down by governments, it has become quite important for investors to deal with only licensed exchanges.
QMALL successfully secured its first regulatory license from Lithuanian authorities in April 2022, giving it the approval to operate in Europe and European Economic Area member nations.
Building upon the success of its European licensing, the QMALL exchange added support for the euro in June 2022, making it possible for users of the regulated exchange to deposit or withdraw euro to/from their accounts and trade various digital currencies, including BTC, USDT, ETH, QMALL and more, against the euro.
After obtaining all permits and licenses, the QMALL exchange has integrated even deeper into the European market! As promised, we have now arranged the opportunity for you to trade with the euro, including EUR/USDT, BTC/EUR, ETH/EUR, and QMALL/EUR.
In addition to obtaining the necessary regulatory license and solidifying its status as a legitimate bitcoin trading venue in Europe, QMALL achieved another important feat recently, by partnering with France's Sophia Antipolis, the world's second-largest tech hub after America's Silicon Valley.
Plans for QPad
As part of the alliance, both entities are joining forces to create what they call the largest launchpad in Europe. Dubbed QPad, the launchpad is dedicated to helping new and promising blockchain projects hit the ground running via the QMALL exchange. The team plans to launch about 30 crypto startups through the launchpad annually, starting from September 2022.
The QPad launchpad application process for the first batch of blockchain-based projects (three to four projects) slated to launch in September 2022 is live now. The winning projects will be given QMALL tokens with which they can bring their brilliant ideas to life.
Via QPad, QMALL users will be able to invest in promising crypto startups and enjoy massive returns on investments in the long run. The team also expects the QPad launchpad to trigger further price gains for the QMALL token, while also providing crypto projects with an avenue to reach thousands of users globally.
The team stated:
We are looking for a strong project, with cool teams and solid ideas! We aim to give users great opportunities and provide crypto projects with a bright start on their way to success.
In the coming months, QMALL says it plans to roll out many more innovative products, including the first Ukrainian CryptoBank, crypto debit cards, and the world's first meta crypto exchange.