Race for growth: Dogecoin and Floki Inu can post gains in Q4 2023
Crypto is in a state of anticipation with discussions revolving around Dogecoin (DOGE), Floki Inu (FLOKI), and the recent entrant, Grimace. With a 21.03% increase in the total market volume over the past 24 hours, traders are confident.
However, amidst this growth, there exists an air of caution. Traders and enthusiasts, while excited, are taking measured steps. The Fear and Greed Index, a barometer of market sentiment, stands testament to this caution, as it remains in the fear territory at 46, a slight increase from its previous week's position at 43.
As these three coins – Dogecoin,Floki Inu, and Grimace–make their moves, the entire crypto community is keenly keeping tabs ready to adapt to the ever-changing landscape.
Dogecoin: digital currency's pop culture mascot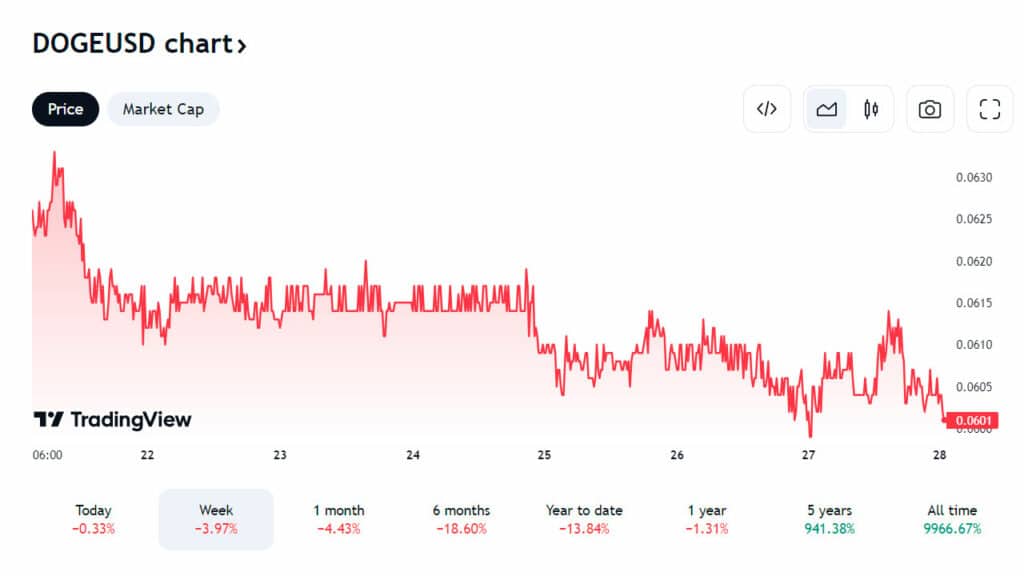 Dogecoin, once the media darling of the crypto world, finds itself in an intriguing position.
Currently capped between $0.0603 and $0.0613, its consistent movements and interactions with various moving averages might be viewed by some as a sign of stagnation rather than growth.
However, these price levels, particularly intersections with the 40-day ($0.0651) and 18-day ($0.0619) moving averages, are significant markers and potential determinants of its future trajectory.
For many, Dogecoin retesting these averages might hint at a slowdown, especially its challenges in crossing the 40-day moving average at $0.0651.
Its price fluctuations around these levels might signal a potential struggle to break out, leaving traders and enthusiasts to ponder its next steps amidst the volatile crypto world.
The Dogecoin future remains shrouded in uncertainty. With robust foundations around its support levels, it retains a glimmer of hope for some.
Still, the looming resistance levels and its recent inability to overcome them may lead to concerns about its prospects.
Meanwhile, Grimace, a newer entrant to the crypto realm, is quickly drawing attention and could be poised to shake up the dynamics further, adding another layer of complexity to the Dogecoin path ahead.
Floki Inu: the Viking's crypto quest in modern markets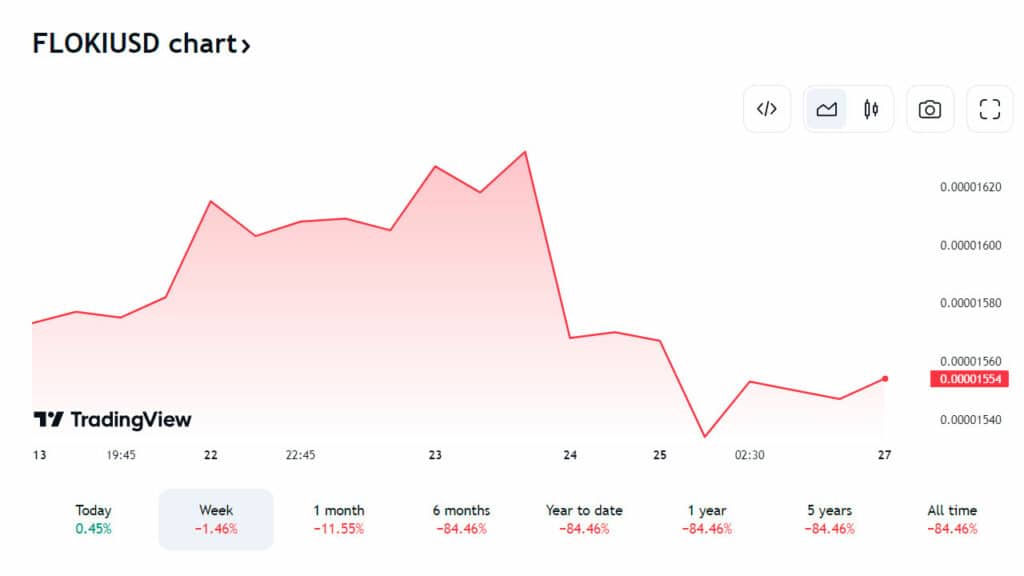 Floki Inu, once hailed as an upcoming sensation after Dogecoin, also faces its challenges in the ever-evolving crypto market.
Currently trending between $0.0000155 and $0.0000160, a keen observer might note that it's hovering closely to its 10-day exponential moving average ($0.00001576) and 10-day simple moving average ($0.00001574). These metrics, which often serve as indicators of a coin's performance trajectory, paint a picture of a currency attempting to cement its position.
Analyzing its past behaviour against these moving averages shows that FLOKI is grappling to set a definitive trend.
Its 20-day exponential moving average sits at $0.0000161, slightly above its current price range, suggesting potential resistance in the near future.
On the flip side, the 9-day hull moving average stands at $0.0000155, indicating the possibility of a solid support level.
Floki Inu, with its rich Norse-inspired branding, remains a point of interest for many. But its close entanglement with various moving averages raises concerns about its immediate future.
Grimace: the unexpected challenger
Grimace, a rising star in the meme coin scene, continues to capture the crypto world's attention fast.
It was launched in 2023 from a playful exchange between Elon Musk ("Dogefather") and McDonald's.
Recent performance
Two months after launching, Grimace soared x56, outshining other established coins.
Recent stats appear bullish: the daily trading volume peaked at $60 million, and the Grimace community has a 12% weekly growth rate.
The Grimace Coin is already one of fastest-growing crypto on a major crypto exchange, fueling its momentum. In May 2023, 90% of all Dogechain transactions were associated with Grimace.
From its lowest point, the coin rose from $4.8 to $28.
By late August 2023, the value had surged to $92, a 19X increase.
Future prospects
Industry experts are optimistic about the Grimace's journey. Some analysts predict Grimace to reach $1,000 by year-end. A dynamic roadmap, significant spending on marketing and development, and the adoption of web3 may fuel Grimace's growth.
Conclusion
In crypto, Dogecoin (DOGE) and Floki Inu (FLOKI) offer traders reasons for both optimism and caution. Amidst this, GRIMACE appears to be introducing a fresh narrative, reminding everyone of the volatility and unpredictability of crypto. Analysts are bullish, expecting the coin to post more growth in Q4 2023.
For further information about Grimace, visit the website and join the community.
Disclosure: This content is provided by a third party. crypto.news does not endorse any product mentioned on this page. Users must do their own research before taking any actions related to the company.