Rimini F.C. Becomes First Football Club To Be Purchased Using Cryptocurrency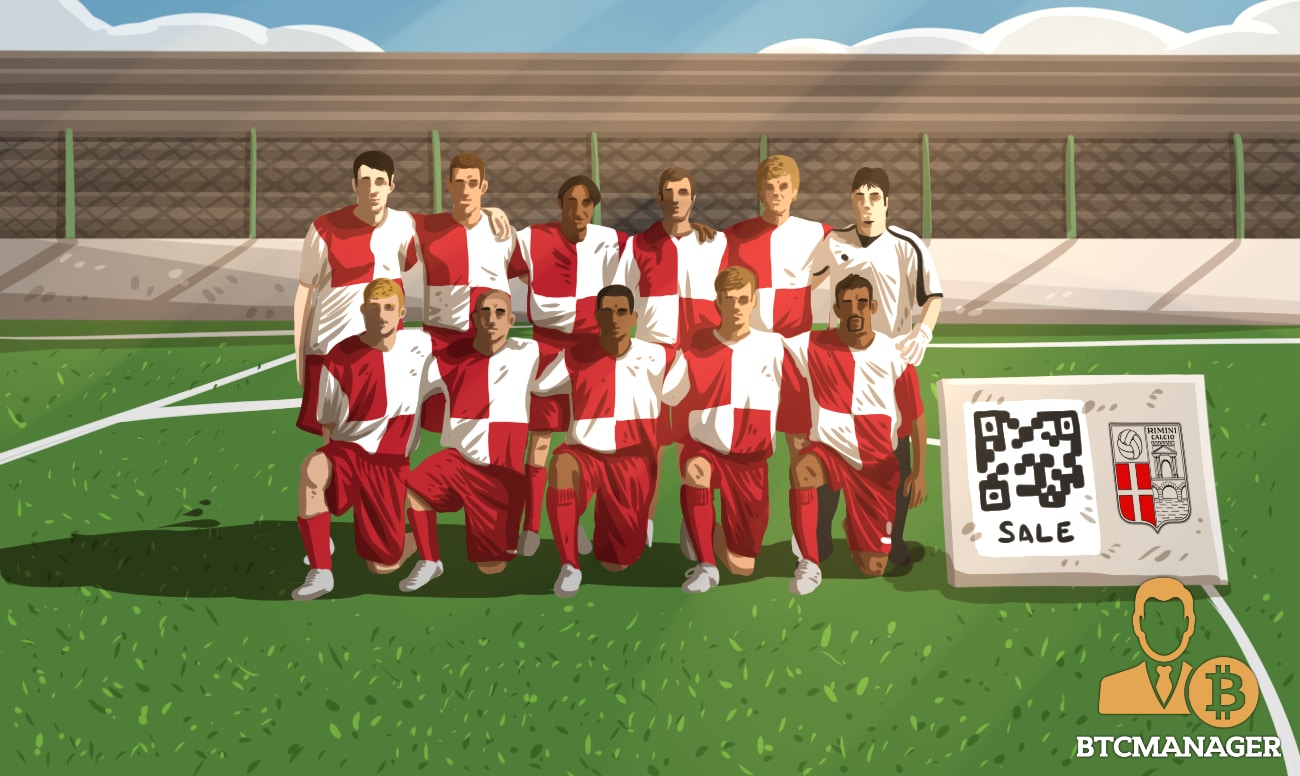 In a world's first, Italian third division football club, Rimini Calcio, has received a new owner who paid for its stake in the club using cryptocurrency.
Quantocoin Buys Stake in A.C. Rimini
Gibraltar-based blockchain startup Quantocoin has bought a 25 percent state in A.C. Rimini 1912 in a deal that involved cryptocurrency as the payment method.
According to its website, "Quantocoin is a platform for the future of funding that is built on top of the Waves blockchain. It accelerates the growth of unbanked people by offering tools and services that save both time and resources." In other words, Quantocoin aims to establish itself as a "crypto bank" and acts as a gateway between the established and new crypto-driven banking space.
A.C. Rimini 1912 is a small football club with over 100 years of history that has played in Italy's lower leagues for most of its existence.
Rimini F.C.'s president, Giorgio Grassi, stated in a press release:
"Negotiations with this group have been ongoing for a couple of months. Heritage Sports Holdings, with its partner Quantocoin, will try to bring to the team and to the city new ideas and synergies from the sporting, brand image and technological point of views."
"This acquisition will enter the history of football, bringing a fundamental resonance to the city of Rimini. In recent weeks, Heritage Sports Holdings has shown great interest in the Rimini brand and our innovative approach to football. The new members appreciated the transparency of Rimini F.C., its economic sustainability, its territoriality, its commitment to the world of solidarity, and the critical mass that our world expresses with all its affiliated companies," he added.
Why is a Crypto Banking Startup Investing in a Football Club?
How Quantocoin's ICO investors feel about the startup investing their raised funds in buying a football club, however, is unclear.
The startup managed to raise an impressive eleven million dollars during its ICO, which ran from December 2017 to February 2018, to fund to development of its "next-generation model for the future of financial services and digital banking." How purchasing a stake in a third division football club plays into that strategy is somewhat questionable.
According to Forbes, Pablo Dana, Quantocoin co-founder and owner of Heritage Sports Holdings, said that the purchase of Rimini F.C. is one of many more to come. He considers cryptocurrency to an ideal vehicle to combat corruption in a sport that has been mired in cash-driven controversies and backdoor deals.
Using Quantocoin's blockchain-based platform payments made between players, agents, and club officials can be closely monitored for any potential abuse, which could help bring more transparency to financial transactions in football.
"We are working exactly on the ideas that UEFA want to put into place. This is transparency in football, and we are looking to reduce corruption through our Quantocoin platform," Dana argues.
However, for Quantocoin's platform to have any real impact on corruption in football, it would have to be adopted on a countrywide level, which is currently unlikely given the early stage of digital currencies and blockchain technology as a new banking alternative.
Crypto is Moving Into Football
Where there is money exchanging hands, cryptocurrency will eventually change hands, and the football world is becoming a use case for this. There has been an increasing number of stories in the media of cryptocurrency moving in the world's favorite sport.
Last week, eToro announced a new advertising partnership with seven English Premier League clubs to promote its trading platform and to bring awareness to bitcoin and other cryptocurrencies. However, instead of paying the clubs in British pounds, eToro paid them in bitcoin to close the marketing deal.
"We've done a sponsorship deal, but rather than pay them in traditional pound notes we've paid them in bitcoin. What they choose to do with that is entirely up to them," eToro U.K.'s Managing Director Iqbal Gandham told The Telegraph.
In January 2018, prestigious London-based football club, Arsenal F.C., entered into a sponsorship deal with California-based iGaming platform CashBet. The sponsorship deal was a way to promote CashBet's ICO, which was held later in the year and raised $38 million.
"We are delighted to do so in partnership with one of world football's true giants in Arsenal, enabling us to build our brand and engage this audience in a meaningful way," said Dr. Mike Reaves, CashBet's founder, and CEO.