Russia, Venezuela, and Colombia Account for Nearly Half of LocalBitcoins P2P Trading Volume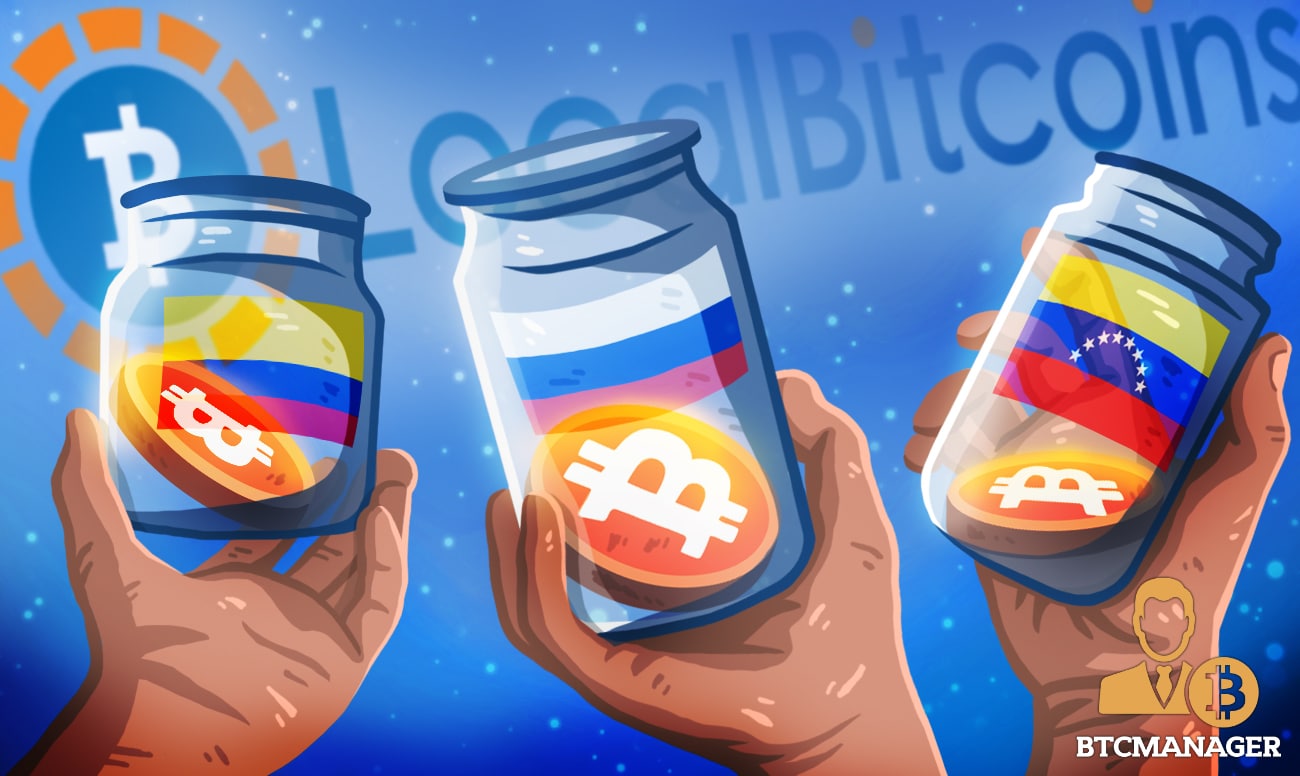 It turns out that Latin America's Venezuela and Colombia belong to the top three countries with the highest peer-to-peer (P2P) Bitcoin trading volume on LocalBitcoins. According to a release published by LocalBitcoins, the highest Bitcoin trading volume came from Russia (17.4%), followed by Venezuela (12.3%) at the second spot, and Colombia (11.3%) at the third spot.
Venezuela Remains, Colombia Surfaces
This year, Venezuela has retained its position at the second spot in terms of P2P trading volume, with Colombia as a newcomer to the top three.
According to the post, the factor that has contributed the most to Bitcoin trading in Venezuela is the hyperinflation of their local currency. A publication from Nasdaq confirms this, detailing that Venezuelans have developed a preference for Bitcoin since it is "censorship-resistant and inflation-proof." It is also attractive to those who are looking for a stable store of value, unlike the country's sovereign currency.
Colombia has almost the same experience. The latest market data has shown that the country has the highest number of Bitcoin ATMs in Latin America. As of this writing, there are already 34 Bitcoin ATMs in Colombia's capital city, Bogota. 
Bitcoin has been welcomed as a legal medium of exchange in the country. In an article posted by Cryptopolitan, it was noted from Athena Bitcoin's data that many freelancers in Colombia are paid in Bitcoin.
Russia's Environment for Bitcoins
Russia has been at the top spot in terms of P2P Bitcoin trading. The changing landscape for Bitcoin in the country could possibly be the factor that has contributed to this.
Last November 29, it was reported that the Russian Prime Minister Mikhail Mishustin discussed the country's plan to recognize cryptocurrencies. According to their announcement, digital financial assets like Bitcoin should be considered as property. This affords holders the privilege of legal protection should their crypto funds be stolen, as well as the right to defend their ownership amongst courts.
The Pandemic's Impact on Bitcoin Trading
While some Latin American countries like Argentina, Brazil, and Chile, are not found at the top in terms of P2P trading, they have been identified as key players on Bitcoin trading volume. According to some reports, these countries have seen Bitcoin as a safe store of value as economies reel from the impact of the pandemic.
The activity in these countries shows that the lackluster performance of fiat currency, especially in the middle of a pandemic, drives people to cryptocurrencies. Other actors that may have affected this include a relaxed regulatory environment coupled with the local government's recognition of digital financial assets.