Samsung Inks Way for Use of NFTs on Offline Shopping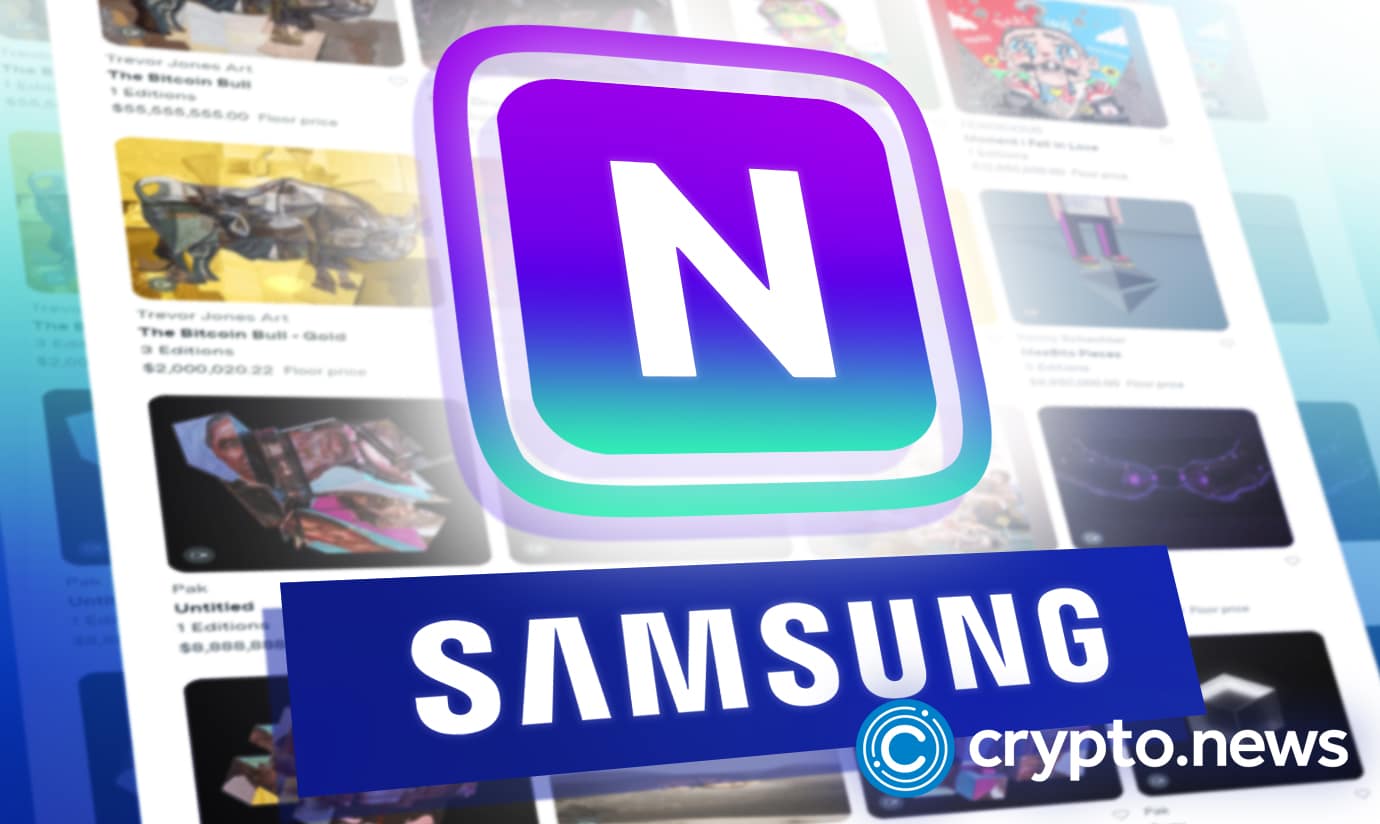 Samsung has employed NFTs as a pre-order incentive for its products; in South Korea, people who made an advance purchase of a Galaxy S22 or Galaxy Tab S8 tablet received a New Galaxy NFT. Additionally, consumers who place pre-orders for the Galaxy Z Fold 4 and Z Flip 4 will obtain the Non Fungible Tokens.
Samsung NFT Rewards
The New Galaxy NFT features non-digital delights in contrast to other NFTs, whose primary advantages typically consist of their residual value. According to SamMobile, Samsung has negotiated an MOU (memorandum of understanding) with several regional businesses, providing NFT owners in South Korea exclusive discounts and promotions at places like Digital Plaza and Show Gold.
The New Galaxy NFTs were introduced in February 2022 as a byproduct of a collaboration between Samsung and web3 company Theta Labs. Those who placed pre-orders for the Galaxy S22 series and the GalaxyTab S8 first received them. On August 10, Samsung will unveil its latest device, and those who pre-order the merchandise will also receive a New Galaxy NFT.
Samsung Partners up With Theta Labs to Make This Happen
Theta Network, a US-based distributed video delivery system, has teamed up with Samsung and other South Korean merchants to offer NFT investors more excellent in-store benefits.
Pre-order purchasers of the Galaxy S22 and S8 tablets received a variety of celebratory NFTs in February 2022 from Theta Labs and Samsung Electronics. Theta strives to make sure that these NFT investors may utilize their advantages on and off-line.
The 100,000 owners of these celebratory NFTs are the intended audience for Theta Network's next offline NFT utility promotion. Theta entered an agreement (MOU) for the climb with several South Korean merchants, including Show Golf, Galaxy Store, Shilla Duty-Free, E-cruise, and NFC services provider All link.
Individuals who own New Galaxy NFTs can participate in the campaign as of August 2022. Owners must obtain the NFT authentication application and tag their cellphones to validate NFTs at physical stores.
Gift cards for Galaxy Z Fold4 and Z Flip4 sales pass for E-cruises, the Shows Golf outdoor gas mileage, and the Shilla Duty-Free Shop are some of the critical advantages of this promotion. Giveaways of gift cards to the Galaxy Store are also part of the program.
Theta Labs representatives quoted by thefintechtimes.com described this as the most considerable offline NFT energy launched. Owners can use their Theta NFT online and offline thanks to ThetaPass innovation.
NFT Transactions on Track to 'Stablization'
Research by blockchain analytics company Chainalysis claims that while NFTs had exponential growth in 2021, the increase has not been steady. According to the same study, the NFT deal volume will stabilize in 2022. Over USD 37 billion had been sent by collectors to NFT markets as of May 1, 2022, which is USD 3 billion less than the USD 40 billion sent in 2021.
Central and Southern Asia are at the forefront regarding the monthly proportion of online traffic to NFT markets, followed by North America and Western Europe. Theta's alliance with Samsung takes place at a time when, regardless of changes in trading volume, the total number of NFT producers and consumers is still increasing.