SBI Crypto Investment Ltd Invests $15 Million in Smart Banknote Platform Tangem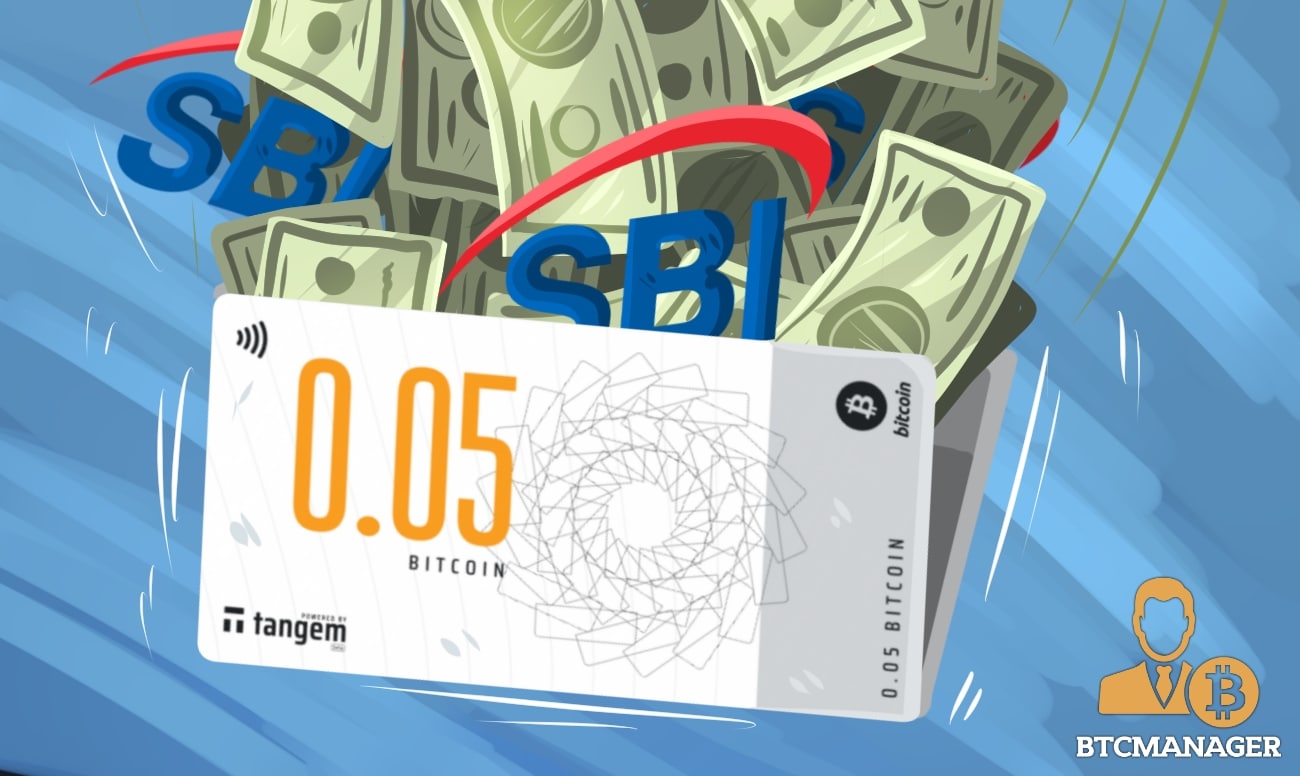 On January 21, 2019, the Swiss blockchain wallet Tangem raised funding of $ 15 million from SBI Crypto Investment. This is intended to be used for the industrial adoption of blockchain-enabled smart cards. 
Tangem, the "Smart Banknotes" Startup
The blockchain smart card wallet provider Tangem is well-known for its smart banknotes that are inbuilt with a chip that holds bitcoin or other cryptocurrencies. Currently, it is the only mass-produced hardware carrier for digital assets.
In May 2018, Tangem had launched pilot sales of physical Bitcoin (BTC) notes available in denominations of 0.01 and 0.05 BTC. This was aimed to significantly improve the security of owning and circulating cryptocurrencies, as well as make the whole process easier.
Tuesday in Hong Kong we'll take a sober look at hardware security of cryptocurrency wallets 🔬 Spoiler: trusted microelectronics is hard. Thanks @Garage_Society for hosting, @bitcoinorghk & @LeoAW for organizing. https://t.co/Y1fBccJ6KJ pic.twitter.com/MUHUA2gC0e

— Tangem (@Tangem) August 4, 2018
Tangem, with operations spanning Singapore, Hong Kong, Taiwan and several cities in China, is now taking its next big step in their mission to bring blockchain to people's everyday life, by partnering with SBI.
The Tangem – SBI Partnership
The digital asset venture investment arm of Japanese financial services giant SBI Holdings, SBI Crypto Investment, has recently injected US$15 million in Tangem for bringing blockchain to the everyday lives of people.
Yoshitaka Kitao, the representative director, President and CEO of SBI Holdings, expressed their confidence in Tangem:
"The Tangem hardware wallet, which is highly secure and affordable, is an important tool to promote mass adoption of digital assets and blockchain. We believe utilising Tangem will help stipulate the demand for other blockchain services provided by SBI."
Incidentally, SBI had also invested in a mobile crypto wallet BRD and a second capital injection in crypto exchange LastRoots. SBI has also backed a cryptocurrency exchange called "VCTRADE."
Cash Injection to Support Mass Adoption
Tangem has said in its official release that this money would be used to accelerate the deployment of its technology in other industries, where the secure storage and circulation of blockchain assets have the highest potential.
This includes industries like cryptocurrencies and stablecoins, ICO/TAO token distribution, ticketing, anti-counterfeit, digital identity, and retail loyalty and promotions.
With the crypto space rapidly evolving, such hardware-software platforms which foster mass adoption of blockchain technologies looks to be a bright venue with immense potential.