Shape of dApps Q3 Update: Ethereum, EOS, and TRON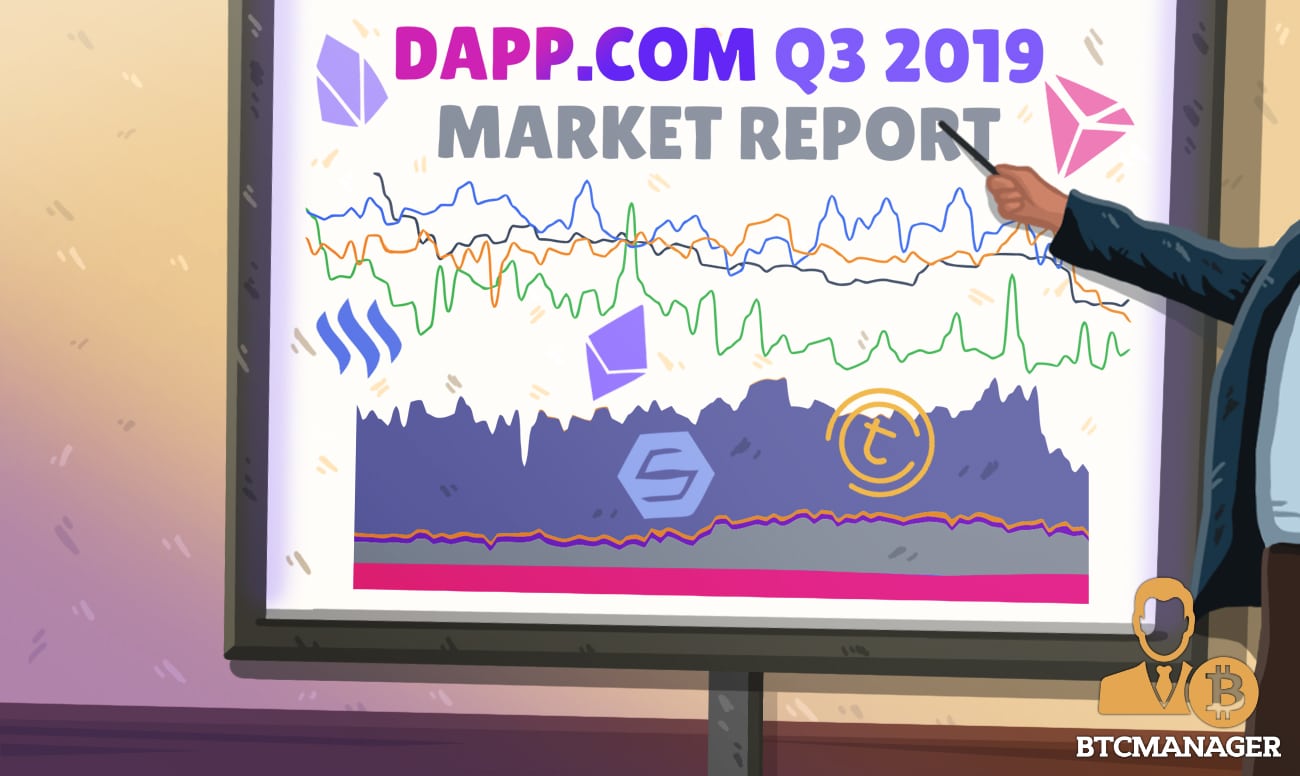 Dapp.com has released its quarterly insight report, focusing on users, transaction volume, dApp diversity, and other important metrics. The update reveals that Ethereum has been growing steadily, EOS has the best user retention numbers, and TRON has the least diverse dApp ecosystem, October 8, 2019.
Trends in the Market
dApps on the top six platforms (Ethereum, EOS, TRON, Steem, IOST, and TomoChain) had a gross transactional volume of $2.03 billion – a 40 percent drop from Q2. The growth in the number of new dApps launched over these platforms also declined from Q2, with just less than 150 new dApps coming to the market. All of this was expected given the deterioration in sentiment in the broader market.
Retention is seen as one of the biggest issues, as many users try to use dApps but the complexity pushes them away. Only 36 percent of users from Q2 used a dApp in Q3.
The biggest talking point of this year has been DeFi, and this is one of the few broader segments that registered a Q0Q growth expansion. Over $525 million worth of financial services were availed in Q3, and Ethereum accounts for 88 percent of the total DeFi market.
Comparing Major Platforms
Ethereum dApp usage went down on a cumulative basis, but growth in DeFi was exponential, with over 310,000 new users this quarter. DeFi contributed nearly 58 percent of transaction volume on Ethereum dApps, with a whopping trade volume of $466 million.
MakerDAO and Nest continue to lead in terms of usage, and performance was incredibly steady compared to other blockchains. The number of active users went up despite a low retention rate, and this indicates that the ecosystem is able to attract new users.
EOS had the highest user retention metric with over 40 percent of Q2 users returning in Q3. 80,000 new users were added to the platform in this quarter.
TRON added a stunning 500,000 new users to their platform in Q3 and is establishing itself as the second most popular blockchain for dApps after Ethereum. Despite this, it seems as though the TRON dApp ecosystem has an unhealthy lack of diversity, as gambling and gaming account for a major chunk of their usage and growth. TRON seems to be establishing itself in this particular niche and cannot compare to Ethereum – or even EOS – in terms of diverse dApps with real utility.