Societe Generale Taps Tezos (XTZ) for Bank of France CBDC Test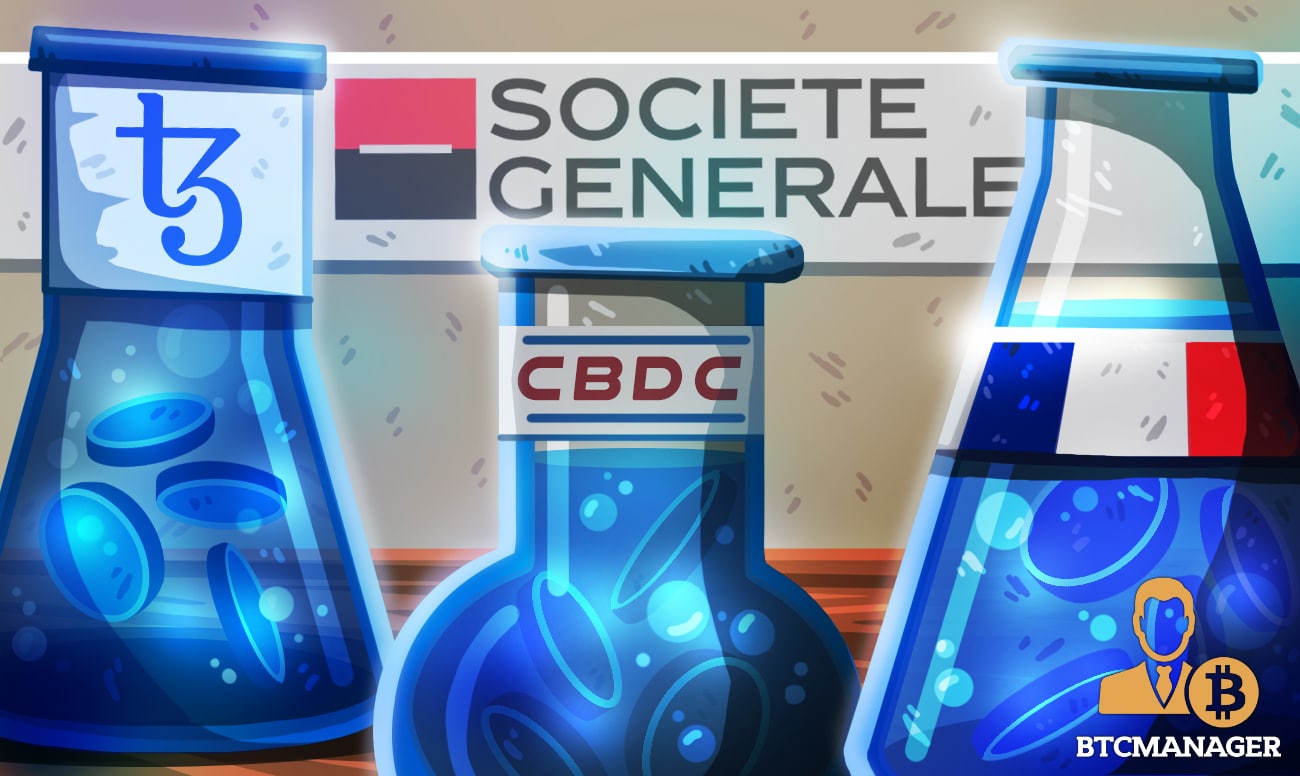 Smart contract platform Tezos (XTZ) will participate in the central bank digital currency (CBDC) tests being conducted by Societe Generale on behalf of the Bank of France.
Tezos to Frontline CBDC Testing for Societe Generale
According to a press release issued by blockchain research and development (R&D) outfit Nomadic Labs, Tezos has been chosen by the European financial giant to test its proposed implementation of a possible CBDC. As previously reported by BTCManager, the Bank of France tapped Societe Generale along with other finance behemoths like HSBC and Accenture to experiment with CBDCs.
Nomadic Labs, which is itself a Tezos-based R&D center will work with Tezos and a group of tech providers and advisors to run experimental CBDC pilot programs. These tests will focus on utilizing a sovereign digital currency for settling and delivering securities.
Commenting on its role in the project, Nomadic Labs chief Michel Mauny remarked:
"The Tezos project, strengthened by its technical capabilities, its adaptability, and its strong community, is already present in various projects, both in France and abroad. We are especially pleased to see this technology selected by Societe Generale – Forge, and to reaffirm, once again, that the quality and expertise of our engineering is rewarded."
Societe Generale is no stranger to crypto and blockchain technology and continues to be a major partner with the Bank of France on matters concerning the utilization of these novel technologies. Back in May, the multinational investment bank participated in a successful trial of a blockchain-based digital Euro carried out by France's central bank. The European financial giant has also conducted multi-million-dollar bond issuance via the Ethereum network.
Playing Catch-up to China's DCEP
Apart from France, several other countries are also actively conducting test studies on their own sovereign digital currencies. Japan is reportedly accelerating its CBDC development in the hopes of catching up with China.
In South Korea, authorities are moving towards the technical phase of the country's planned CBDC having completed the review process. Meanwhile, China remains arguably the most advanced nation in terms of CBDC development.
China's digital currency electronic payment (DCEP) project is currently undergoing numerous simultaneous pilot tests across the country. In August, the People's Bank of China (PBoC) clarified that all CBDC trials will focus exclusively on retail transactions after reports of the DCEP being utilized in a high-value real estate deal surfaced on Chinese social media.